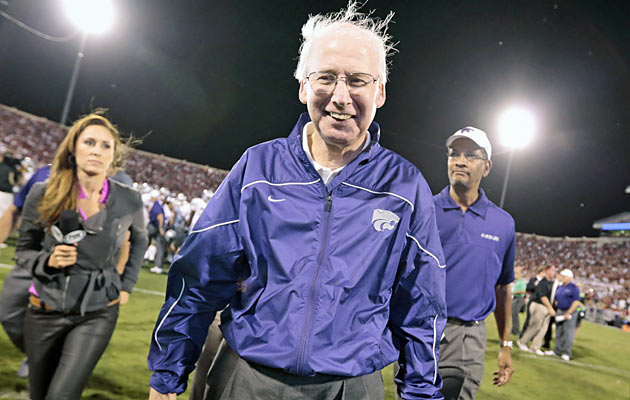 This crazy old man might just be a genius.
I didn't think this would be our biggest home game of the year before the season started, but it most certainly is now. Night game at The Carter. Nationally televised game on Fox. #2 in the country. GUS JOHNSON! What more could you ask for? Hopefully all of you who read this site will at least obey the calls for a blackout game and drink yourselves into a stupor...I mean wear black clothing and yell your asses off. If anyone is told by someone in adjacent seats to sit down and be quiet, tell them spitblood says to F off and then just yell louder. Saturday night is a night where the team will need our support more than ever before this season, so don't let some old curmudgeon tell you you're impeding his wife's view. Kansas State is the better team, so we need to make it a hostile environment much like it was against Utah in 2009. This is probably the first time we've been the inferior team at home since 2007, so please don't feel the need to make things any easier of Collin Klein and Kansas State. Enough of the rambling- time to actually analyze how TCU can pull this one off.
By now, I'm sure many of you have heard the absurd stat that K State has scored 111 points off turnovers this year and they've allowed 0 points off turnovers. Yes, 0. ZERO. None. That's ridiculous. So clearly a key factor in beating them will be protecting the football, something that hasn't exactly been our strong suit this season. Boykin has to play smart and not force throws into traffic over the middle. That's where the majority of his mistakes have come from so far this year. Our running backs need to have their hands coated in superglue before the game because they all have a pretty miserable habit of fumbling. As explosive as Skye Dawson is, it might be a really good idea to keep him as far away from the football on punts as we can. We're going to need a sure handed returner in this game, and 2 years of watching Skye back there hasn't inspired much confidence in that. It's cliche to say that if we lose the turnover battle then we will lose the game, so I'll take it a step further: if we lose the turnover battle by a wide margin then we will get our asses handed to us. Must. Protect. Football.
Forcing turnovers will be a tall task as well. K State leads the nation with a plus-20 turnover margin. They have lost just 2 fumbles and thrown only 2 interceptions all year and we are 9 games into the season. For those math majors out there, that's less than 1/2 a turnover per game. Somehow, some way, we have to create opportunities for our offense via the defense and special teams, because the past 2 games offensively have been arguably our 2 least impressive outputs under Boykin given the circumstances. They're going to need help, and it needs to come from big plays on defense or special teams. Oh yeah, they're also the least penalized team in the nation, so I wouldn't count on that helping us very much either. I think defensively we have that capability more than anyone else K State has played this year, because Verrett and Olabode are legitimate ball hawks in the secondary and could really provide us with a much needed spark. To win this game, I think we need a Tank Carder vs. Utah pick-6 type moment on defense.
Let's not kid ourselves either. Collin Klein and his wrist/head injury will be K State's starting QB on Saturday night. He's the Heisman frontrunner by a wide margin, his team is in line to play for the national championship game, and Bill Snyder is a crazy old man who probably thinks a salt tablet will cure a concussion (if indeed he has one). Either way, I don't think Klein will be 100%, and if he's in fact playing with a foggy noggin then maybe that makes him shy away from contact a bit or even play a little bit out of character. I wouldn't mind seeing Klein inexplicably throwing a few balls right into the hands of our DB's, or sliding well before the first down sticks on a 3rd down. I'm not saying I think that's going to be the case, but a boy can dream, right?
What gives me the most hope in this game is the on thing that TCU had been able to hang our hats on in every single game for the past few years prior to this season: Our team is far superior athletically to Kansas State. I think if everything clicks offensively, Coach Patterson comes out with another brilliant defensive scheme much like he had against WVU, and we play clean, mistake free football then our athleticism and talent will rule the day. Bill Snyder is even more conservative of a coach than GP, so trickeration is not at the forefront of my list of concerns like it has been in recent weeks. Snyder's teams will just try to play smarter than you, play a cleaner game than you, and let others beat themselves, and more often than not, it works. Ask OU. Ask anyone this season. They don't screw up and that makes them very, very tough to beat.
The Pick:
In case you couldn't tell, I'm not exactly brimming with confidence going into this game. Hopefully the atmosphere will be rowdy enough to get our team to play as hard as we've seen them all year, because it's going to take an effort we haven't seen from this team to pull this one out. If we can avoid mistakes, which won't be easy, we've got a chance to pull the upset. If Boykin and Co. continue to turn the ball over and not take advantage of scoring opportunities in plus territory then we will all be in for a long night. Hopefully we can out-athlete them and shake up the BCS world on national television Saturday night, but I'm not feeling it this week. My heart says TCU 21 - KSU 17, but my brain says KSU 31 - TCU 14. My brain has been wrong plenty of times before, so let's hope it stays that way.