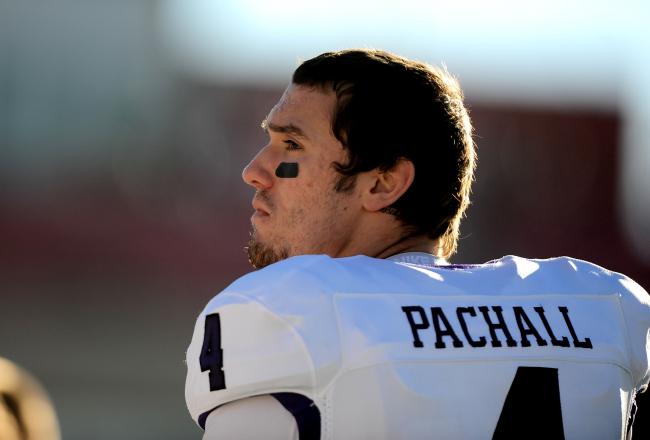 Gary Patterson has said all along that, should he get his act together, Casey Pachall would be welcome back in the spring and given every opportunity to reclaim his role as QB1. Patterson's intentions were unquestionably honorable: If you truly care about Casey Pachall beyond his role on the team, you have to give him hope and a reason to correct his myriad issues. Straight up turning your back on him, while the popular opinion of the Mac Engel's of the world, would solve the issue of removing him as your own problem but would do very little towards putting him on the path to a better life. Making your problem someone else's problem does not eliminate said problem, kind of like how shaving your head doesn't make you a better sportswriter.
But still... did anyone 100% think we'd ever see CP4 suit up in purple again once he hit the trail back in October? I know I was by no means sure. But, according to the latest message board chatter, it seems that Casey has completed rehab, gotten rid of the poor influences he used to surround himself with, and fully intends to re-enroll this spring.
The question is, as a fan, do you even WANT him back? The problem with Casey is that answering that question isn't as simple as yes or no.
I can see both sides. On the one hand, GP promised the guy he could come back and what good is he as a Coach if he can't be trusted? On the other, what guarantee do we have that he's on the straight and narrow? With all of his receivers returning, an older, presumably better offensive line and a healthy Waymon James, ifPachall returns to form, you absolutely have a better shot at winning a Big 12 Title and beyond with him under center. Trevone Boykin has performed admirably this season and has actually been a better QB option for this team considering our offensive line, or lack thereof, but Pachall is in a different stratosphere when it comes to throwing the ball. True, Andy Dalton wasn't exactly a passer that put fear into defenses when he first came to TCU, but Boykin's combination of height and delivery will make it tough for him to ever be a dominate gunslinger. Just ask Vince Young, and he's got 6 inches on TB.
However Boykin, until Tyler Matthews or some newcomer says otherwise, is the future of TCU Football at the position. TCU has lost 4 games this year, but outside of Iowa State - a game in which Boykin was drastically underprepared - can you blame him for any of the losses? Oklahoma State was a major defensive fail, Kansas State beat us into submission and I'm not sure where the blame should be placed for Tech, but it certainly isn't at Trevone's fleet feet. All things equal, no way Casey scrambles to make the play TB did to hit Boyce against West Virginia, nor does he keep UT's defense off balance with his scrambling ability. Considering what Baylor just did to Kansas State, the fact that TB put 49 on them certainly holds more merit than it did at the time as well. All I'm saying is, since that Iowa State game, Boykin has come along much faster than just about anyone could've hoped and gotten a team that everyone gave up on to 7 wins. Do you stunt that development in hopes that Casey really has cleaned up his act? I think we can all agree that the team seems to be playing harder for Boykin than they did for Casey, probably because they know they can trust him to be around. With all the second chances given to Casey by this coaching staff, will he ever be able to earn back the trust of his team, and will they even want to give it to him? I'm not so sure.
Of course, Boykin could render this conversation moot by beating out Pachall in the spring, but I suppose the fact that he should even have to is the real issue here.
What do you guys think?