Another week, another offensively challenged opponent for TCU. Seriously though, enjoy it while it lasts because once the meat of this schedule hits it won't come quite as easily for the TCU defense. In fact, it might not come as easily as Garrett Gilbert made it for our defensive backs (and John Koontz) for another few years or so. I thoroughly enjoyed watching him play catch with our defense, but I know that we probably won't see that again for a while. Iowa State is definitely no offensive juggernaut like we are going to see in the future, but they do play some pretty salty defense so we will no doubt have to improve on what we've done over the past few weeks offensively. Most of the playmakers on the Cyclones come from the defensive side of the ball, but I'll give it a shot and see if I can pick someone on offense that may make an impact on Saturday's ball game.
Offense: QB #2 Steele Jantz (6'3, 225 Sr.)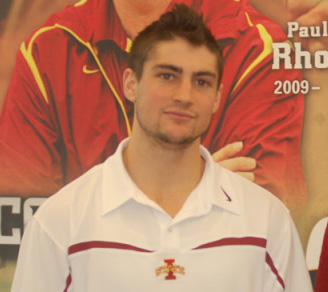 Faux hawk? Check. Chinstrap? Check.
For the first time this year, I'm picking the opposing team's Quarterback. I hate doing that, but when you look at their offensive production (or lack thereof) and where opponents are accumulating the most yardage against us, this was kind of an easy call. What made it even easier was that this guy has maybe one of the worst names in the Big 12. Steele Jantz? What are you, an American Gladiator?? Come on, bro. Surely you've got a better middle name than "Steele". Actually, upon further SnK inspection, this guy appears to be a doucher of the highest order, complete with a chinstrap beard and faux-hawk that would make the cast of Jersey Shore jealous. Steele probably isn't even his real name. It's probably something one of his hella gnarly Cali bros from Agoura Hills nicknamed him, you know, because he lays so much pipe and all (said in my most brah'd out voice possible). He started his career at the University of Hawaii before transferring to San Francisco City College. To be honest, I don't even care about this guy's stats. He's just the kind of guy that needs to be harassed every single time he walks back to the sidelines. Students, the few of you who remain in town this weekend, I look to you to try and piss this guy off so much that he turns to the crowd and sprays his Aqua Net right into your eyes. He's got to keep a can of it on the sidelines in order to keep his blow out in tact under that helmet. What a tell. Oh, and for the year he's 804 yards passing, 7 TD's and 7 INTs, so he's almost as giving as Garrett Gilbert. He probably really likes to throw picks just so he has a chance to chase down a dude and bear hug him to the ground. He's run for 78 yards and a score also, so he's kind of mobile I guess. To be honest, I wouldn't wanna tackle this guy. He'd probably love it. Anyways, sometimes the jokes write themselves, so here are a couple more photos of Steele...
Steele callin' one of his brah's.
Randall "Pink" Floyd AKA Steele Jantz in his Hawaii days.
Defense: LB #47 A.J. Klein (6'2, 248 Sr.) and #20 Jake Knott (6'3, 252 Sr.)
Iowa State and faux-hawks...who knew?!?
Alright. I finally regrouped and quit laughing at their QB, so now I can focus on something that actually deserves to be taken seriously. Iowa State boasts not one, but 2 preseason All-Big 12 LB's with A.J. Klein and his counterpart #20 Jake Knott. Not surprisingly the two of them are 1 and 2 on the team in tackles so far this year as well, Knott leading the way with 31 to Klein's 30. Neither one of them have a sack to their name so far this year, so I don't expect them to be the guys that give Pachall trouble in that department, but they can both play both the run and the pass with a lot of success. If you thought running the ball was tough without Waymon James against UVA and SMU, then it should only be tougher against this duo. They've also both intercepted a pass and Klein took one back 87 yards for a score last week against the very meh Seth Doege, so Pachall will need to keep an eye out for them in the passing lanes as well. Knott has 2.5 tackles for loss this year to Klein's .5, so it appears that Knott is the more likely candidate to spoil our running game. Hopefully we will be able to put too much speed on the field and keep them chasing our slot receivers all around the lot, but it didn't stop them from getting a defensive TD against Tech, so we will see. Either way, neutralizing their tandem of LB's will be crucial to getting our offense back in gear again.