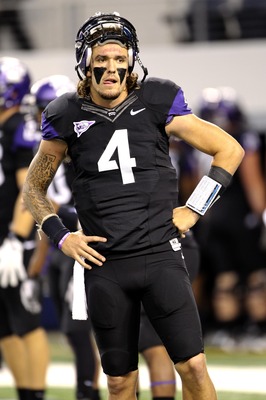 Guess we haven't seen the last of this after all.
This came to my attention after the preview was up, but I think it's worthy of its own post. Under the excuse that he's, "not going to let him hide from this," Gary Patterson has made the QUESTIONABLE decision to allow CP to suit up and stand on the sidelines with TCU tomorrow and then decide what to do with him going forward on Sunday. This comes on the heels of a few choice quotes from GMFP along the lines of him not being sure exactly how long the suspension will be, and that it could just be this weekend.
Personally, I do not like the move and was at least semi-stunned that CP wasn't kicked off the team altogether. I'm not sure that would've been the right move, but I kind of assumed at least a suspension for the rest of the season would occur so that he could get his life back in order. I understand the flip side of the coin, that GP believes if he keeps Casey in the fold he can show him how much the team cares for him and needs him and inspire him that way, but if GP lets him come back and play this season without getting his head straight, what was it all for? Patterson clearly couldn't care less what the Mac Engel's and Randy Galloway's think about it, but they have a point that this raises some credibility issues about star-player treatment. Maybe his genius extends to the realm of substance abuse counciling, but I'm in the camp that believe Pachall should distance himself from the program for a while for his own good. I've rarely doubted one of GP's decisions, but in this case I think the correct move doesn't involve CP being at Amon G on Saturday.
What does everyone else think? Am I being a curmudgeon?