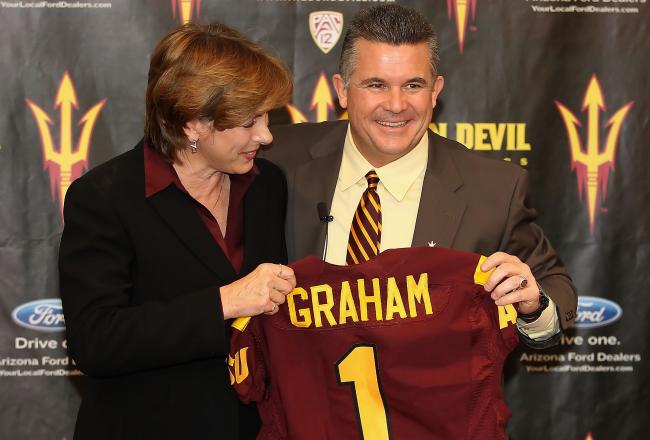 That jersey does not say "J. Jones".
Remember when June Jones left SMU high and dry following last season to take the Arizona State job but then they pulled his offer last minute? Remember that? That was awesome. I don't know what I enjoyed more about that whole ordeal - Jones running out of SMU as fast as he possibly could without thinking twice about it or Jones putting his tail between his legs and coming back after Arizona State gave him the big "FU". Oh wait, it was SMU and their "we can't do any better than you so we beg you to come back, even though you don't want us anymore and will inevitably leave us again". Seriously though, SMU and June Jones, that was great theater you provided us last December. Pretty much June Jones left his girlfriend (SMU) for a hotter, sluttier girl (Arizona State), then the hotter girl basically told June "ooohhh, yeah sorry about that. I was REALLY drunk. Move in together?!? Haha, nooooo. I think you and I should just be friends." So what does June do? He calls back the ex that he told to get lost and SMU, being the desperate, unloved whore that it is, takes him back with open arms because deep down SMU knows that this is the best they can and will ever do.
Jones even went as far as trying to get his SMU commits to follow him to Arizona State, you know, for that job he NEVER HAD! Oops, June. Why did this deal fall apart? Nobody knows, but I do know that his agent at the time was former super-agent Leigh Steinberg, so maybe Arizona State got tired of negotiating with a
raging alcoholic egotistical agent who craps himself and wears diapers
. Maybe they were pretty ecstatic about hiring Jones, but when he showed up to the interview in a Hawaiian shirt, cargo pants, and a lei around his neck they realized that this goober would be a bad fit for any program that wants to be taken seriously.
I guess we'll never really know for sure why the deal fell off the table, but Jones is back at SMU now and all is well, right? Not exactly. Even June's son got into the SMU bashing via twitter which had to go over well with the 50 or so SMU fans that exist. To summarize, he called SMU "the shittiest football school in America" and bashed their lack of resources. Good for this kid. He might actually not be a complete moron like his dad. He's right. It's one of the shittiest football programs in America and they have no resources. Hell, the Packers practiced at Highland Park High School when the Super Bowl came through town because they preferred a high school's facilities to SMU's. That's embarrassing. It is pretty clear that June and his family want nothing to do with SMU, but he is stuck there until the next offer rolls in and he can bail. For the time being though, Jones has come up with a clever way to make SMU fans as miserable as he is...
...by making Garrett Gilbert his QB. I've gotta hand it to Jones. This is a pretty funny/sick joke he's playing on the Ponies and their fans. Starting a QB who couldn't beat out Case McCoy in Austin? He's either a glutton for punishment or he finds humor in watching SMU struggle. Either way, I'm glad I get to look at the box scores every Saturday to confirm what we already knew - that Garrett Gilbert still sucks and he's the most overrated QB to ever walk on a college campus. Glad we got the good Gilbert, because this one wouldn't crack the depth chart in Fort Worth. So far Gilbert has just 3 TD's and 4 interceptions and has guided his team to impressive blowout losses to Baylor (59-24) and Texas A&M (48-3). June Jones is sadistically making SMU fans suffer through game after game with him under center for them, and opposing defensive coordinators across the country are probably sending him gift baskets for doing them such a favor. The best part about all of it is that he's got another year of eligibility after this one, so assuming Jones doesn't leave for greener pastures in the offseason, the nation will have 1 more year to laugh at the train wreck that is SMU football.
Thank you, June Jones, for having a sense of humor about the whole publicly embarrassing yourself and SMU by pretending you got another job only to run back with your tail between your legs. Horned Frog Nation enjoyed laughing at your expense. And thank you again for clearly having the biggest case of mailing-it-in give up I've ever seen in a head coach. Seriously June, even Wade Phillips thinks you quit on your team. Don't you worry, June. Keep going at this pace and SMU will surely have to let you go, and then you'll get exactly what you wanted...to get the Hell out of SMU.
Finally, upon doing some thorough research on the Internet, I can find no confirmation that CRAIG JAMES KILLED 5 HOOKERS WHILE AT SMU, but let's always Remember The 5. #CJK5H