So far we've covered Hate from all angles this week, including bashing their coach, quarterback, fans, and night-life douchebaggery, but now it's time to take a hateful look at a couple of players who could actually have some sort of positive impact for them on Saturday night's game. As bad as they suck and as badly as I think we will beat them, I'll still do them a solid and pretend they have 2 good players on their roster not named Zach Line.
Offense: WR #3 Darius Johnson (5'10, 175 Sr.)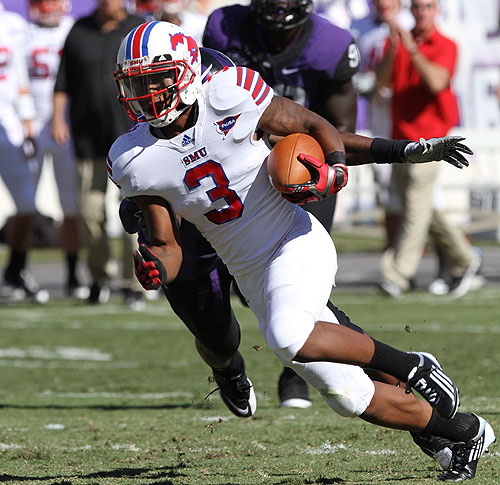 Since I've already said I wouldn't profile Zach Line and already made mention in a previous post about how miserable QB Garrett Gilbert is (and been criticized for it, but I repeat- Garrett Gilbert is awful at football), I thought I'd go to a different position. Johnson was an easy selection solely based on what he did to us last season in Fort Worth. Johnson, who is off to a relatively slow start this year (14 catches, 110 yards, 0 TD's), gashed the Frogs' inexperienced secondary a year ago to the tune of 12 catches for 152 yards and 2 TD's. For those of you who don't excel at math, he put up better numbers against us in one game last year than he has through the first 3 games this year. Clearly Johnson hasn't done much with the ball in his hands this year, but he's still tied for the team lead in catches with Line and Jeremy Johnson while being targeted the third most on the squad. Jason Verrett and Kevin White might not be the ones lining up across from Johnson in coverage, so we could likely have one of our safeties (Hackett or Carter, most likely) drawing that assignment. I for one was frustrated with the amount of underneath passes we gave up last week against UVA, and judging by the very low for a WR 7.9 yards per catch that Johnson has, I assume he will be the one whose ankles Garrett Gilbert is rifling balls at on drag routes. In all seriousness though, we need to eliminate the underneath routes in order to prevent them from moving the chains and controlling the football to win this game. It'll be hard enough to stop that Peyton Hillis clone at RB, so let's make Gilbert make some tough throws down the field. They usually wind up playing out like punts anyways.
Defense: LB #44 Taylor Reed (6', 230 Sr.)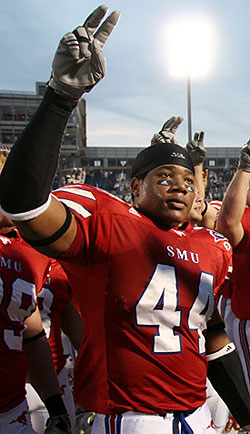 Undisputed leader of one of the worst defenses in all of football.
I feel like this guy has been playing for SMU forever now, and he's been one of their best defensive players for a few years. He's in his 3rd year starting and played in all 13 games his freshman year, so I guess he has been around for a while. He's led the team in tackles each of the past 2 years and is currently 6th on the squad right now with 15 tackles (including 2 for loss and 1 sack), but I'm sure by the end of the year he'll find his way to the top of that list. SMU's defensive statistics are grossly over-inflated due to the 9 turnovers they forced in their shutout against SFA which included 3 defensive TD's and a special teams TD, so I won't really let the numbers from that game sway my opinions on who the playmakers (if there are any) are on the SMU defense. They did give up over 400 yards to SFA despite forcing all of those turnovers, so that along with seeing what the stagnant Aggy offense did to them (48 points) as well as Baylor (59 points) shows me that we should have no problems moving the football. Like I've said in each of the past 2 games, the key will be keeping Pachall's jersey clean and keeping him upright. If anyone has the ability on this lousy SMU defense to disrupt Pachall's timing and blow up what appears to be an already suspect run game, Reed is the guy. Well, Reed and their freakazoid
Estonian kick blocking extraordinaire Margus Hunt
.