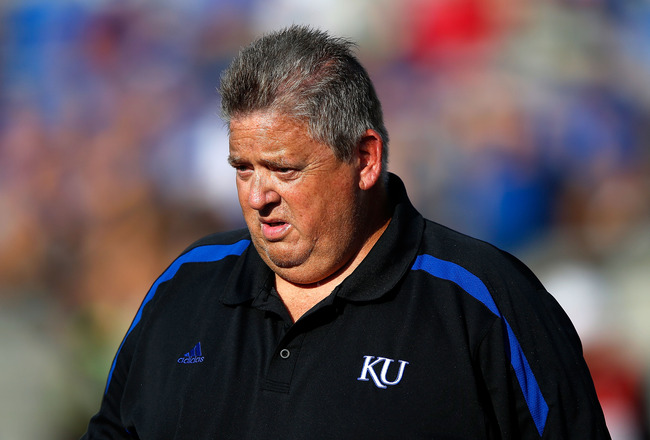 Gross.
That was my immediate reaction following the Frogs' 20-6 win over a pretty pitiful Kansas team. Not that you should EVER complain about putting another tic in the win column, but after last week's flawless performance and the Jayhawks' miserable one, I think we all expected the scoreboard to light up AT LEAST over the 30 point mark. And truthfully, it should've - 4 lost fumbles inside the 20, including one on the 1 inch line, were the only things between TCU and perhaps 28 more points. Kansas' defense sure as hell wasn't going to make any goal line stands. I said it in the preview - a young team coming off a huge win at home playing on the road against a team they were vastly superior to, and they knew it. Had the Frogs finished off drives early - another easy point to make, but I made it just the same - we'd be fired up this morning and talking Big 12 Championships. Instead, we're all a bit terrified of what's going to happen when we start playing the real Big 12 teams. And that's exactly how GP likes it. Let's run thru this:
The Positives:
Despite distributing the ball to the wrong side the same way his old roommate distributed marijuana and unnecessary commentary and team drug use to the po-po, Casey Pachall had a heck of a game. In fact, from a yardage standpoint it was his best game since Boise last year. Casey was 24/30 for 335 yards and 2 TDs... plus those 3 fumbles, which includes the snap that went through his legs. He did finally have his first half-dozen incompletions on the year, but he made some NFL caliber throws - the first BC touchdown pass - and looked great... when he had time to throw or wasn't running the ball. GP made mention in his postgame comments that he felt like Casey was holding onto the ball for too long in some situations, so that, among other things, is probably going to be a big focus in practice this week heading into Virginia.
Ladarius Brown! He Exists! The big target had 5 catches for 70 yards and no drops that I can remember, good for second best on the team. Brown isn't going to be a speedster like Boyce, running wide open through secondaries, but with Boyce having a bit of an off day, it's reassuring to know that Brown is capable of picking up the slack. It's been quite a while since we had a big bodied receiver like Brown on the roster to throw jump balls to, so that's something to look forward to over the next 3 seasons. Speaking of jump balls...
Brandon Carter and his Invisible Ladder. BC had a HUGE day overall - 8 catches, 141 yards and 2 scores - but its his second one that had to be the play of the day, Fox's decision to make a Dayne Crist duck their own play of the day be damned. I think we can all be honest and say that Pachall made a QUESTIONABLE decision to throw the ball while scrambling out of a tackle in the first place. No matter, Brandon Carter showed off his 80 inch vertical, snatched the ball out of the air over the corner, and snuck into the end zone. Can he play basketball?
De-Fense, at least Run De-Fense. Kansas and Grambling are probably the two weakest offenses not QB'd by Garrett Gilbert that TCU will face all year, but so far, so good for the TCU D. 6 total points scored, no TDs. True, Dayne Crist had the best day of his career, and there was a significant lack of pressure in the backfield by everyone not named Davion Pierson and Joel Hasley, but on the bright side the Jayhawks run game was held to 77 total yards. It's pretty clear the gameplan was to load up up front and make Crist beat us, a plan that could've backfired if it weren't for an acrobatic Sam Carter pick and late forced fumble by Maponga, but it didn't and we're 2-0.
The Negatives
Butterfingers. Of course this is going to be the one that sticks out. Four fumbles is always going to be terrible, but it's where they occurred - 9, 23, 1, 7. The Pachall missed snap is probably to be equally blamed on Center and QB, but Pachall arguably could've at least knocked it down. The second fumble where Pachall was scrambling happens to QBs with some frequency, and while GP will probably chew him out for holding the ball too long without being aware of who was behind him, we can't be too hard on him. But, his fumble at the goal line was unacceptable, as was Tucker's. Casey isn't ever going to be a major threat running the ball, but knowing that he should at least secure the ball enough to make the most of his opportunities. As for Tucker, come on, man, you're a senior. On the flip side, Kansas is currently one of the best teams in the country at generating takeaways, averaging 3.5 per game, so maybe our own guys aren't entire to blame.
Waymon James' Knee. Waymon played a great game - 99 yards on 12 carries - but the last carry is the one that will stick with us as it sure looked like he turned his knee while attempting to break a tackle. Waymon was held out the rest of the game and did not practice yesterday while the team determines the extent of his injury. Should be not be able to play this weekend, you'd have Tucker starting, Catalon at the two and Aundre Dean ignoring his responsibilities in lieu of twittering. Running back, once a major strength for this team from a depth perspective, would be extremely think without James' availability. Let's hope it's just a small tweak.
Passing Defense. This was downplayed a little above, but the fact that Dayne Crist put up his career high in passing yardage against the vaunted TCU defense is a bit alarming. Again, the boys came up big when it counted in keeping points off the board, but if this doesn't improve things could get tragic from the Baylor game on. Jason Verrett continues to play as we expect him to, but Kevin White looked lost on a few plays and the safeties have been a little quiet. Did you know that Jonathan Anderson had 8 tackles on Saturday? Me either. The front six/seven HAVE to put pressure on QBs going forward or we'll be in for some long Saturdays. Oh, and Kenny Cain, no more arm tackling.
The Offensive Line in Pass Blocking Situations. TBD, but it wasn't always pretty. After watching Alex Okafor and Jackson Jeffcoat Saturday evening, I'm a little on edge. At least we have 2 months to get better.
Mac Engel, the next Dan Jenkins, wrote another over-negative and drivelly piece talking about how TCU is going to go 1-8 in the Big 12 based off of a one game performance, but even the biggest homers among us have to be at least a little nervous when looking around the league right now. The following are the offensive outputs of our Big 12 brothers this weekend - 66, 65, 49, 48, 42, 37 and 35. For you math wizards out there, 20 points won't beat any of them. TCU has a lot of room to improve, and the one spot drop in the rankings to 17 reflects that. We all knew a letdown was coming this weekend, but the good news is the Frogs were fairly dominant even in an off week. If this game was going to happen, you couldn't have asked for a better week. Now the Frogs will have a week chock full of unpleasant practices to prepare them for the Cavaliers. I'd expect a big time performance Saturday morning.