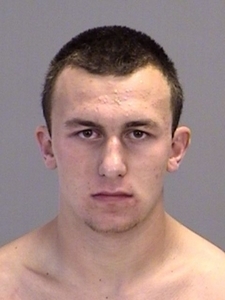 Any story that mentions Johnny Manziel is required to post his mugshot.
In case it somehow got lost in the shuffle, SMU's big showcase game against aggy this past Saturday... well, it didn't quite go how the Ponies may have envisioned when it was scheduled. Despite things being tied at 0 at the end of the first quarter, 48-3 was the final score, mostly thanks to drunk drivin' aggy QB Johnny Manziel's 6 combined TDs. That's a school record, and not the kind you want being set if you're SMU. For an SMU team that came into their final season in CUSA - well, sort of if you look at the future Big East roster - with Conference title and, dare I say, BCS bustin' expectations, the season has been an abject disaster. Sandwiched around a gutting of SFA in week 2, the Ponies have played 2 BCS Conference opponents in Baylor and aggy. In those two games, they've been outscored 107-27. That... that's just not good. A defense that forced NINE turnovers against SFA simply hasn't been able to make things happen when they count, and for all Zach Line's accolades, brosef has only found the end zone twice this year.
However, the biggest reason for SMU's struggles is ironically the one that gave them the most off-season hope, and that is QB Garrett Gilbert. You all remember Garrett - State Championship winning athlete from QB factor Lake Travis. Top rated QB prospect in the state and the jewel of UT's 2009 class. Thrust into action after Colt's dad held him out of the Title game, where he actually didn't perform THAT bad. Head man of the worst season in recent UT memory, at which point he was cattle prodded out of town. And then, finally landing in Dallas at the hands of self-proclaimed QB guru June Jones, the same man who was able to briefly turn Colt Brennan into an NFL QB and Yao Ming into an even briefer NCAA one. So naturally you'd expect, with Gilbert being the highest profiled recruit to set foot on SMU's campus since the Death Penalty, if anyone could regen his career, it'd be Jones.
So far, no good.
For the season, Gilbert is completing 52% of his passes for 694 yards, has tossed 3 TDs, 4 picks and has been sacked 6 times. He currently has a QB rating of 94.6; for some perspective, his QB rating during the aforementioned UT season was 111.0. With a week off to prepare for TCU, perhaps June can work his island magic and turn Garrett into a big time QB, but after Saturday's thumping, facing a defense that has given up 0 TDs to this point in the season can't be a good confidence builder.
But what happened to Gilbert between his senior year of HS and that fateful evening Pasadena? I realize that high profile recruits flame out from time to time. In fact, we have one on our team that won't be named. Neither will James Battle. But it's stunning to see what's happened with this kid, especially when you see what David Ash is doing at UT so far this year. David Ash briefly lost his job to Colt's little brother, although that may have simply been an experiment in fan behavior since Shipley's little brother was also on the team. So what happened? Could facing a Nick Saban coached Bama defense in his first ever college action on the biggest stage have shell shocked him that badly? Was the fact that he wasn't nerdy and prone to drunken trysts with his roommate too much for UT fans to embrace after the Colt era? Did anti-UT doctors abduct Garrett and secretly remove the part of his brain that understands how to play football before his freshman year in Austin? All I know is, I'm glad we got the other brother.
What do you guys think?