When TCU and UCLA last faced each other on the diamond, it was the Bruins' superior pitching that allowed them to beat the Frogs two out of three times in Omaha in 2010. While they still have a formidable pitching staff (more on that tomorrow), it is the extremely productive batting order that has powered them to a 45-14 overall record and the #2 overall national seed in the NCAA Tournament.
The Bruins are led offensively by junior right fielder, Golden Spikes award candidate and 1st round draft pick of the Cincinnati Reds, Jeff Gelalich. He's batting .372 for the year, leads the team with 11 home runs and is second on the team with 46 RBI. He will strike out from time to time, though, so hopefully if the Frogs see something like the picture of him above, it will be on a big swing and a miss. He hit two home runs in the Bruins' final game of their NCAA Regional, so don't waste your time hoping he's not coming into the weekend with momentum.
Unfortunately, Gelalich isn't the only UCLA hitter that the Frogs need to be wary about. They hit .312 as a team this year, and had a combined .398 on-base percentage. Every member of their starting lineup is battting at least .253, with five others joining Gelalich in hitting above .310. The other extremely dangerous hitters to keep and eye on are center fielder Beau Amaral (18 extra-base hits), catcher Tyler Heineman (.351 batting average), second baseman Trevor Brown (team-leading 50 RBI), left fielder Cody Keefer (.342 batting average) and shortstop Pat Valaika (15 extra-base hits). They've also gotten a decent contribution as of late from freshman Shane Zeile...son of former big-leaguer Todd Zeile.
Just because the intimidating trio of Gerrit Cole, eccentric uber-douche Trevor Bauer and Rob Rasmussen has moved on to the professional ranks, don't assume that UCLA doesn't have a pitching staff capable of shutting opposing hitters down. Their team ERA is 3.14 and they're allowing 3.77 total runs a game- which is usually a good recipe for victory when your offense is scoring 6.34 to back you up.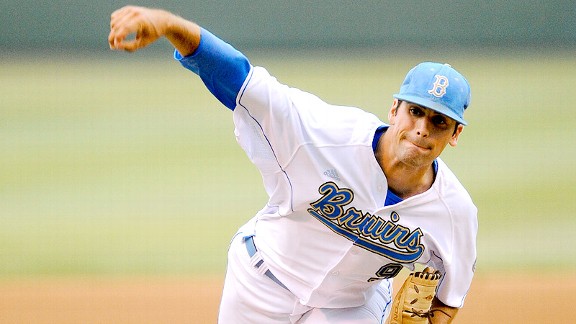 Their ace is sophomore right-hander Adam Plutko, who has accumulated a record of 10-3 with a 2.56 ERA this year with 85 K's and opposing batters hitting just .212 against him. Last weekend in the regional, he tossed a two-hit, complete-game shutout of Creighton. He's the likely starter for Friday's series opener, and represents a stiff challenge to the current momentum of the Frogs' young bats.
On Saturday and Sunday, though, the Frogs will be facing good but mortal starting pitching. Sophomores Nick Vander Tuig (9-2) and Zack Weiss (3-2), both earned victories in the regional last week. Vander Tuig tossed 8 shutout innings and struck out 11 against New Mexico and Weiss gave up 3 runs on 7 hits in 5 innings of work against Creighton. It is worth nothing, though, that along with the other possible starter (freshman Grant Watson), these guys have ERAs over 4.00 and opposing batting averages in the .270-.280 range.
The real strength of the UCLA pitching staff, though, may just rest with the Bruin bullpen. Junior closer Scott Griggs (2.70 ERA and 15 saves) freshman David Berg (1.71 in 45 appearances) and sophomore Ryan Deeter (0.94 in 35 appearances) shoulder the biggest relief load, but freshman Zack Ortiz and sophomore Chase Brewer also have ERAs under 3.00 in limited work. So while it may seem that the odds may be tilted in TCU's favor to win the series if they're able to defeat Plutko, runs will be difficult to come by late in games when the Frogs need them most.
If it sounds like I'm building UCLA up to be something they're not- think again. They are a really, really, really darned good team. Traveling 1,400 miles to beat the #2 national seed with a bunch of freshmen and sophomores is not going to be an easy task. The good news, though, is that this current Horned Frog squad has a lot of steam heading out to California with them and they've already shown they can overcome long odds. The Bruins are also not known for ferocious fan support, as illustrated by their home attendance numbers and previous Omaha traveling parties being dwarfed by those of TCU. Hopefully some of our Southern California-based alumni will get out to Jackie Robinson Stadium this weekend to diffuse a little bit of the home-field advantage.