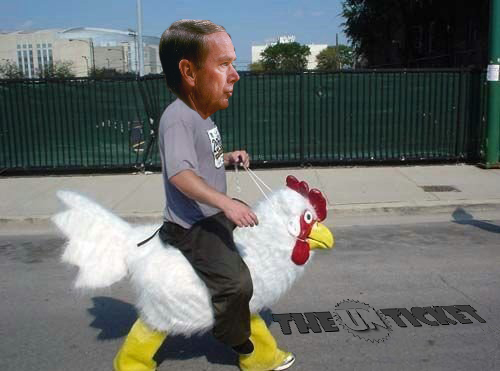 It's nice to speak with you again, Chuck- I guess by now you've found the bodies
OU Hoops at-a-glance:
-Program founded: 1908
-Overall record: 1,539-995
-4 Final Four appearances (1939, 1947, 1988, 2002)
-8 Elite Eight appearances (most recent: 2009)
-27 NCAA Tournament appearances
-15 regular-season conference titles (1 Big 12)
-7 conference tournament titles (3 Big 12)
-Home Base: Lloyd Noble Center (12,000)
History with TCU:
The obvious connection between these two basketball programs is that Billy Tubbs left Oklahoma in 1994 after a very successful 13-year stint as the Sooners' head coach claiming that "he did not feel appreciated enough working at a football school" and then took the job at TCU...which, you'll remember, was not a football school at the time. There have been only twelve meetings between the two schools on the court, though, with Oklahoma taking eleven of them. TCU's only win came over Tubbs' squad in Oklahoma City of December of 1986, but the Sooners have done bad, bad things to the Frogs in their two most recent meetings. They beat TCU 63-35 in 2006 and 90-66 a year later at Daniel-Meyer.
Famous Former Sooner cagers:
Eduardo Najera. If he ever played for the Spurs, he would have the best-selling jersey in the entire NBA.
Waymon Tisdale. He retired from the NBA in 1997 to focus on his jazz career, but sadly he passed away in 2009 after a fight with bone cancer.
Stacey King. Michael Jordan won him 3 rings.
Mookie Blaylock. More than just the original name of Pearl Jam, Blaylock was also on the original NBA Jam...but only for the Game Boy and Sega CD versions.
Recent History:
When Tubbs left in 1994, OU immediately hired then-Washington State coach Kelvin Sampson to take his place. Sampson reeled off nine NCAA appearances in his first nine seasons in Norman- a stretch that included a National Coach of the Year award (1995) three consecutive Big 12 Tournament titles (2001-2003) and a trip to the Final Four in 2002. Most of that success is tainted, though, as Sampson came under fire from the NCAA for committing numerous recruiting fractions just before he jumped ship to go to Indiana in 2006. VCU coach and former Duke player and assistant Jeff Capel was hired to replace him, but Capel produced just two NCAA appearances in five seasons, and went a combined 27-36 in his last two seasons before being fired. Longtime college and NBA coach Lon Kruger, who had most recently led UNLV to the Big Dance in four out of five years, was hired before the 2011-2012 season and led the Sooners to a 15-16 overall record and 5-13 in Big 12 play.
Outlook for next year:
Like the Frogs, the Sooners are losing their top two scoring threats from 2011-2012. Steven Pledger, who led OU wih just over 16 points per game, has graduated. Calvin Newell, who was second at 13 points per contest, has transferred to Central Florida. Romero Osby, a 6'8" senior-to-be forward who was the leading rebounder on the team and third leading scorer, will most likely be looked upon to be a leader for the 2012-13 Sooners. Cameron Clark a 6'6" guard from Sherman who will be a junior next year, came in as a four-star recruit but has of yet failed to live up to expectations. Of the incoming freshmen, 6'4" shooting guard Jelon Hornbeak from Arlington Grace Prep is seen as the next big thing.