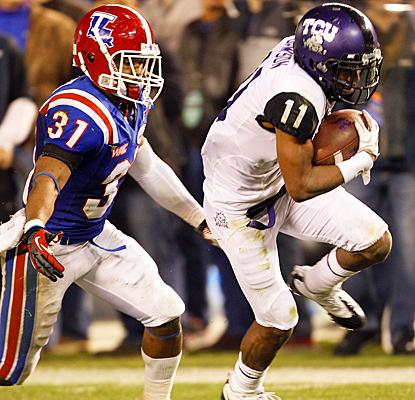 You might remember that, before spring practice, I broke down the 10 biggest questions facing the Horned Frogs in their preparation for their first season in the Big 12. My original intent was to get out and see a few practices, take notes at the spring game and rely on the observations of mainstream media on their visits to the practice fields in order to be able to go back and figure out the answers to my questions.
Coach Patterson threw a wrench into that plan when he closed practices, even to the media, and decided to simply not have a spring game. All of the info that has come out of TCU's spring practice is straight through Coach P's mouth- if he doesn't want his new conference rivals to know something, he doesn't want you to know it, either. So instead of answers to our questions, we can only guess from piecing together the snippets of intel that GP gave in the post-practice media Q&A sessions.
Because of the reliable productivity of Josh Boyce, receiver is not a position that is of much worry for TCU fans. There is a lot of athleticism and potential in the rest of the young receiving corps, but their relative inexperience is the reason
WR depth
was the #10 biggest question facing the Frogs this spring.
From what we can tell, redshirt freshman LaDarius Brown may have made the biggest splash this spring. While adjusting to campus life last season, Brown added some bulk and is now up to 6'4" 225 with the same speed and game-altering athleticism that made him one of the biggest names in TCU's 2011 recruiting class. In addition to the news that Brown may be a break-out for the 2012 Frogs, we also heard good things coming from GP's mouth about some guys that won't surprise you: Josh Boyce and Brandon Carter. If Carter can re-create Boyce's step up in production from freshman to sophomore year, look out. And if Boyce can maintain his upward trend as a junior this fall, there might be some hardware in that young man's future.
Stick with us the the coming days as we'll be going back to revisit all of our pre-spring questions and dig through the small amount of vague praise that GP has heaped on some players at each position.