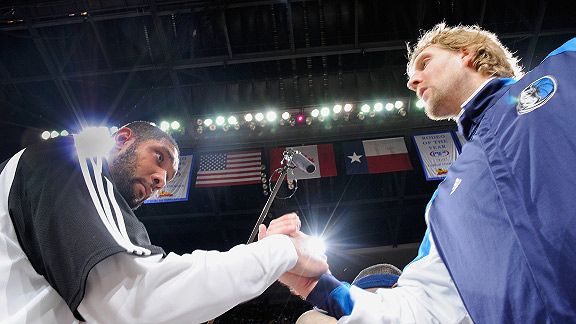 Western Conference Finals? Eh...probably not
The abbreviated 66-game NBA regular season came to a close last night, and with the playoffs starting tomorrow it's time to drive a wedge between our readers and contributors who might otherwise exist harmoniously with our shared love of the Horned Frogs.
In case you haven't had a chance to get acquainted with this year's bracket, you can peruse that sucker by
clicking here
. The defending champion Mavericks, who even the staunchest MFFLs would admit are a shadow of last year's squad, stumbled down the stretch and ended up as the #7 seed in the west. They'll face Oklahoma City in a rematch of last year's Western Conference Finals starting tomorrow night.
For our friends from down south of the border (which is somewhere near New Braunfels), the Spurs are right where they were a year ago with home-court advantage all the way through the Western Conference Playoffs. The smart-ass in me wants to draw parallels to how they blew it in the first round to #8 seed Memphis a year ago, but the reasonable basketball observer in me knows that this is a much deeper Spurs team and this year's #8, Utah, pales in comparison to last year's very underrated Grizz.
Here's where you, the regular Spit Blood reader who is normally too shy to comment on posts, come in. What do you take of the Mavs' chances as they try to defend their first title? I doubt many out there are picking them to go all the way again- but how far do you think they can make it? How realistically has Poppovich put the Spurs in position to win #5? Who do you think will come out of each confernece, and do you expect any first round upsets?