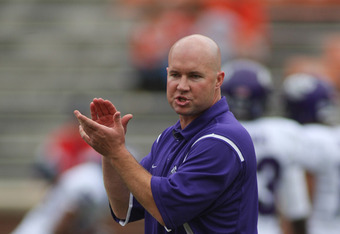 Chad Glasgow, seen here saving the world, probably.
Despite the responsible, above board and by all accounts wholly positive way in which the TCU coaching staff handled the recent drug situation, that mess continues to be a pretty big black eye for the program. No matter where you look no one seems to want to talk about the fact that Gary Patterson and Company took no chances, essentially shooting first and asking questions later by dismissing the accused parties even though it damaged his team for the immediate future, but would rather just blow up the fact that it happened at all. When you compare it to the Bobby Petrino situation where all everyone wants to talk about is how noble Hogs AD Jeff Long is for dismissing the coach while ignoring the fact that he plucked him from the Atlanta Falcons mid-season - a BIG no-no in these matters - thus earning this karmic payback, the discrepancy becomes even more glaring. I suppose thems the breaks when you're TCU.
So, in the midst of all that, it's nice to read an email like the one that has been circulating praising the TCU staff for the way they handled an off the field situation. Rather than try and paraphrase, I'll just post it here in its entirety, albeit with names removed as I'm not sure what the policy is on posting emails that aren't yours, although I doubt the sender would have an issue with his praise being made public. Apologies for the format fail:
I wanted to take a few minutes of your time to express my absolute gratitude and thanks to one of your fine coaches and some of your terrific athletes. My son is an 8 year old football fanatic. He is everything we all wish our boys to be: he's exceptionally smart, a great young athlete, and above all a warm and loving little boy. Last month he was diagnosed with a brain tumor and brain cancer. His world and our world was turned upside-down, but he has shouldered the surgery and the treatments to date with the courage and tenacity of a man. I'm very, very proud of him. I am also extremely proud of a group of young men from TCU who have stepped in and demonstrated maturity, wisdom and strength far beyond their years; and it's these men that I wanted to share my thanks with you today.
He was introduced 'virtually' through a family friend to Coach Chad Glasgow a few weeks ago. I believe the picture Coach received was of his 8th birthday with his TCU gear and TCU cake. Chad could have sent a nice note encouraging him to get better, and that would have been nice and unexpected. Instead, the Coach immediately contacted us and learned all about him. A week later, about 15 cards from TCU players were welcomed at our house by a glowing little boy who can't stop reading the accolades from his gridiron heroes. This week, while we were in Boston to prepare for his radiation therapy, he received phone calls of encouragement from these same players. It has been one of his and our treasured moments through this nightmare of an ordeal.
These young men--these exceptional student-athletes from TCU--have enormous amounts of pressure on their time, and for them to take the time to write very personal and encouraging letters to him and then to follow them up with phone calls to him is the mark of an exceptional university, an exceptional team, and, quite simply, exceptional young men. I know you and Coach Glasgow must be terribly proud of them. With their Spring Training about to begin and the semester at full swing, they took the time to write and call a boy they've never met--he was speechless and so was I.
My son is a 'military brat', both my wife and I are active duty members of the military. As such,he and his two sisters are adept at dealing with hardship brought on by war and multiple deployments. I suppose this has something to do with his courage and inner-strength, and it does explain how a kid from Tacoma wound up following the Frogs (my wife graduated from TCU school of nursing). I was previously only connected to TCU by marriage, and my love of watching a "mid major" take it to the giants of college football year in and year out. I can tell you that I have turned into TCU's biggest non-grad fan over the past month.
One final note, and one that I expressed to Coach Glasgow as well, I am a LTC in the US Army Special Forces. I've spent my entire adult life leading, coaching and mentoring young men. In Special Forces, I enjoy the luxury of working daily with the very best that our Country produces. I am extremely proud of my Green Berets and assure everyone that our nation's defense is in the best of hands. I believe today, that you too enjoy coaching and mentoring some of the finest young men in the country. They wear TCU colors and can be found in the football locker room. Many of them in the defensive secondary. The TCU football coaching staff, specifically Coach Glasgow, does your University proud in finding and developing these boys into men--something that they will take with them long after they leave the football field. At my alma matter, there is a quote that every Freshman must memorize: "Upon these fields of friendly strife are sown the seeds that on other days and other fields, will bare the fruits of victory". So goes it for your young men as well, their Coaches are preparing them well for life--on the field and off it.
Please know that we are extremely thankful for your wonderful coach and his exceptional football players. He had a very successful surgery last month to remove the tumor, and we are now preparing for his follow-up radiation therapy at Boston's Mass General Hospital. His prognosis is good, and we are very hopeful that he'll be roaming the football fields, soccer fields, and baseball diamonds in a few months. We've had wonderful support from the Army as we are both on extended leaves of absence to be with him and his sisters throughout this trial, we've enjoyed exceptional support from our friends and family across the country as well. And we have been absolutely thrilled and humbled to receive such thunderous support from a football program over a 1,000 miles away. Please thank your coaching staff and those players for everything they've done for him. And please accept the appreciation and thanks from us as well.
First of all, I think we should all take a minute to say a prayer for the little guy and think about how fortunate most of us have been health-wise throughout our lives by comparison. It really puts things in perspective when you're talking about an 8 year old boy fighting cancer and fortunately it looks like he is going to come through the situation as unharmed as you possibly can be given the circumstances.
That's pretty awesome though, isn't it? It won't make ESPN like the story of Alabama's Trent Richardson recently taking a cancer survivor to her Senior Prom-an equally noble gesture- but Glasgow and the team didn't do this for the recognition. They did it because it was the right thing to do. TCU has been unfairly painted as a rogue program whose level of success has outgrown its ability to police itself, but a situation like this would suggest what we all know to be true. Gary Patterson and his staff have always been one of the higher minded, above board programs in the country and the unfortunate actions of a few shouldn't overshadow the good will that has been built up during their time at TCU. At a time when the news has been dominated by Bobby Petrino bedding every young, willing woman in the state of Arkansas and Gregg Williams calling for near-death experiences to be doled out by his defenses, reading something like this is a breath of fresh air and a reminder that there are still good guys out there. Thanks for making TCU proud, Coach Glasgow. Glad to have you back.