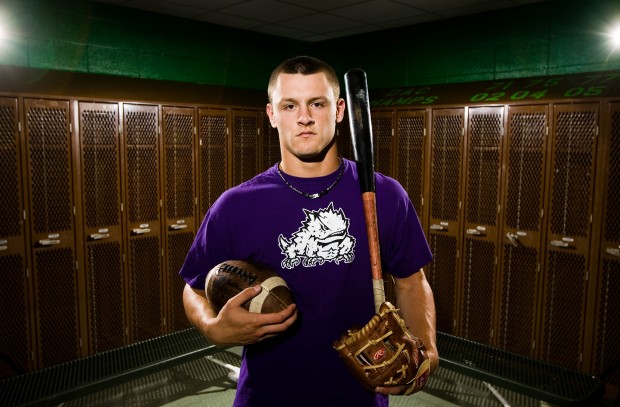 When the Frogs come up to bat in the top of the 1st against UTA at Arlington's Clay Gould Ballpark tonight, they'll be doing so without a designated hitter in their lineup. True freshman Jerrick Suiter, who sports a perfect 0.00 ERA with two appearances so far this year, will take the mound for his first collegiate pitching start. And because he's batting .341 so far this year in 41 at bats, he'll be batting for himself- making the Frogs a bit of an NL-style club for at least one game.
We've seen a few TCU pitchers show off their versatility over the years. You'll remember Kyle Winkler laying down a bunt for an RBI against Kansas last year after the Frogs lost the DH when Josh Elander was hurt and original DH Jimmie Pharr had to switch to playing catcher. And a few pitchers, such as Greg Holle and Shawn Ferguson, have played an inning here or there in the outfield in late-game situations when Schlossnagle was running out of pitching options and needed to keep them available. But Suiter, who briefly walked on to the football team this fall and has expressed some interest in doing the same for Jim Christian's basketball squad, is the first real throwback the Frogs have had to the days when guys like Michael Aubrey, Brooks Kieschnick and Michah Owings ruled the college baseball world from the plate, field and mound.
Like the Frogs, the Mavericks have had an up & down season marked by offensive struggles. While they boast road wins against Texas and Oklahoma and have beaten Baylor at home, they are 13-11 overall and have dropped their last four- including a three game sweep at the hands of Southeastern Louisiana this past weekend. They are batting just .258 as a team (compared to TCU's team average of .247), but junior right fielder Preston Beck is just mashing the ball. Beck, a product of Dallas' Bishop Lynch High School, leads the Mavs with a .338 batting average, 5 home runs, 3 triples, 20 RBIs, a .638 slugging percentage and an on-base percentage of .466.
Opposing Suiter on the mound will be fellow true freshman Zach Thompson, an Arlington native who attended Grace Prep and the younger brother of Rangers farmhand pitcher Matt Thompson. He has an ERA of 3.95 through 13+ innings of work in six appearances, and tonight will be his second career start. On March 4th, he gave up three runs on five hits in five innings of work while taking the L in a 15-1 setback to Houston Baptist.
If you're wanting to head out to he game tonight but don't know where to go, Clay Gould Ballpark is located at the corner of West Park Road and South Fielder Road, about 2.5 miles south of I-30. From either Fort Worth or Dallas, you can get there by taking the Fielder exit off of the interstate.