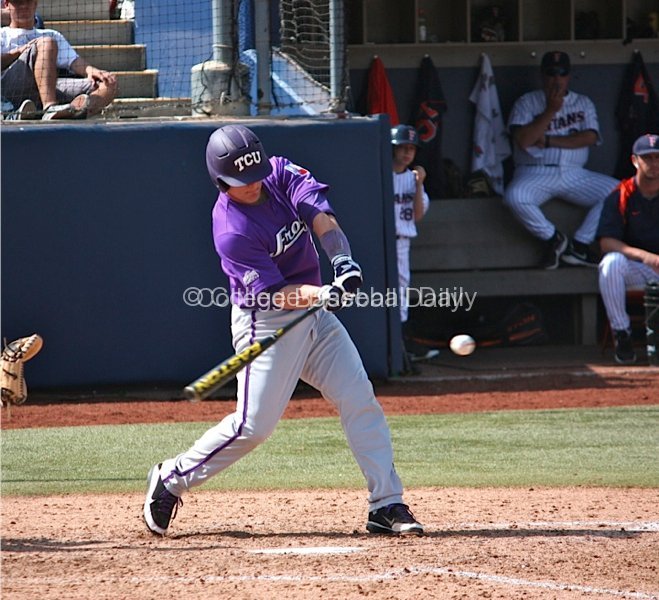 Since Jim Schlossnagle took over the TCU baseball program, the Frogs have taken on the same offensive identity as the Major League neighbors over in Arlington. While TCU has enjoyed more pitching consistency than the Rangers, neither team has ever really wanted for production at the plate. That is, until this year.
Only once in Schlossnagle's nine seasons in Fort Worth have the Frogs batted less than .300 as a team- when they hit a collective .294 in 2004, his first season at the helm. That '04 team had six regulars hitting above .300, though, as opposed to just two* on the current squad that is hitting .244 collectively. Four of this year's regulars are hitting below .200 to start the season- most notably catcher Josh Elander, whose current .192 average is barely half of the career .345 clip he brought into his junior year.
To put things in a perhaps unfair perspective, the Frogs' current team
slugging percentage
(.330) is four points shy of the .334 batting average that the Omaha team of 2010 produced. I don't think it's unfair to say, though, that their average of 3.57 runs per game so far is not enough to sustain success with their current team ERA of 3.90. You don't need to be a stat geek to recognize that this team needs to start hitting the ball better. Quite a bit. Soon.
Every team- and certainly every player- will go through slumps from time to time. So perhaps just seven games into a long season is a little early to start panicking- especially since some of the Frogs' best hitters (Brance Rivera, Jantzen Witte and the promising freshman Kevin Cron) have missed part or all of the opening stretch of 2012. They can't afford to wait on those guys to get healthy, though, with this weekend's series against Oklahoma State kicking off a stretch of seven straight against future Big 12 opponents. It looks like it's going to be
warm and sunny
, so be sure to grab some sunscreen along with your rally-cap on your way out to Lupton.
*- Jason Coats and the pleasantly-surprising Kyle Von Tungeln, who are each batting .345. Rivera and Cron both currently hold averages of above .300, but with only a handful of at-bats under their belt so far this season.