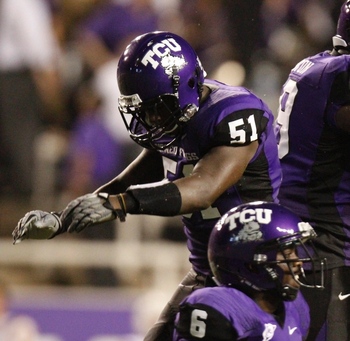 For as long as I can remember, Gary Patterson's TCU teams have had one team strength in common through the years: linebacker. From guys like Chad Bayer and LaMarcus McDonald in the early days all the way through a number of NFL tackling machines to Tank Carder, the Frogs have always been able to rely on the "2" in the 4-2-5 to lead the way. In recent years especially, depth at linebacker has never been an issue. But the graduation of Tank and Kris Gardner coupled with the dismissal of Tanner Brock, the middle layer of the TCU defensive scheme has rocketed toward the top of the questions facing this team heading into spring drills.
The good news is that the team's leading tackler from 2011, Kenny Cain, is back to start again this year. A senior originally from the New Orleans area, Cain racked up 72 stops last year- 3 of them for a loss- as well as one sack and one interception. As the oldest and most experience backer on the corps, he'll be looked to for leadership this fall...a role he'll need to start to take over this spring if he hasn't already.
Leading the list of candidates to start alongside Cain is sophomore Deryck Gildon. One of the bright spots of last year's spring practices (he enrolled last January after graduating from Arlington Martin a semester early), he totaled 21 tackles as a true freshman last fall in spot duty on defense and as a special teams star. He is certainly capable of joining the parade of star linebackers at TCU under Patterson, but the role of staring middle backer is a big step up from special teams. Keep your eye on #36 this spring, because big things are expected from him.
Behind Cain & Gildon, though, is the real issue. Directly below the projected starters on the depth chart are walk-ons Danny Heiss, Joel Hasley and David Stoltzman. Now don't get me wrong- I'm not saying these guys can't play. Just the opposite- they've all shown off their abilities on special teams and all came to TCU after stellar careers at powerhouse area high school programs. But when walk-ons are beating out your scholarship recruits on the depth chart, it does raise a few eye-brows about the depth of that particular unit.
The three other guys that will be looked at to step up and provide quality depth this spring are senior Greg Burks, sophomore Marcus Mallet and redshirt freshman Laderice Sanders. Burks has been a star on special teams for years now, but will finally have the chance to prove himself on defense. Mallet played sparingly as a redshirt freshman last fall, and the hard-hitting Sanders should be chomping at the bit to get back into the swing of things after his redshirt season. Two talented true freshmen- AJ Hilliard and James McFarland- join the fold this fall so it behooves all of the current linebackers to sew up their spot in the rotation sooner than later.
What are your thoughts on the linebacker depth? Do you think Gildon has what it takes to step up into a starting job? Who will end up providing the quality depth so needed by this unit, and will any of them fill the role of "third starter" that guys like Robert Henson, Daryl Washington and Cain himself performed so brilliantly in over the years?