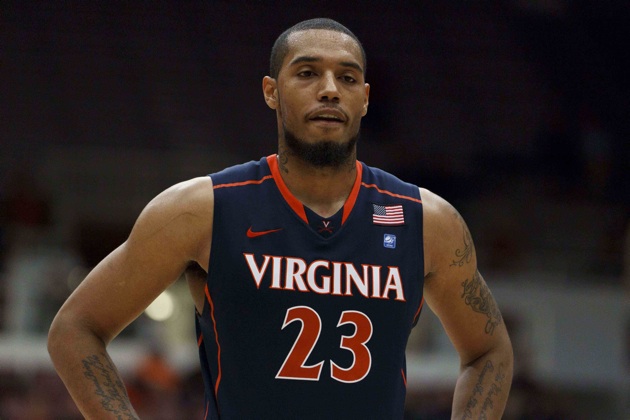 The Cameron Crazies have probably found Mike Scott's facebook page by now
As TCU fans, most of the big time college basketball games on ESPN are of little significance to us, unless you happen to have money on one of them. That's not the case tonight, though, as the 17th-ranked Virginia Cavaliers visit Cameron Indoor Stadium to take on the 6th-ranked Duke Blue Devils on ESPN at 8:00pm. That's because UVA might be TCU's ticket to postseason basketball.
Now, when I say "postseason basketball", don't misconstrue my words by thinking that I'm putting the Frogs on the NCAA bubble. They're a long way from that right now, but could (with a strong showing in their upcoming conference schedule) land a spot in the NIT or the lesser-known CIT or CBI. Before you turn your nose on those events, remember that it's been seven very long years since TCU has played any kind of postseason basketball beyond the conference tournament. Just like when SMU football fans went crazy about a Hawaii Bowl berth two years ago, TCU fans should be very appreciative of any invitation extended to our hoops team.
According to Joe Lunardi's latest
NCAA Tournament Bracketology
, the last four teams in the Big Dance are Florida State, Notre Dame, Arizona and Northern Iowa. Those four have an average RPI ranking of 56.75, which we'll round up to 57 for simplicity's sake. Using 57 as the estimated RPI cut-off for an at-large berth to the NCAA Tournament and remembering that there are 72 total spots in the ancillary tournaments (32 in the NIT, 24 in the CIT and 16 in the CBI), the estimated cut-off for any postseason berth is 129. TCU currently has an RPI of #134, so it'd be a close call if the season were to end right now.
Back to why tonight's game is important- Virginia, at 14-1 on the season, has an RPI ranking of #39 and are currently projected as a #5 seed in the NCAA Tournament. That one loss, you'll remember, was to little ol' TCU way back on November 18th in the Virgin Islands. Jim Christian's squad is 10-5 currently, and their next-best victory after UVA is their 77-72 home win over Lamar, who currently has an RPI of #96. So as you can see, the win over the Cavaliers is far and away the most attractive line on the Frogs' postseason resume. A road win over Duke would be a major boon to Virginia, but that benefit would definitely trickle down to TCU.
I know this is all a HUGE stretch, but I am looking forward to having some kind of rooting interest in a big-time basketball game without having to have a financial stake in the outcome. Hopefully some day it won't have to be so convoluted, but if I've learned anything from Dr. Leo Marvin, it's to understand the importance of setting
small, reasonable goals
.