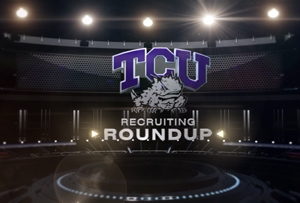 We've received a number of emails throughout the last year, mostly in the past few weeks, telling us that we need to have more recruiting content on our blog. Well, for those of you hungry for more content about Coach Patterson & his staff's efforts to woo the next wave of talent to Fort Worth, I've got some good news and some bad news for you.
First, the bad news: if you're REALLY into recruiting, we're not going to be of much use to you. With a completely unpaid staff, even an award-winning one such as ours, just doesn't have the time or the resources to track down any kind of inside scoop on the decision-making process of high school kids. If you want that kind of stuff, I highly suggest purchasing a subscription (or at least signing up for a free seven-day trial) on purplemenace.com. Jeremy Clark and Jeremiah Glenn do a pretty outstanding job of keeping us all informed of what's new in the world of TCU recruiting over there. I guess we could just steal their content and post it for free over here, but we don't consider ourselves to be THAT big of assholes.
The good news is that we do have a whole lot of recruiting content on the way between now and Signing Day, which falls on Wednesday, February 1st this year. One by one, we'll be introducing you to the players currently committed to TCU. We'll start with the guys slated to play in some high-profile All-Star games this week and weekend, move on to the guys who'll be lacing it up with the Frogs in spring practice, and then the rest of the bunch that'll be joining the team next fall. These profiles will mostly be written for those of you that haven't been following recruiting on a daily basis for the past 12 months, but even you die-hards might learn a thing or two.