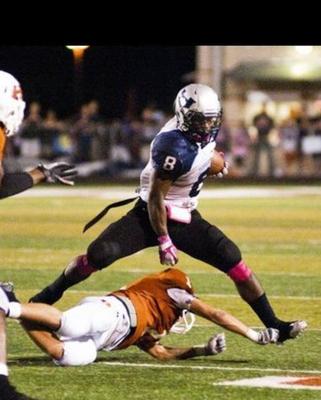 I didn't think there would ever be a recruit that would stir up casual fans quite like Johnathan Gray. When the record-setting tailback from Aledo put the Frogs in his top three before publicly choosing Texas, he became the center of attention to the extent that girls were talking about recruiting. GIRLS!
But over the past week, I've been getting countless texts and emails from folks that I never really knew had a vested interest in this area of the college football world. The topic: Daje Johnson. While he doesn't quite have the numbers or the Dave Campbell's Texas Football cover story like Gray, he does have the explosive athleticism and similar sky-high upside that have caused an increasingly-public tug of war between fans and coaching staffs in Fort Worth and Austin.
After committing to TCU last March, Daje has been the subject of rumors that he'd switch his commitment to a number of different schools. To his credit, he's squashed most of those rumors. The one that has stuck around, though, has been the burnt-orange team in his backyard....Texas. There were a lot of whispers of him switching his commitment on a scheduled visit to the Austin campus this weekend, but a tweet from the Pflugerville Hendrickson star last night seemed to negate that with a simple & direct "STAYING WITH TCU".
Obviously, that rubbed UT the wrong way. And why wouldn't it? When you're used to getting everything you want, you're going to act a little petulant when the little bitty school up the way in Fort Worth gets something you covet. Longhorn offensive coaches Bryan Harsin and Major Applewhite have apparently told Daje that he'd be making a big mistake to go to TCU, and the new rumor out this morning is that he's been persuaded to still make his official visit to UT this weekend after all.
Clearly, no one is going to know where Daje is going for sure until his signature is on a national letter of intent on Signing Day. That's just the nature of how college football recruiting goes sometimes, but it also sets up today's daily discussion...
If he ends up succumbing to the last-minute effort by Texas to get him to switch, how bitter would you be? And how much of that negativity would be directed toward him specifically, as opposed to just being pissed that your UT friends would once again have a bit of recruiting scoreboard on you? While it's certainly frustrating for us as fans to be uncertain of a future watching and cheering for an athlete as dynamic as Daje, how much can you really blame an 18 year-old kid for having a tough time making such an important decision?