As you all know, football season (at least for the Frogs) is long gone and we really have nothing athletically to look forward to until baseball season. Yes, I know there's basketball, but to steal a line from NFL Primetime- "Come on, man!". Maybe this year will be different, but I'm not betting on it, and I'm currently trying to figure out a way to Austin Powers cryogenically freeze myself until late August and come back without losing my Mojo. I've already started slowly sinking into a deep, dark post-football depression and having my TV flooded with pre-March college basketball games and whatever floptastic Euro-trash soccer league they show on ESPN is about to cause me to toss a plugged in toaster into a bathtub with me. Yeah, there are still the occasional bowl games, but currently I'm watching Purdue and Western Michigan. Who gives a shit about that game? The only thing good to come out of either one of those schools was Drew Brees's birthmark, and I'm pretty sure he carved that off of himself with a Bowie knife a couple years back. I have taken some pleasure in watching the Mavs get their asses blasted by nearly 30 on consecutive nights, but really I don't care about basketball yet and won't until March, and by then I probably won't have a team competing that I have a rooting interest in. So yeah, FML.
So to combat my lack of meaningful football depression, and to kick start the site again after the holidays (thank you to Lyle for literally single-handedly keeping this site going for the past few days), I've decided to give a grade, position by position, to each unit on the team. Keep in mind, these aren't just the starters grades, but the entire unit as a whole. For discussion's sake, please feel free to disagree and give your own grades in the comments section. I'll start with the offense today and get to defense later in the week.
Quarterback: A+
Okay, so I probably lose what little credibility I have by throwing out a complete homer grade in my very first position breakdown, but bear with me here. Just think about all of the offseason tension and paranoia surrounding our quarterback position, most of which obviously centered around our favorite sleeve-tatted bad ass with a tin foil helmet and superman undies. Well I'd say he laid those fears to rest in week 1 with his near heroic performance leading a huge comeback against Baylor despite cramps coursing through his legs seemingly the entire second half. Casey Pachall didn't stop there, though, and his win against Boise State on the Smurf Turf was one of the greatest single game performances by a TCU QB ever. As a first year starter, he broke Andy Dalton's single season records of passing yards (2,921) and completion percentage (66.5%) as well as throwing for 25 TD's to just 7 INT's. He wasn't quite the rushing threat we had imagined, netting only 50 yards and 2 TD's, but without his full extension lay out on the 2 point conversion against Boise State, we probably don't win that game. And who needed him to run anyways? That's what the Matt Brown package was for. Brown amassed 118 yards and 6 TD's on the ground, as well as finishing 3-5 passing for 90 yards. I no longer fear the backup QB situation like I did before the season, especially with the studs we have waiting in the wings in the future.
So assuming you thought Andy Dalton was an A+ QB last season, I think you'd have to give the QB's this year the A+ as well. The passing numbers were pretty much identical, and considering the expectations were way lower I'd say I was thrilled with the outcome.
Running Backs: B+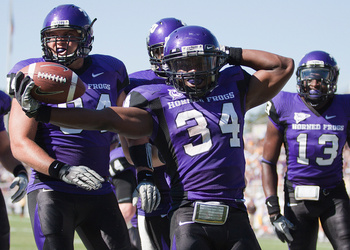 This grade could've been higher, but I had to knock them down a peg for one reason: fumbles. Ed Wesley, who didn't play much early in the season but accounted for 726 yards and 6 TD's, ended with 6 fumbles. Way too many. Waymon James, our leading rusher with 875 yards, 6 TD's, and a ridiculous 7.2 yards per carry, ended up with 3 fumbles. Matthew Tucker, the red zone beast who scored 12 TD's and had 702 yards, only fumbled twice. I do have to deduct some points from Tucker for trying to leap into the end zone from the 5 only to come up a yard short. Maybe next time, Carl Lewis. Between our 3 leading rushers, a total of 11 fumbles is way more than you should have. Not to mention so many of these fumbles seemed to come at horrible spots on the field and were incredibly untimely (Wyoming comes to mind). I'm pretty sure Trent Richardson has fumble once in like, ever, at Alabama, be more like Trent when handling the ball next season and we will be giving this group an A+ next winter for sure.
Oh, and Luke Shivers. You will be missed. You were loved. Great career for the touchdown machine.
Wide Receivers/Tight Ends: B
This group was 2 Josh Boyce yards away from getting upgraded to a B+, but that 998 total receiving yards kills me. He looked like a lock for 1000 after the first few games, but I wouldn't necessarily blame him for that. The emergence of Brandon Carter mid-season took some catches away from Boyce, and also the bore the shit out of your fans mentality of running the ball into the ground against lowly MWC competition took away from some of his potential production. Shouldn't be an issue next year, and I bet he cruises past the 1000 yard mark. Boyce's 9 TD catches were great and the Pachall/Boyce connection is something we will all enjoy again at least next year, but the play of the year by Boyce was definitely when he made the Boyce DB his bitch, stole his ball, and waltzed in for the go-ahead 2 point conversion. And how can you talk about receivers and Boise without mentioning true freshman/future superstar Brandon Carter? I still think that one cornerback's panties are laying on blue turf after BC shook him right out of his drawers on his way to a 75 yards TD. Seriously, it looked like someone shot that guy in the leg the way he came up limp after getting his ankles broken on that hitch and go. Then later on he outdid himself by leaping over a DB and hauling in the TD that led to the Boyce 2 point conversion.
So after all that gushing, you'd have to wonder how this group gets a B? Simple- it's the drops and the other guys. Carter had a game ending drop against SMU, but the real issue with that game is how we put ourselves in that situation in the first place. Skye Dawson, despite being the bowl game "offensive MVP" dropped a sure 90+ yard TD that Pachall put perfectly into his hands. Obviously he redeemed himself later on in that game and the speedy Junior was 2nd on the team with 500 yards and 5 TD's. Many of us were hoping for a season of redemption from Senior Antoine Hicks, but it wasn't meant to be. He was third on the team with 347 yards, but only had 1 TD and a truly disappointing end to his TCU career by not being able to play in the Poinsettia Bowl. After his Sophomore season I thought we had a superstar in the making. Tight End Logan Brock was a nice red zone threat, hauling in 3 TD's and his blocking helped paved the way for our dominating rushing attack. We also saw a nice glimpse of the future from David Porter III, who caught 2 early season TD's and got his first career start in the Poinsettia Bowl. It'll be exciting to see if he and Cam White can progress and become bigger cogs in next season's offense.
Offensive Line: A
If we thought the panic level was high at QB prior to the season beginning, I'd say it was equally as high if not higher along the offensive line. With the loss of All-American's Jake Kirkpatrick and Marcus Cannon, nobody had incredibly high hopes for this group this fall anyways. Then the drama with projected starting Left Tackle James Dunbar being ineligible came down, and word was that we had a former walk-on Tight End, Robert Deck, moving over to start at Tackle. At this point, the oh-shit meter was through the roof. The lone returning starter on this year's offensive line was Kyle Dooley, a veteran we all knew could be counted on, but the rest was a complete uncertainty to all of us and probably to the coaching staff as well. Well, mad props to OL coach Eddie Williamson and anyone else who works with those guys, because this was without a doubt your finest job yet. Starters Jeff Olson, Kyle Dooley, James Fry, Blaize Foltz and Robert Deck all need to be commended for a job incredibly well done, as well as backups like Brady Foltz, Ty Horn, and Spencer Thompson, just to name a few. This group paved the way for a whopping 2,712 yards rushing (16th in the nation) at a 5.1 yards per carry clip (18th) on the season, 38 rushing TD's (5th) and allowed only 13 sacks in 13 games. Not too shabby for a group of 4 new starters that include 2 former walk-ons.
Coming up next, your defensive and special teams grades...