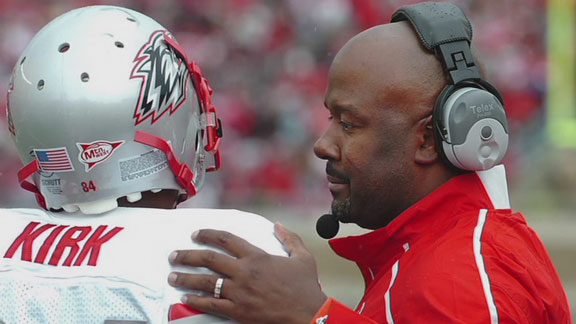 We're continuing with our look ahead to the Frogs' opponents for the upcoming football season (just 70 days away!) moving from our preview of
one of the toughest
tests of this coming fall to- at the risk of supplying some bulletin board material for New Mexico here- one of the least daunting.
The Lobos will have one last chance to break into the win column against TCU while the two are both members of the Mountain West- the Frogs have won each of the six meetings between the teams since the MWC expanded to nine in 2005 including last year's 66-17 thrashing in Albuquerque that made Uncle Hank's beating of Jesse look like a big brother administering a mild noogie*.
In case you haven't been paying attention to UNM football, Mike Locksley is still somehow the coach...despite his two year record of 2-22 and the fact that he punched one of his assistant coaches
in the face
after a game. Needless to say, they don't have high expectations going into 2011. But Pete Fiutak of collegefootballnews.com tells us that there is a glimmer of hope for this team, so don't take them (or any opponent, really, given the non-existant margin for error afforded the Frogs by the national media) lightly.
-
CFN 2011 New Mexico preview
-
CFN 2011 New Mexico offensive breakdown
-
CFN 2011 New Mexico defensive breakdown
-
CFN 2011 New Mexico depth chart
*- For anyone else that is a fan of the best show on TV, look for some
Breaking Bad
-related content on Spit Blood when Season 4 gets underway on July 17th. No, it has nothing to do with TCU sports, but it's the summer and we need filler!