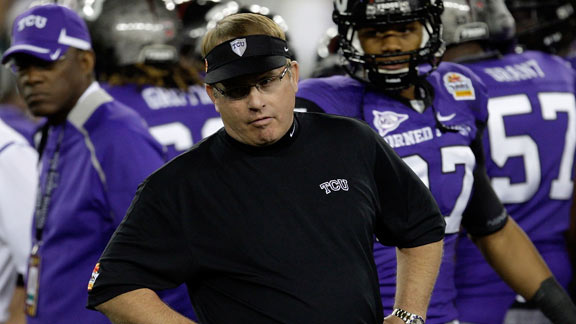 Tomorrow, Gary Patterson will sign his tenth recruiting class as head coach at TCU. Well, actually it'll be his eleventh- but that first one had Franchione's fingerprints all over it so this will be the tenth class that is ALL Patterson's. So with ten years worth of recruiting data to look at, let's see which talent wells GP has gone back to the most.
Counting the 26 players expected to sign letters of intent with TCU tomorrow, Patterson has signed 205 players in the 10 recruiting classes he's put together on his own. Nearly 83% of those have come from within the borders of Texas, while just over 17% have come from other states.
Here's the breakdown of where Patterson's had the most recruiting success:
1. The Metroplex: 27.8%
-When you're school is right in the middle of a metropolitan area of over 6 million people, you're always going to rely on local talent. But it seems kind of odd to call a kid such as Tejay Johnson, who came to TCU from South Garland, as being just as "local" as a guy like Boswell's James Vess? When you break it down between kids from the eastern counties of the metroplex (Dallas, Collin, Kaufman, Ellis, Hunt and Rockwall) and the western counties (Tarrant, Denton, Johnson, Parker and Wise), it's actually the "D" in DFW that wins out: 31 recruits to 27.
2. (tie) Houston and East Texas: 17.07% each
-If you watched former SMU coach Ron Meyer break down the Mustangs' recruiting strategy from the 1980s, you can see that Patterson has emulated it a bit...geographically, of course- not in terms of shelling out cold, hard cash to kids. Meyer focused the bulk of his attention on The Metroplex, East Texas and Houson/Southeast Texas, and Patterson has followed suit. Over 60% of the Frogs' ten-year roster has come from these three areas combined. It's funny to see how well TCU recruits in Houston when you remember what the Frogs' critics said about them being frozen out of that area after leaving Rice & U of H in Conference USA. I guess guys like Andy Dalton and Jerry Hughes missed that memo.
4. West Texas: 7.32%
-There are some people who believe that the best high school football in the country is played in West Texas. Those people are generally from West Texas. When you check the list of recent state champs, that doesn't seem to be the case (yes, Abilene won in '09 but titles are few and far between for West Texas teams lately). But the Frogs certainly have benefitted from western talent, having won conference championships with guys like Marcus Cannon, David Roach, Giles Montgomery and Evan Frosch.
5. San Antonio and South Texas: 6.83%
-The San Antonio metro area has long been under-appreciated by college recruiters, but that is starting to change- with UTSA & Texas State moving up to Division I-A, I think you'll see more kids from that area and lands further south signing scholarships more often. Back to the point of the post, though- GP has found some great players down there all along. Guys like Robert Merrill, Quincy Butler and Michael Toudouze had great careers as Horned Frogs.
6. (tie) Central Texas and Louisiana- 5.83% each
-Louisiana, being essentially an extention of East Texas but with worse roads and more crawfish boils, is a natural recruiting target for TCU. They've had some trouble with some Louisiana kids getting academically eligible, but obviously guys like Jimmy Young and Marvin White have helped the program immensely. As for Centex, it's not always been known as a hotbed of talent, but you've always gotta like getting players like Jeremy Kerley or the Brock brothers from UT or Baylor's back yards.
8. California- 3.41%
-I don't think it's any coincidence that LT playing the bulk of his NFL career in San Diego corresponded with the Frogs being able to land some players from Southern California. TCU's not out-recruiting USC or UCLA out there, but guys like Logo Tevaseu and his cousin John Fonua have certainly big great role-players for the Frogs over the years.
9. Oklahoma- 2.93%
-Traditionally, OU and Oklahoma State have crossed the Red River to raid the Lone Star State for talent, but Patterson has had some success doing the opposite- including three players from this year's class. Zarnell Fitch probably had the best career of any Horned Frog from Oklahoma.
10. Kansas- 1.95%
-Kansas State couldn't lure Patterson back to his home state, but he has been about to lure some fellow Sunflower State natives to come south to Fort Worth. Brent Hecht, Zach Roth and the Foltz brothers are among those to follow in the footsteps of Patterson and Andrew Calovich.
Others: Florida, Mississippi, Nebraska and Tennessee- all less than 1%
-There hasn't been enough consistency from any of these states sending kids to TCU to notice any sort of pattern- although with Rusty Burns' precence on the staff and the move to the Big East, you could see more kids from Florida coming to Fort Worth in the coming years.