After doing the offensive grades, shockingly enough most of those who commented seemed to agree with me to a certain extent. I think when analyzing the defensive performance this year, there may be a little more dissension since this defense was not what we've come to expect from the Frogs of year's past. Anyways, let's get to it, and again, I encourage the readers to pick apart my grades in the comments section, but like every teacher/professor you ever had, I will not change the grades because I have all the power and I am in charge.
Defensive Line: B-
This grade could be lower, but it was completely saved by the greatness that is sophomore DE Stansly Maponga and the semi-unexpected breakout season of redshirt freshman/ginger successor David Johnson. Maponga had 9 sacks, 13.5 tackles for loss and a ridiculous 5 forced fumbles, and for the first couple months of the season it felt like he forced or recovered a fumble in every single game. He was a flat out monster all year, but I think we all kind of knew that was coming. David Johnson, who emerged as a starter in the last 8 games at defensive tackle, had 7 tackles for loss and 3 sacks, good for 2nd and 3rd on the team respectively. Not only that, but he seemed to blow up several plays in the backfield and seems to have that ginger-fire that helped make Andy Dalton a superstar at TCU. Those numbers were good enough to garner 2nd team freshman All-American honors from Yahoo!, so not a bad season at all from David Johnson.
As far as the rest of the D-line goes, it seemed to be a pretty or uninspired season for the rest of the guys. None of the other guys had more than 3 sacks (DJ Yendrey, Johnson), and too often we saw QB's with plenty of time to throw. The breakout season we had all been waiting for from Braylon Broughton for a couple years now failed to materialize again, as he was eventually replaced by Ross Forrest in the starting lineup. The season-ending knee injury to projected starting DE Matt Anderson in fall camp definitely hurt, and hopefully he comes back healthy and provides a pass rushing threat opposite Maponga. True freshmen DT's Jon Lewis and Chucky Hunter showed flashes of playmaking ability at times, especially in the BYU game if I remember correctly. I think it's safe to say that we are going to alright on the defensive line going forward considering how young we are, but I'd like to see a playmaker emerge not named Maponga by next September. Oh, and what the Hell happened to Jeremy Coleman? Yikes...
Linebackers: B
Obviously last season, but totally awesome still.
Man, this group went through a lot this year. From losing Tanner Brock for the season in game 1 to a foot injury, to Tank Carder playing with pins in his hand and whatever else weird injuries he accumulated, to Kenny Cain not making the trip to San Diego and missing 2 games due to injury. This group fought through a lot. Despite what most would consider to be a down year for Tank coming off of that ridiculous Rose Bowl, he still was the MWC Defensive Player of the Year for his 2nd time and even made some All-American teams somehow. He still is one of the better coverage linebackers I've seen in a while, and he showed that ability with 2 more pick-six's this season. He was also 2nd on the team in tackles with 70 despite having to switch positions when Brock went down with an injury. Kenny Cain, who became a starter due to the Brock injury, was quiet early on but came on strong and had arguably the best year out of any of our linebackers. He led the team with 72 tackles despite missing 2 games and is far and away the most athletic linebacker on our squad. Just another GP running back recruit turned defensive stud. Ho hum. Senior Kris Gardner played in all 13 games and ended his career on a high with a pick 6 on Senior Day. He was a more than serviceable backup for his whole career and filled in nicely this season when injuries plagued the other LB's. Freshman Deryk Gildon, the next great TCU linebacker in line, was a standout on special teams and had 21 tackles on the year and also blocked 2 kicks. I look forward to seeing what he'll do next year in what will most likely be the #1 backup behind Brock and Cain. It'll be interesting to see who else emerges next season to shore up the depth at the LB position.
Secondary: C
This was obviously the toughest grade of all, and perhaps I'm being harsh here considering our youth at the back end of our defense, but this unit just didn't get it done this season. Being torched by RGIII in week 1 hurt, but after seeing him do that to every defense he faced certainly eased the pain. The pain that can't be eased nor explained is letting JJ McDermott and a lousy SMU team pass all over us and steal a victory in Fort Worth. I'll try to get through this without being too harsh of a critic of any particular players since I've been accused of that before, but I think we all know who and what I'm referring to when I say I am sick and tired of watching incredibly fast defensive backs get burned on deep balls. I'll leave the negativity alone now and go into positive for all of these guys since most are young and will do nothing but improve in the future, hopefully putting together a tremendous Big 12 secondary in the next few seasons.
Jason Verrett- Rough start, but he definitely came on strong at the end of the year after losing his starting job for a couple of weeks. Seems to be the most sure tackler of all of our corners. Sweet hair as well.
Greg McCoy- Led the team in passes defensed (9) and a huge INT in the Poinsettia Bowl. Has been a productive player in the secondary for years and will be missed. Will get to him more in Special Teams.
Johnny Fobbs- Didn't know what to expect with him taking over for the legendary Tejay Johnson, but man this guy can hit. Forced 3 fumbles mostly from just blasting the shit out of ball carriers. Had a couple bullshit personal foul calls too when he destroy WR's that came across the middle. Sorry you had to suffer from the wussification of football on those.
Tekerrein Cuba- tied for second on the team with 70 tackles and was seemingly always around the ball. We are going to miss him for sure, although I won't miss looking up how to spell "Tekerrein" every time I write about him.
Jonathan Anderson- In my opinion, the next great TCU defensive back. Tackles like Stephen Hodge, but has more of a safety's build than Hodge. Had a great interception against BYU. Let's not forget he forced the fumble against Boise that gave us the opportunity to go down for the winning score. Well done, Jonathan. Also, awesome hair.
Devin Johnson- Where the Hell did you come from?!?! The walk-on was perhaps the bright spot in the secondary this year. Don't think he'll start next year, but he earned it. His 8 tackles for loss was second on the team. If it wasn't for his emergence, we might have been really, really screwed back there.
I realize there are plenty more players in the secondary, but I don't feel like highlighting those guys.
Kick/Punt Returns- A-
If I left this strictly to kick returns, it'd be an A+ even with that McCoy fumble against SMU. We took 3 back for a touchdown this year, 2 from McCoy, who has been doing this for years, and 1 from Waymon James. Replacing Jeremy Kerley proved to be even tougher than we imagined, with Skye Dawson and Brandon Carter both having their moments, but also their struggles at the position. Dawson got blown up several times, and a few times I didn't think he'd ever get up. Brandon Carter will be a great one back there, but he's got to learn how to hang on to the ball before that can happen. Ed Wesley was back there for a couple of weeks and he also showed flashes, but then somehow lost that spot in favor of Carter for the bowl game.
Greg McCoy will probably go down as the greatest kick returner in TCU football history. He earned some All-American honors at that position as well, and they were well deserved. He was definitely a game-breaker and momentum-swinger from that spot. He was 7th nationally in yards per return at 30.59 and tied for second with his 2 TD's. Did you know he was second on the team in all-purpose yards behind only Waymon James this year? That came as a shock to me.
Punting: B-
This one may get some argument, because for whatever reason Anson Kelton was a very polarizing figure. Kelton avergaged 40.2 yards per punt, which was good for 59th in the country. Not great. However, he did drop 14 of his 47 punts inside the 20, so that's not too shabby. I give him a pass because of the outstanding Rose Bowl he had, even though that's not this season. Also showed up pretty big in the Poinsettia Bowl. He may be harder to replace than we thought.
Kicking/Kickoffs: I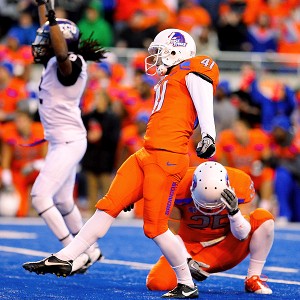 Our best kicker. It was either this, or Ross Evans's mugshot...
I won't touch this grade because I feel like my analysis might be out of bounds. Y'all can have at this in the comments section since the readers don't get hate emails when they go off...