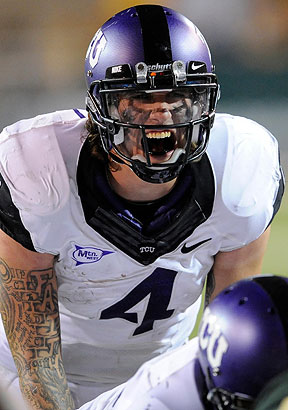 With no game this weekend and the Frogs having completed the first half of their 2011 season, let's look back at the first six games of the season and how the key figures have performed on the offensive side of the ball:
Quarterback:
-To say we all had worries about the QB situation before the season is quite the understatement. There were all kinds of rumors about Casey Pachall: from him being hurt, to him feuding with Coach Patterson to him just flat-out not being ready to take over. Those sentiments have obviously been put to bed, though, as Pachall has guided the Frogs to over 440 yards per game while putting up numbers that are on pace to flirt with if not break a few of Andy Dalton's school records- such as his 69% completion percentage and the 30 TD passes he's on pace to throw. He's not quite the ground-gainer that Dalton was and has shown a tendency to take some of the big hits that Dalton was so great at avoiding, but so far Casey has done a great job soothing the anxiety that goes along with starting an unexperienced QB.
Running Backs:
-We pretty much knew what we had at running back going into the season with Wesley, Tucker and James as the three-headed monster taking a majority of the hand-offs. The 1,018 total rushing yards and 9 TDs accumulated by that triumvirate so far this year is a bit off the pace of last year's season totals, but that could be at least partially attributed to Wesley's injury. And actually, they are combining to average 6.1 yards a carry, which is nearly half a yard better than last year's average. And fullback Luke Shivers has continued his incredible scoring efficiency, finding the endzone twice this year on just six touches. He's like the anti-Dampier.
Receivers/Tight Ends:
-Josh Boyce really blossomed toward the end of his redshirt freshman season last year, so we knew he'd be good. But he's been absolutely amazing so far as a sophomore in 2011- hauling in 37 passes for 580 yards and 5 TDs- which puts him on pace to break or at least tie the school records in all three categories. Antoine Hicks has, at times (like the Air Force and SDSU games), looked like a solid second option for Pachall, while Skye Dawson has actually accumulated the second-most catches and yards. True freshman Brandon Carter has showed some flashes with 10 receptions, and I'd look for Fuenderson to find some more wrinkles to highlight his versatility after the bye-week. I'm still trying to figure out exactly how tight ends are utilized in this offense, but Logan Brock has looked very good when the gameplan actually calls for using him as a pass-catcher.
Offensive Line:
-Like QB, the O-line was a major worry going into the season. Replacing two NFL-bound tackles and a Rimington Award-winning center wasn't going to be easy, but that was compounded when one young tackle (James Dunbar) was ruled academically ineligible and a former walk-on tight end (Robert Deck) was shifted over to take his place. While the total rushing yards are a bit off of last year's pace and they've given up nearly as many sacks already this year (7) as they did all of last year (9), I would still give the guys up front a big thumbs up for their effort. I don't know if there are any guys on this line that are early-round NFL prospects, but they are getting the job done by opening holes and allowing Pachall time to deliver the ball downfield.