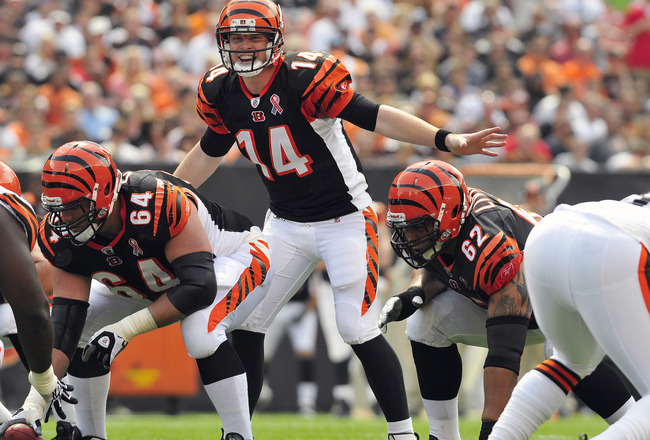 Was I the only one following Andy Dalton's NFL debut via gamecast on ESPN? He had a pretty decent start, completing 10 of 15 passes for 81 yards and his first career NFL touchdown pass, a 2- yarder to Jermaine Gresham late in the first quarter. But he was hurt on the Bengals' last possession of the first half and didn't come back in the rest of the game, with backup Bruce Gradkowski preserving the Cincinnati W.
Some good news in the aftermath, though, as
X-rays on Dalton's wrist came back negative
(remember, when it comes to X-Rays, negative = positive and positive = negative) and he is probable for Week 2 at Denver. Hopefully Channel 11 will air that game locally, although San Diego-New England is at the same time so I'm not going to hold my breath on that one.
Elsewhere, LaDainian Tomlinson had 89 total yards on just 11 touches and Jeremy Kerley returned 3 punts for a total of 13 yards in the Jets' thrilling win over Lebron Romo and the Cowboys. Daryl Washington had 7 tackles (6 solo), half of a sack and an interception in the Cardinals' win over Carolina. Drew Coleman had 5 solo tackles and a sack in the Jags' win over Tennessee.