Just like last season, every Thursday before a game, or sometime around then, I'll be posting one player to watch on offense and one player to watch on defense. For those unfamiliar, these wont always be the biggest name on the field and the well known superstar, because what good would it do for me to tell you to watch Kellen Moore when we play Boise State? Every Tri-Delt in a neon rush tank top knows who he is, so I'm not doing anyone any favors. Sometimes it will be a sleeper, sometimes it will be a guy who I think we need to devote our attention to heckling and humiliating (Robert Griffin definitely obliged last year), and sometimes it will be a guy who throws up some bulletin board fodder by running his mouth (more on that later).
As I mentioned Tuesday in my
Baylor hate tirade
, I refuse to profile their unaccomplished track star faux Heisman candidate QB who looks like the love child of ET and Jar Jar Binks. Yes, he's there best player, but he can't do it alone and he's going to need some help, which is something he's never gotten in his mediocre tenure at Baylor. Normally it'd be someone like WR Josh Gordon, but as you may have heard,
he would rather get high and pass out in a Taco Bell parking lot than play for Baylor.
Now he's off to the
land of Mormon's
, and who can blame him? Utah in the fall sounds much more appealing then being stuck in the asshole of Texas (Waco, obviously) without football. So it looked like I was going to have to dig a little bit and hope that a couple of players stood out, and I didn't want to use the same guys as last year. Then this happened, and my player to watch on offense got a lot easier...
Offense: Terrance Ganaway (Sr. RB, 6', 240, #24)
We will make a statement to the nation this Friday night," Baylor running back Terrance Ganaway said, acknowledging TCU's résumé."Where we've got to be this Friday is worry about what we do, execute our plays. The game's already won. All we have to do is go out there and do what we need to do to get that victory."
Uhh, what? This ranks up there in stupidity with the "Baylor can score on one play" comment from the hate post a couple days ago. The game is already won? Man, Mr. Gannaway, that's a lot of talk coming from a guy who had 295 yards rushing last season to go along with a whopping 2 TD's. It's kinda cute, actually. You get named the starting RB, clearly think you're in a position to run your mouth and start claiming victory with some ridiculous "statement to the nation" cliche. Let's face it, being the starting running back at Baylor is about like being the straightest guy at a bath house. You're still at Baylor, and you're second fiddle to Jar Jar. Actually, second fiddle would be the receivers. Your only purpose is going to be pass blocking to prevent the QB from getting smothered by the TCU front and maybe slipping out for the occasional screen, although you'd think they'd find a guy more fleet of foot to throw the screen to. Your 240 pound frame doesn't exactly scream big play to me or anyone else. You think you'll actually touch the ball that often when Jar Jar is forced to throw and try to stage a comeback? Please. I hope the teammates who plan on making a difference are happy with you for putting the pressure squarely on their shoulders Friday night. As if erasing the memory of 45-10 wasn't enough pressure, you've just really upped the ante. I'm sure QB is roaming the streets of Waco as we speak in search of some Xanax to calm his nerves, but I'm sure all he can find is crack, meth, and murdered basketball players. Normally this segment is reserved for discussing a player's stats and potential impact on the game, but you've yet to establish yourself as someone who can make a difference, so why bother? Leave the talking to the grown ups, Terrance, and go back to the kids table.
Defense: Tevin Elliott (Soph. DE, 6'3, 250, #18)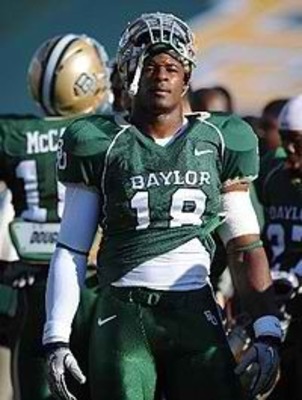 When a defense sucks as bad as Baylor's, it's hard to pick a player to watch. We witnessed first hand how abysmal their defense was last season, and they lost 6 starters including DT Phil Taylor, who was a first round draft pick. So who knows, maybe high turnover and new defensive coordinator, Phil Bennett, who is installing a 4-2-5 will be a good thing for them, but I don't think it translates to immediate results nor should anyone else. However, the match up that immediately stands out to me is the Baylor pass rush vs. the inexperience of TCU's OL, so that's where Tevin Elliott comes in. Elliott, the sophomore from Mt. Pleasant, led the Bears in sacks (5) and tackles for loss (9) despite only starting in 6 games. He was also named to several Freshman All-American teams and was honorable mention All Big-12. Currently, the Baylor depth chart lists him as the backup, but I'm sure not even Baylor is dumb enough to bench their best player at getting in the opposing backfield. Hopefully the running game keeps TCU out of obvious passing downs and we are able to keep the Bears off balance, because we have two tackles who aren't exactly battle tested, especially Deck. Keeping Elliott and the rest of the mediocre Baylor front 7 away from Pachall will most definitely be a key to winning this game for TCU.
Hopefully between now and game time another unproven Baylor dumbshit chooses to run his mouth as well, because it appears that the Horned Frogs' players have taken notice, according to my twitter feed. I hope to see a very, very large number of y'all in Waco Friday night, and when we are running away with it, don't forget to tell Ganaway that the game was indeed over before it started just like he predicted. Good luck and go Frogs!