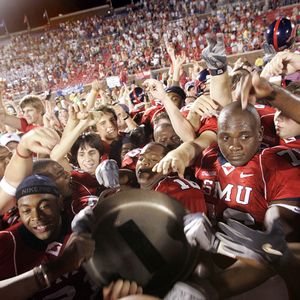 I shudder to think about how many lines were done off the skillet in the one year it spent in Dallas
Before we start listing the proudest moments for TCU football since the hiring of Gary Patterson as head coach, I think it's important- as painful as it is- to remember the lowest of the lows, too. It's fortunate that, with only 28 losses on GP's record, it was pretty easy to cull through the list to find the ten most heart-wrenching. As sick to my stomach as it makes me to recall some of these, I think they all served as learning experiences- for the players at the time, for us as fans of a program on the rise, and for Patterson himself.
#10- October 6, 2007: Wyoming 24, TCU 21
-This one hurt because it was one of the few times in GP's tenure at TCU that the run defense failed. Wyoming had not one, but TWO running backs top 100 yards on their way to 232 on the ground as a team. That, combined with three Horned Frog turnovers dug too deep a hole for them to dig out from. Dalton, as a redshirt freshman, made a valiant attempt to bring TCU back from a 24-6 deficit with a little under 7:00 left, but a last-second field goal attempt that would've sent the game to overtime clanged off the right upright.
#9- September/October 2006: Back to back Thursday night losses
-For a lot of reasons, 2006 felt like it was fiiiiinally going to be the year that TCU broke through to the BCS. The defense was solid and the offense was led, for the first time in years, by a quarterback (Jeff Ballard) that wasn't incredibly injury-prone. On top of that, the first month of the season saw two wins over Big 12 teams- including the magnificent near-shutout of Mike Leach's Air-Raid offense from Texas Tech. But then on a nationally-televised Thursday-night game in Fort Worth where the TCU D outplayed BYU's offense most of the night, quarterback John Beck was able to pull off miracle 3rd down conversion after miracle 3rd down converstion and the Cougars won, 31-17. A week later on Thursday night in Salt Lake City, the Frogs looked completely listless in a 20-7 loss to the Utes. All of a sudden a team that was dreaming about going undefeated was 3-2.
#8- September 13, 2007- Air Force 20, TCU 17 (OT)
-A week after blowing a second-half lead in Austin, the Frogs looked in control for most of their Thursday-night game against Air Force in Colorado Springs. The defense had basically shut down the Falcons' triple option attack and TCU led 17-3 with just 8:22 remaining. Those last few minutes, though, were a comedy of errors. A 50-yard bomb set up one score, and an untouched 71-yard touchdown run by Air Force's fullback tied it. Dalton then threw an interception while the Frogs were already in potentially game-winning field goal range, although Chris Manfredini missed his field goal opportunity in overtime. A season that had started with so much promise now found the Frogs 1-2.
#7- September 2, 2002- Cincinnati 36, TCU 29 (OT)
-For most of the 2002 season opener, it looked as if Gary Patterson's TCU squad was back in the conference championship form they'd had under Dennis Franchione in 1999 and 2000. Terran Williams had a Sportscenter-worthy kickoff return for a touchdown and the offense seemed to move the ball at will...except they ended five different possessions settling for Nick Browne field goals. The 29-14 lead they held with 5:18 left could've been much more. But Bearcats' quarterback Gino Guidugli caught fire late and rallied his team to tie it in regulation and then win in overtime.
#6- January 4, 2010- Boise State 17, TCU 10
-After the amazing undefeated run through the 2009 regular season, it was a bit of a disappointment when the Frogs were matched up with the other "have-not" and placed at what was essentially a BCS kid's table in the Fiesta Bowl. Even more disappointing was the flat play of the TCU offense- and in particular normally reliable Andy Dalton, who threw three interceptions. Even so, the Horned Frog defense had a masterful performance against the Broncos, and TCU was able to rally to tie the game at 10 in the 3rd quarter. After yet another stop by the defense in the 4th quarter, however, Boise kicker/punter Kyle Brotzman completed a long pass on a fake punt that set up the winning score.
#5- November 20, 2003- Southern Miss 40, TCU 28
-Despite seven games decided by seven points or less, the Horned Frogs rolled into Hattiesburg for a Thursday night, de-facto CUSA Championship game against Southern Miss with a 10-0 record and an invite to the Fiesta Bowl awaiting them should they get to 12-0. This was the last real test of the season for them, as only winless SMU remained on the schedule beyond the Golden Eagles. TCU struck first in this game with a Nick Browne field goal, but Southern Miss exploded to a 31-6 lead. Brandon Hassell led a furious rally that closed the gap to just three points midway through the 4th quarter, but one last momentum-deflating turnover cost the Frogs the game, their undefeated season, the conference title and a BCS trip.
#4- November 13, 2008- Utah 13, TCU 10
-In a script eerily similar to the 2003 Southern Miss game, TCU travelled to Salt Lake City for a Thursday night, de-facto Mountain West championship game. This time, though, both teams had a BCS invite on the line. A three-yard touchdown run by Ryan Christian helped the Frogs jump out to an early 10-0 lead, but that gradually eroded down to 10-6. TCU was moving the ball better than the Utes all night long, but Ross Evans missed two chip-shot field goals in the final six minutes. Led by senior quarterback Brian Johnson, the Utes drove 80 yards for the winning score, a 9-yard touchdown pass to Freddie Brown with 48 seconds on the clock.
#3- September 10, 2005- SMU 21, TCU 10
-A week after TCU's 17-10 win over Oklahoma in Norman, they (and we) thought they would steamroll past hapless SMU on their way to the top of the rankings. But the Horned Frog offense never showed up. Tye Gunn threw three interceptions and the running game averaged 3.7 yards per carry. The lone touchdown came on a Cory Rodgers kickoff return to begin the second half. SMU fans stormed the field and tore down the goalposts after the game. It was their first victory over TCU since 2005, and will hopefully be their last for a long, long time.
#2- The entire 2004 season
-There are so many bad memories from this season- the embarrassment in Lubbock, the special teams meltdown against South Florida, the blowout road losses to UAB and Louisville and concluding with the 99-yard game-winning touchdown drive by Tulane at Amon Carter Stadium that kept the Frogs out of a bowl for the only time in GP's tenure. I'm not sure what was worse- the defensive secondary that gave up over 300 passing yards a game, or the TCU fanbase who jumped off the bandwagon at the first sign of adversity. It was just a bad time in Fort Worth.
#1- September 22, 2001- Northwestern State 27, TCU 24 (OT)
-The first home game of the Patterson era was supposed to be the week before, but the events of 9/11 cancelled the entire slate of college games- including TCU's scheduled home game against a Byron Leftwich-led Marshall squad. Following a moral victory in hanging tough in the season-opening loss at Nebraska and two wins over SMU and North Texas, people had faith that the new head coach might be worth keeping around for a while. That confidence was shattered (temporarily) when Nick Browne's potentially game-tying field goal was blocked in overtime and the Frogs had lost to a Division I-AA school for the first time since 1979. Let me tell you what the guys who were freshman when the Frogs lost to UT-Arlington (UT-ARLINGTON!) way back then...it's not a fun time to be a pledge.
I know this was probably pretty difficult to read. Trust me, it wasn't fun to write. But do share your horror stories in the comments section, like smashing your cell phone after the Southern Miss game (guilty) or drunkenly telling an ex-girlfriend that the '04 meltdown was all her fault (yep...). Don't hate me for doing this, though- I promise the good stuff is coming soon.