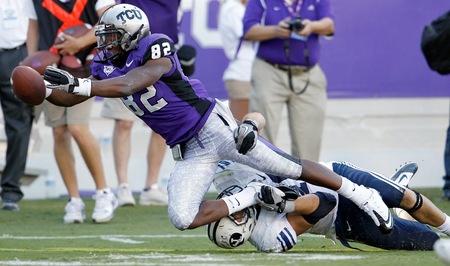 A year ago, the Horned Frogs came within 17 yards of gaining 3,000 through the air. When you take away the receiving stats of the running backs, you've got a corps of wide receivers and tight ends that caught a total 194 passes for 2,708 yards and 28 touchdowns. The bad news is that 65% of those receptions, 58% of those yards and 64% of those scores were produced by departing seniors- led by Jeremy Kerley, Jimmy Young and Bart Johnson. Also gone are Curtis Clay, Alonzo Adams, starting tight end Evan Frosch and Sam Schutt- a scholarship receiver who transferred before he was able to make any impact on the field.
The top leading receiver- and main candidate to become the next star pass-catcher at TCU- is sophomore
Josh Boyce
. He was a major suprise (at least to those of us outside the program) as a redshirt freshman last year, becoming the team's second-leading receiver with 34 receptions for 646 yards and 6 TDs. His breakout moment was definitely the first quarter in Salt Lake City, when he scored on 26- and 93-yard passes from Andy Dalton to start the epic blowout of the Utes. He also had a 44-yard catch that set up the Frogs' second touchdown in the Rose Bowl.
Despite seeing his production dip a bit in 2010, senior
Antoine Hicks
is by far the most experience returning receiver. Over his first three seasons in Fort Worth, Hicks has amassed 43 receptions for 722 yards and 8 touchdowns- including a team-leading 6 in 2009. He's also carried the ball 25 times for 91 yards and 5 touchdowns, showing the kind of versatility that made Jeremy Kerley such a dangerous weapon over the years. I would expect Hicks to bounce back from his junior-year slump in a big way this fall.
The only other returning wideouts that have notched any kind of on-field production are junior
Skye Dawson
and senior
Jonathan Jones
. Dawson, who is perhaps the fastest player on the team, hauled in 12 passes last year for 170 yards. His speed makes him a dangerous deep threat as well as a candidate for running reverses- he has 115 rushing yards in his first two seasons. Jones, at 6-4, is the tallest wide receiver on the team. Although he didn't register a catch last year, he has 5 career receptions for 48 yards and a touchdown.
Senior
Jercell Fort
, a converted running back who gained 168 rushing yards (with one touchdown) in his first three seasons, moves to wide receiver for his final year in Fort Worth. Joining him in moving from the backfield to the edge is redshirt freshman
Ethan Grant
, who was a four-star recruit coming out of Coconut Creek, Florida. Grant reminds me a lot of Aaron Brown, who played running back his entire career at TCU but might've been better suited to play receiver. Look for him to make some big plays this year.
Joining all of the above are an oustanding group of five incoming freshman, all of whom have the ability to work their way into (and near the top of) the receiver rotation this fall.
LaDarius Brown
out of Waxahachie was perhaps the most-lauded among them (picking TCU over offers from Alabama, Auburn, Nebraska, Notre Dame, Oklahoma, Oklahoma State, A&M and Tech), but they were all major recruiting wins for the coaching staff.
Brandon Carter
out of Euless Trinity switched his commitment to TCU from OU just before the deadline.
Cam White
and
David Porter
, who were teammates at DeSoto, had scholarship offers from BCS schools coast to coast- including quite a few schools with sterling academic reputations, so you know you're getting smarts and athleticism with them.
David Bush
, from Tyler John Tyler, is the kind of speedy do-everything athlete (he played just about every position for the Lions) that the TCU program has built on during Patterson's tenure.
At tight end, senior
Logan Brock
is the logical successor to Evan Frosch as starter. He actually made 5 starts last year, and caught 6 catches for 110 yards and 2 TDs. Pushing Brock for that starting spot will be 6-6 junior
Corey Fuller
, who caught 2 catches for 30 yards last year. Former walk-on senior
Robert Deck
and junior
Walker Dille
have not registered a catch, but have contributed as blockers in the run game and on special teams. Redshirt freshman
Stephen Bryant
and true freshman
Dominic Merka
both have big potential based on their size and athleticism.
With so much turnover, your guess is probably as good as mine when it comes to the receiving corps. Who do you see grabbing the most passes this year? Who's the biggest deep threat? How will the converted running backs fare? Which true freshman make the biggest immediate impact? Let me know your thoughts in the comments section.