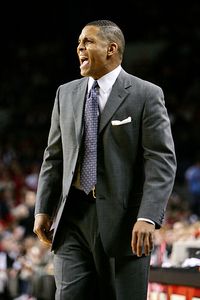 After last night's abruptly shocking tragedy at the Ballpark, this morning brings more bad news: Ex-TCU Basketball Coach Neil Dougherty collapsed while jogging this week and passed away. He was only 50.
As fans, we all had our ups and downs with Dougherty and have surely lobbied some unfair criticism at him, but this is just truly awful. Underneath it all, we do have Coach Dougherty to thank for the most memorable TCU Basketball season in nearly two decades: the Corey Santee led run to the NIT quarterfinals, as well as perhaps the only rushing of the court at Daniel Meyer since Jamie Dixon's miracle shot when the Frogs upset top 10 ranked Louisville. Things might be looking up for the program with the move to the Big East, but I think any TCU fan would give back the past 3 years of TCU basketball just to relive either of those events over one more time.
In a time like this we all just need to send our thoughts and prayers out to Dougherty's friends and family and hope they are able to cope as much as you can in a situation like that.