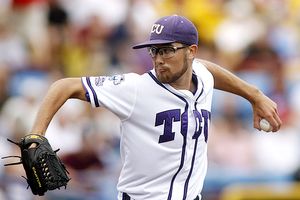 Come back, please.
TCU, who has finally reemerged in the top 10 again (#10) and they have another big mid-week game against a Big-12-10 team that we LOVE to beat, tonight at 6:30 against the 24-21 Baylor Bears. The Frogs send freshman right hander Nick Frey to the mound (1-0, 6.52 ERA), making his 3rd start of the season. Frey will top the 10 inning mark for the season in tonight's start (currently 9.2 innings), which goes to show how depleted our staff is currently given the injury situation and the large amount of games over the past few weeks. Baylor, on the other hand, hasn't played a game since May 1, and will throw Junior RHP Brooks Pinckard, who is a veteran who shut out Nebraska for 7 innings in Baylor's last game. Pinckard used to be a bullpen guy for the Bears, and has been for a couple years now, but I guess he got the Erik Miller treatment and moved into a starting role.
Baylor only has 2 guys batting over .300, Max Muncy at .320 and Chris Slater right at .300, so their lineup doesn't exactly scare me much. Brooks Pinckard, the aforementioned starting pitcher, usually DH's for the Bears and boasts a .299 average as well. Maybe if he's really mowing us down, we just drill him in the throwing shoulder since he bats left but pitches right. No, that's bad sportsmanship...but so is Robert Griffin crying like a baby and then giving no credit where credit was due after we owned him. So is trying to cover up a murder to keep your basketball team out of hot water. So is Lacedarius Dunn breaking his girlfriend's jaw and still being allowed to play during the basketball season. Sorry, I digress.
Also, remember that last time Baylor was in Fort Worth for baseball for the Fort Worth regional there was a lot of chatter from the state's, nay, country's most delusional fan base, about how we couldn't win our own regional because we didn't play tough games in the Big 12. Well, they really showed us by showing up for the championship series and getting blasted back to Waco by way of a 9-0 shutout and complete game gem by Steven Maxwell, and we followed that up by sending another Big 12 team packing on their own home field en route to Omaha. Yeah Baylor, we really couldn't compete with the Big 12. Heard it in football, too, and then we were up 35-0 on you before Robert Griffin even got out of bed.
Anyways, I expect to see Frey and Kyle Starratt, who was sharp in his last outing, and hopefully we can get it to Crichton with a lead in the 8th or 9th. The last meeting this season in Waco was a 2-0 TCU win, but I don't expect to see that kind of pitcher duel tonight considering who is throwing and that our bats have heated up of late. Hope to see many of you out at the game tonight as the Frogs start their final 5 game homestand of the year against hated wannabe rivals of everyone, the Baylor Bears. If we want to keep our momentum going in hopes of a regional site here, we need wins like this and to stay hot through the conference tournament. The game is not on TV, but you can find it on 88.7 KTCU or a live video feed from gofrogs.com.