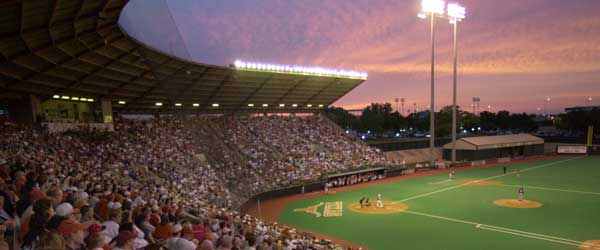 Horned Frogs v. Longhorns III?
Only a few weeks remain in the regular season, so the regional projections that seemed like such a shot-in-the-dark earlier in the spring are starting to be more like educated guesses. With some of the early-season slip ups that plagued TCU, there were many (including us) that thought hoping to host an NCAA Regional for a third straight season was a lost cause. But with their strong showing as of late and their impressive record against the Big 12, the Frogs have played their way back into the conversation.
One of the prognosticators that sees a Regional landing in Fort Worth again is Brian Foley of collegebaseballdaily.com, whose
latest regional projections
have the Frogs playing host to Rice, Sam Houston State and South Dakota State. I know nothing of the "other" SDSU, but Sam Houston is not that easy of an out and Rice is always going to be tough. Should the Frogs survive there, they'd likely be headed to Austin for the Super Regional for a third straight year as Brian has the Fort Worth and Austin Regionals matched against each other. You would think that, after causing an Omaha-worthy team to stay at home by matching these two teams the past two years, that the NCAA would hope to avoid this. Then again, I bet the TCU-UT Super Regionals have done fairly well on the tube.
While a trip to the Disch and the daunting task of facing UT's super ace Taylor Jungmann don't sound appealing, then Mark Etheridge of SEBaseball.com has
an even harder path to Omaha laid out for TCU in his latest projections
. He does have the Frogs hosting, but has Oklahoma (who has had TCU's number the past few years) coming in as the #2-seed, along with Texas State (who is a pretty salty club themselves this year) and Creighton. Should TCU win that hypothetical Regional, they'd likely have to take on Virginia in the Supers. The Cavaliers, who are an amazing 43-5 this year, are ranked #1 in some polls but are projected to be the overall #2 seed in Etheridge's projections (Vanderbilt is #1). So I don't think that this trip to Charlottesville would be quite the cakewalk that the football team had up there in '09.
Aaron Fitt over at Baseball America doesn't release a full projection every week, but does offer up his own opinion on the Frogs' situation in
this week's NCAA Stock Report
. Fitt is not as confident as his counterparts that TCU will host a Regional, listing them as "on the bubble" but currently "out" in terms of hosting. He points out that the Frogs' main competition for those duties is Oklahoma, who is 2-0 vs. TCU and currently has a better RPI. Both teams have a weekend series with New Mexico remaining, and OU also plays at Baylor the last weekend of the season so there may be an opportunity for the Frogs to pass them in that regard.