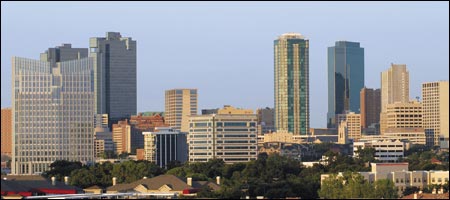 During this offseason, Texas Tech and Boise State were both able to weasel their way out of having to come to Fort Worth this fall. This comes after series that are slated to include games in Fort Worth against Arkansas and Navy being pushed back, teams like Texas and Clemson choosing to only play the Frogs on their own home fields and Wisconsin joining the long line of teams who have chosen to not play the Frogs at all if TCU dared to ask for a home game in the agreement.
I'm not necessarily claiming that any of those programs are afraid to come play TCU in Fort Worth (ok, not all of them at least), but the consistency with which marquee teams stay away from Funkytown does start to make you wonder, doesn't it?

When any TCU looks at the future schedules on gofrogs.com, it's pretty easy to get excited about the upcoming non-conference games that are on the docket. OU, LSU and Arkansas all coming to Amon G. Carter in the coming years are dates that are sure to be circled in bright red ink on calendars in every Frog fan home.

But TCU is not on Oklahoma's 2012 schedule according to their official site. And where are the Frogs on the 2014 schedule that LSU lists on their official site? Again, not there. This could be an oversight, as TCU's own future schedules have been updated slowly on gofrogs.com in the past. But as a fanbase that's seen team after team after team avoid a trip to play our team in our stadium, don't you have to look at this skeptically? I couldn't find Arkansas' future schedules on their official site, but if someone does it wouldn't surprise me if at trip to play at TCU were nowhere to be found on it.

Again, to any OU or LSU fans that stumble upon this post- I'm not calling your team out for being scared to play the Frogs in Fort Worth. But what gives? And to the TCU fans reading this...which of the future games scheduled for our renovated stadium do you think will actually end up taking place?