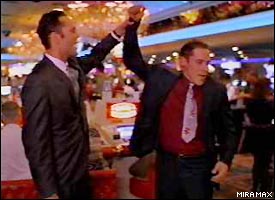 Like Mikey, TCU was the big winner in Vegas. OK, maybe not "big" winner, but winner nonetheless
When I checked the baseball score on my phone late Friday night, I have to admit that some of the "doom and gloom" being spewed by the majority of TCU's fickle & finicky fanbase crept into my mind. I had been following the game through the first three innings, during which Kyle Winkler was perfect as usual. But after he was exposed as mortal and the Frogs suffered another late-inning collapse and lost to UNLV on a walk-off home run, I felt a frustration at the continual underachieving that I thought only the Mavs could bring to me.
But then the Frogs, faced with the possibility of dropping a series at the hands of their main threat to conference supremecy, exploded for 20 runs and 31 hits over the next two days. They also got 7 and 2/3 combined scoreless innings from the bullpen on Saturday and Sunday to go along with the usual strong starting pitching as they stormed back to take down the Rebels.
As the guys at HornedFrogSports.com allude to in
their summary of the weekend
, it's hard to weed through all of the strong offensive performances to pick one MVP of the series. It may seem redundant because he's been hitting like a maniac all season, but in my mind it's gotta be Brance Rivera. He went 6-for-14 on the weekend with a double, THREE home runs, 5 RBI and a stolen base. Plenty of other guys had stellar weekends at the plate, though- most refreshingly Joe Weik, who went 4-for-5 in Sunday's win.
For the first time this season, Kyle Winkler was not the pitching MVP of the series. He took his first loss of the season Friday night, although he really didn't pitch very poorly at all. He had 11 K's in 8 innings, and even though he had a couple of hiccups, his ERA is still under 1.00. Purke also had 11 K's in his start, but the real MVP of the weekend has to be the collective effort put together by the bullpen. The Frog relievers, who had been somewhat suspect so far this year, allowed just 4 baserunners all weekend- and just two hits. Andrew Mitchell, Kyle Starratt and Teddy Nowell were all perfect in preserving Purke's third win of the season Saturday night.
Next up is Tuesday night home game against Texas State and a weekend series against former TCU assistant Todd Whitting and U of H at Lupton this weekend. The next 13 games will all be played at home, so the Frogs have a couple of weeks to find some rhythm and consistency before they next hit the road for a midweek road test against OU in Norman on April 12th.