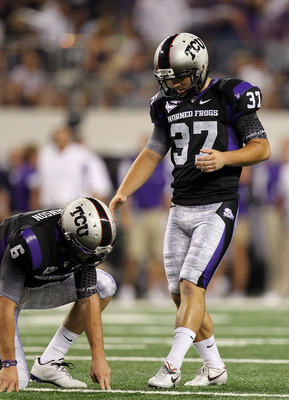 Last and probably frankly least important in the eyes of most fans, we come to special teams. Of course, anyone who actually knows the game also knows the value of special teams and the enormous impact they have on any given contest.
Place-kicker Ross Evans and punter Anson Kelton return in 2011 for their fourth years as the starter at their respective positions. Evans was 11-for-13 on field goals last year and 68-for-73 on PATs. I realize it might be nit-picky to point it out, but 5 missed PATs? I know being the kicker is a high-pressure job, but I look at kicking PATs like I do uncontested lay-ups in basketball: someone who's going to school for free shouldn't miss them. Kelton, despite his size, has never really been a boomer: he averaged just 41.6 yards per punt last year, but he did have 8 of 50 yards or more last year, and had about 40% of his punts downed inside the opponents' 20 yard-line.
Behind them, though, is a bit of a mystery as there are no scholarship back-ups for either. Kevin Sharples, who handled kick-offs last year, has graduated and former committed recruit Chad Hedlund opted to sign with Wake Forest instead of TCU.
The biggest loss to the Horned Frog special teams, without a doubt, is Jeremy Kerley. #85 accounted for 915 yards returning both punts and kicks last year. Greg McCoy, who returned a kick-off for a touchdown two years ago against Wyoming, returned 5 for 167 last year. Skye Dawson fielded 3 kicks for 87 yards and 1 punt for 25 yards- which represents the entirety of Division 1 punt-returning experience.
Daniel Shelley, who handled snapping duties last year on field goals, PATs and punts, returns in that capacity for his junior season. Bart Johnson was the holder for field goals and PATs, so a replacement will need to be found there.
Now's the time for us fans with no inside information to play the guessing game! Who do you see dropping back deep to return punts and/or kick-offs in 2011? Who will hold for field goals and PATs? Who will handle kickoffs, and who are the place-kicker and punter of the future? What younger position players will show their potential by making big hits on punt & kick coverage? Take a break from your TPS reports to let us know your predictions in the comments section.