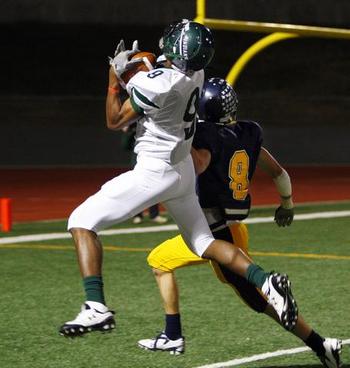 After California JUCO corner
Jason Verrett became the third consecutive commitment from out of state
, the TCU coaching staff found member #20 of the 2011 class much closer to home in
Waxahachie athlete LaDarius Brown
.
Standing 6'2" and weighing 190lbs, Brown runs a 4.42 forty and has an eye-popping 43" vertical leap. With hops like that, you could see him affecting the game not only by putting points on the board for the Frogs, but also by taking points off the board for opponents by blocking field goals. Or maybe that's just the raving lunatic, mad scientist special teams coach in me.
That kind of athleticism allowed Brown to score touchdowns (the exact number, I'm not certain) receiving, running, in the return game and on defense as a senior at Waxahachie, when he was named Offensive MVP of District 15-4A. The overall MVP of the district? Fellow future Frog Trevone Boykin. As is the case with a lot of TCU's class and every recruit listed as an "athlete", there is some question as to what position he'll play in college. Most of the experts seem to think wide receiver or safety, with more leaning towards WR.
If you're the type of recruiting fan that is obsessed with how many stars a kid has, you'll be happy to know that Brown is a 4-star player according to Rivals. They also have him ranked as the #7 overall player in Texas and the #53 overall player in the nation. He had scholarship offers from almost every Big 12 school, as well as a certain school that just bought a national championship and another that plays on NBC every Saturday.
I'm kind of surprised that I couldn't find a highlight tape of Brown on youtube, but you can see him score multiple touchdowns against future Camp Longhorn counselors in this video taken at a playoff game his junior year: