Thursday, October 21, 2010


video courtesy - themtn.tv


If I read or hear the word "berated" one more time, Crazy Dave will come out and do some berating himself...Who gives a shit, possibly even two or three about this?

Rod Gilmore... what a nut bag.

By the way, this meaningless story comes in at #2 on ESPN's home page.
Posted by

Dave
at Thursday, October 21, 2010
2 comments


Thanks to D for the new graphic.
Game of the Week:
Baylor (5-2) vs. Kansas State (5-1)...2:30pm Saturday
-Hard to believe, but the Baylor Bears are just one win away from their first bowl berth in 16 years. Their Homecoming opponent this weekend is the #22 Wildcats, who like the Bears, have also administered a completed Roethlisbergering of the Kansas Jayhawks while also playing the counterpart in that Georgia Pizzeria of a role-play (they got beat by Nebraska even worse than Baylor lost to the Frogs).
Others:
SMU (4-3) vs. Houston (3-3)...2:30pm Saturday on CBS-College Sports
-It's Homecoming at SMU as well, which I guess means that coked-out Pony alums will be coming from far & wide to...well, probably just go to Barley House or Ozona's instead of the game. With a win in this one, the Mustangs would be two games up on the rest of the competition for the CUSA West title.
Colorado State (2-5) at Utah (6-0)...5:00pm Saturday on The Mtn
-Air Force couldn't hold on to their Top 25 ranking long enough to come to Fort Worth with it, so hopefully Utah will not suffer the same fate. They're up to #9 now, and the higher they can climb the larger the benefit from a potential win in Salt Lake City.
San Diego State (4-2) at New Mexico (0-6)...9:00pm Saturday on The Mtn
-After ruining Air Force's chances of facing the Frogs as a ranked team last week, the Aztecs are now 4-2 and staring a very soft next three games (starting with the softest in a drrreeeeaaaddful New Mexico team) in the face with a chance to be 7-2 and possibly ranked/close to being ranked when they visit FW. Interestingly enough, this game is being carried by The Mtn AND a local station in San Diego. Why can't that shit happen here when the Frogs games are on The Mtn?
Wyoming (2-5) at BYU (2-5)...1:00pm Saturday on The Mtn
-Right now, the MWC has four teams that look like they'll be going bowling (TCU, Utah, Air Force and SDSU). The winner of this game, while they'll still be just 3-5, is the league's best chance for a fifth. The Cougars probably have a better chance than the Cowboys, but still, fuck those guys.
Tennessee Tech (3-4) at Tennessee State (3-4)...6:00pm Saturday on ESPN3
-Do you really care that much about this game? Sure, we want Tennessee Tech to win, but still. It should be noted that this game will be carried on ESPN3, which is more coverage than Baylor is getting for their game against a ranked team.
Oregon State (3-3) and UNLV (1-6)
are off this week.
Posted by

Lyle Lanley
at Thursday, October 21, 2010
0 comments


"Let's be clear -- we had a misunderstanding on the sideline during a very emotional football game," TCU athletics director Chris Del Conte said in a statement. "Dr. Haraldson has explained that all the full details, at the time, had not been communicated to Coach Patterson. Both Dr. Haraldson and Coach Patterson have apologized to each other and we've moved forward.
We consider the matter closed
."
Read the full story
HERE
.
Posted by

Lyle Lanley
at Thursday, October 21, 2010
8 comments


Some of you may have noticed there was no Week 8 opponent hate, and there is a good reason for that. Air Force is unhatable. They're actually incredibly likeable. They play teams like OU down to the wire, give us fits yearly it seems, and they fight and scrap with undersized players who execute their game plan to near perfection all the time. Oh, and not to mention they fight for our country and everyone should respect that. I also doubt any Air Force fans will be talking attendance smack and pimping their military ID's following a blowout loss. I'm happier having Air Force in our conference than anyone else, and I wish them success every week…except this one. So this weeks players to watch edition will be a little different than the rest, as in I'll try to refrain from scathing commentary or insulting the players.
Offense- Nathan Walker (Sr. FB, 5'11 215, #39)
Tiny photo deserves tiny font.
Walker has the unenviable task of replacing injured starter Jared Tew, who is out for the season with a broken leg, at the fullback spot. Now in modern day college football, most see the fullback as pretty useless. I mean, we wouldn't exactly hit the panic button if Luke Shivers went down with an injury, although he's pretty money inside the red zone. However, in the option attack that Air Force employs the fullback is essential to their success. Tew had gained 540 yards, good for second on their team in rushing, and 3 TDs on the season. He also currently leads the team in carries with 110, but obviously that will change. Walker is no slouch though. He has 4 TDs on the season, good for second on the team, and he's a senior who has got substantial playing time last year as well, rushing for 218 and 2 TDs a year ago. If Air Force is going to have anywhere near the success they have been having all year on the ground, a lot of weight rests on the shoulders of Nathan Walker occupying our defensive tackles and linebackers not only on plays where he gets the ball, but also on fakes that allow QB Tim Jefferson and RB Asher Clark to get to the edge.
Defense- Reggie Rembert (Sr. CB, 5'8 185, #8)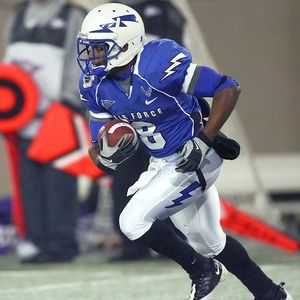 Rembert running on ice vs TCU 2009.
Rembert, a Flower Mound native, was a first team All-MWC selection a year ago and the key piece to a defense that led the nation against the pass last year. Their pass defense is no fluke- ask TCU, BYU, or Houston's golden boy Case Keenum, whom they picked off 6 TIMES!!! Rembert has been starting since his freshman year, and is arguably the best defensive player in the conference that doesn't wear purple and black (and white, metallic silver, frog-skin, and whatever else kind of freaky shit we dress in). I'd go through and talk about his numbers in prior years, but that could take a while, so I'll stay current. This season he already has 27 tackles, 2 for loss, 3 picks, 5 pass break ups, one forced fumble, and one fumble recovered. In years past he had been returning kicks and punts as well, including a pretty solid day returning punts against the Frogs in the Ice Bowl II last season, but his duties seem to be almost primarily defensive this year with 0 kick returns and 4 punt returns for 7 yards. I guess they realize how valuable a shut down corner is, and they have one. If we want Jeremy Kerley to have a big day, I suggest lining him up in the slot or as far away from Rembert as possible. Judging from his recent play, I would expect to see Josh Boyce lined up across from him Saturday night, so maybe we will get to see how the young Boyce plays when matched up against a true star at the cornerback position. Or maybe they put him on the veteran Jimmy Young. I don't know, but whoever it is probably won't have a game breaking performance. I suggest we try to establish the run, because Rembert and the secondary are an experienced unit that have given better passing attacks than ours fits for the past 2 years.
Posted by

SnK
at Thursday, October 21, 2010
0 comments


Like many of you, I woke up this morning and read the story in the Star-Telegram about Patterson having berated the team doctor during the SMU game about Ed Wesley's availability to play (I linked to the story in this morning's Dump, but
here it is again
).
Before you form an opinion on the matter, it's probably wise to also read the story that spawned the story, so
here is Kevin B. O'Reilly's article
from American Medical News.
If you really want to get worked up about this, my advice to you is to visit message boards and blogs for SMU, Baylor, Tech, BYU, etc, etc. They are going to have a field day with this, and will probably be saying a lot of terrible things about Patterson and the TCU program. It's just what happens on the internet, and we've certainly done that to other programs when they've had bad press.
How far will it go beyond internet chatter? Concussions are definitely the "it" story right now, and American Medical News and apparently the Star-Telegram have both already decided to capitalize on the news flavor of the month by casting Patterson as a villain. So what's to stop ESPN, Sports Illustrated, 60 Minutes, etc, from further sensationalizing and inflating this story? Probably nothing. When the media wants a target, they usually get it.
If, and I think that's a big if, this story ends up blowing up, it will more or less follow this script: they'll label Patterson as a coach that doesn't care about his players' safety, and they'll portray him as a tyrant who doesn't respect the opinions of anyone else. They'll also try to draw comparisons to the Mike Leach situation at Tech, because nothing would help continue the story like a dispute over the job status of a high-profile coach.
But I highly doubt Patterson wants to jeopardize the future of his team (and make no mistake...the next two years will rely heavily on Wesley's ball-carrying ability) by endangering the health of his running back. Should he have so publicly berated the doctor? Probably not, but is it really news that Patterson has a temper? And is this the first time a doctor has ever experienced any sort of resistance when they've made the call to sideline a star player? Hell, my high school coach yelled at our team doctor if
anyone
was shut down during a game...for anything.
As for the comparisons to the Leach situation, remember that the administration at Tech didn't like Mike Leach and was looking for a reason to fire him. They also had super helicopter parent and national media bitch Craig James on their side. TCU loves Patterson, and if he's gonna have a few Woody Hayes moments along the way to glory, I think they can live with that.
I do think that Patterson could use this as a learning experience and, in the future, be a little more diplomatic with the medical staff. That being said, I don't want a watered-down GP roaming the sidelines handing out gold stars and lollipops. He's a high-intensity guy, and everyone involved with the program (the doctors included) have benefitted from his success.
I despise people who demand apologies from other people, so I won't do it. I do think he could, like Andy Pettitte, make this whole thing go away with an apology. Or he could just go out and take care of business against Air Force on Saturday. I'm betting on the latter.
Posted by

Lyle Lanley
at Thursday, October 21, 2010
9 comments


Patterson berated team doctor over hurt player
Star-Telegram
-they say no press is bad press, right? But this probably isn't good press
Three Frogs receive midseason All-America honors
gofrogs.com
Air Force defense will try to solve experienced QB
Colorado Springs Gazette
Air Force CB, Texas native Reggie Rembert relishes TCU game
USA Today
Saints sign CB Quincy Butler
New Orleans Times-Picayune
Posted by

Lyle Lanley
at Thursday, October 21, 2010
3 comments