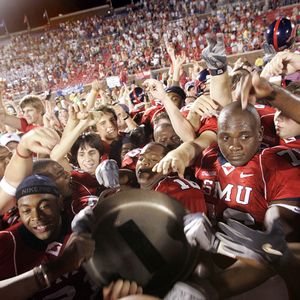 Seriously. So much hate looking at this thing.
If you've followed much of the Dallas media this week, you'll have noticed a trend. I's been in the Morning News. And ESPNDallas. The Star-Telegram got in on the action and even the cheerleaders have thoughts on it, although I must say our culinary interests and thoughts on Kate Gosselin are shockingly in tune. It seems like all anyone wants to talk about is 2005. Forget the fact that if you line up the past ten games in the SMU/TCU series, that's the only outlier; SMU beat TCU that year, and by god they still love talking about it.*
As an interesting side note, the ESPNDallas feature – important moments from the TCU/SMU rivalry – also talks about the game in 1997 when 0-10 TCU defeated 6-4 SMU 21-18 and kept them from a bowl game for the billionth consecutive year. The best part though is how that game pretty much set the new direction for TCU as we hired Fran that off season and, obviously, you see where we are now. In other words, the outcome of this game can have major implications for the winner ad the loser. The more you know…
And you know what? Bring it on. You have to learn from your mistakes. Our team that year had no business losing to SMU. None whatsoever, but hey, I suppose it's why they play the games. We could've been the second of the BCS Busters, would have been had the current rules applied back then. But regardless, we came out flat against the Mustangs, they came out hot, and we blew our opportunity. And that still makes me mad. Not because of the loss persay; sure, it was brutal to witness, and reflecting back what happened the rest of the season it was especially painful, but I can remember one thing above all that stands out about the entire experience. One thing that, no matter the circumstances surrounding the game, will always make me want to destroy SMU and explode their scoreboard.
The son of a bitch SMU Band.
I'm not sure how it is still arranged, but back then the TCU student section was directly next to the SMU band. And if you think our band is filled with a bunch of pantywaist nerd folk with an inflated opinion of their personal space, you should've seen these guys. Goofy hats? Check. Candy striper jackets? Check. That damned "coming around the mountain" fight song blared every 15 seconds in our direction? You betcha. And, you talk about nerdy shit talking fans, they were the absolute worst. If they knew anything other than "TCU Sucks" I never heard it. And it never stopped. The entire game. Even when CoRo took the second half kickoff to the house and make it 10-14, they never let up. On one hand, you have to kind of respect them. Most sensible fans would've seen that as a potential turning point and gotten down a bit. But not these guys. They were as oblivious to the nuances of the game of football as anyone I've ever come across. And unfortunately, I couldn't say a word. Well, ok, of course I DID say some stuff, but it was all empty, heartless and I probably didn't mean it anyway. Every time I thought TCU was going to pull it out, there was the band to remind me that, "TCU Sucks." I was ultimately beaten down by the SMU band.
And that's how I remember my SMU 2005: Sitting in the emptied out TCU student section being taunted by a fat Asian clarinet player in a candy striper jacket and goofy hat.
Never again.
Never again will that happen. We all have to take our collective experiences from that night and use them as rage fuel for this weekend. We all need to pick a moment, the one moment where we felt the lowest we could possibly feel, and use that negative energy against the Ponies.
Other potential moments I can specifically remember:
After the game, being pulled into a cab by an SMU alum and taken to a strip club, where he funneled me an endless supply of funny money that had to be used that evening, and not even being able to bring myself to a free lapdance or cocktail. Seriously, we were way the hell out in north Dallas, I had no ride home, and there was an endless supply of women willing to take their clothes off for a nominal fee. And I couldn't do it. I was so empty inside. And even if I had been able to, all I would've seen was that fat clarinet player's face on the plastic body of that broken woman. That may have even been lower than the band experience itself.
Sitting in the stands, checking my phone for the score of the Texas/Ohio State game from that year and seeing that Vince Young overcame a late deficit and two INT night to throw a late TD pass to Limas Sweed to put the Horns over the top right at the exact moment that we were completely pissing the game away against the Ponies. As you'll recall, Texas went on to win the National title that year and we, after never dropping another game and winning the MWC in our first year, played Iowa State in our second Houston Bowl that doesn't even exist in that form anymore. This was preceded by tailgating with some friends before the game who went to TCU, but once the game started, sat behind their car watching the UT game while wearing UT shirts and refusing to come into our game, one of the most vivid memories I have of UT T shirt fandom. I had such a fragile mind then. It was a traumatizing experience.
LoChoco. Peter LoCoco may be remembered for having a huge leg while at TCU, but he was absolutely TERRIBLE against the Ponies that evening. He missed three of his four attempts and, while it never should've come down to kicks, if he hits all four, we're down by two and it could've turned the tide of the game. After Mr. All American Nick Browne, this was a huge letdown, and probably paved the way for the sometimes unnecessary Manfredini and Evans hate, although, in my defense, Utah 2008.

Another "semi-guilt by association" similar to the one above is losing to a Quarterback named Jared Romo is probably at the heart of my hatred of Tony Romo, who I hate so much that I genuinely can't fully enjoy watching the Dallas Cowboys despite having cheered for them since I was a child. Well, that and losing to the Bears. So thanks, Jared Romo, for retroactively ruining my childhood.
SMU fans rushing the field. I can think of two times that SMU kids have rushed the field in recent memory. One was in 2004 when, having lost every single game the season before and 15 consecutive total, the Ponies knocked off San Jose State – a team we hate a little bit – for their first win of the season. The other was after this game. There's a picture of it at the top of the post. Look at it. Let it sear into your memory.
Obviously emotion is a big part of college football and, in particular, rivalry games. And that's always the biggest worry when facing SMU. Even though we've probably been favored every year since Patterson has set foot on campus – not sure how to check this, but who disputes it? –the series has featured scores such as 17-6, 20-13, 21-7 and, of course, the lone loss. In other words, other than 44-0 and 48-7, we rarely blow these guys out when we're supposed to. Even last year, in an eventual 39-14 victory, the game wasn't in hand until the end of the third quarter, and we would've trailed at halftime had Kerley not gotten his swerve on the punt return TD. If you'll recall, we were eventually 0.5 seconds away from playing for a national title last year and SMU was 8-5, so we're not talking Goliath vs. Goliath here.
Of course, losing that game probably has a little bit to do with the freshman that year never losing another one to the Ponies. But those guys are gone; no one on the current team was on the team in 2005 and knows what it felt like. Gary, as you've probably seen, picked up a DVD copy of the game-"must've been a pretty big deal, they made a DVD" as he put it –and has shown it a few times in practice this week just to build team rage heading into Friday. He's also closed practices and is a master at bringing his teams down from their high horse to get ready for any game on the schedule, hence calling this game a "50/50" game. So the coaching staff probably has most of it covered, but they can always use our help.
That's why I implore all of you to recount your lowest memory from that game in the comments so we can all relive the mental anguish we went through that night in Dallas and vow to never let it happen again. And if your story is worse than, "being so angry that not even free big fake boobs in your face could cure it" then you and I probably need to sit as far away from each other as possible because our retroactive rage will probably cause the visiting section to spontaneously combust.
Go Frogs.