Wednesday, June 23, 2010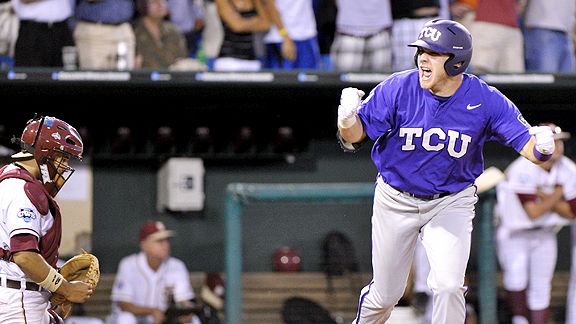 I really don't even know where to start. I honestly don't know if I've ever been this excited after a TCU sporting event. Ever. For seven and a half innings, it looked like the end of the road for the 2010 Horned Frog baseball team, but then a legendary 8-run 8th inning gave this team a new lease on life as they came back to beat Florida State, 11-7.
So, where to start? Why not start with the climax of the whole thing, which was Matt Curry's absolute BOMB of a grand slam on a full-count with two outs in the inning. Was I the only one that saw the play in slow motion? At first, I thought it was gone. Then the FSU centerfielder completely faked me out, pulling up and looking as if he might be stopping to catch a ball that got caught up in the wind. But then I saw where it landed, and I ran down the hall of my apartment building, letting loose a string of euphoria-enduced expletives. They came back!
But then you have to think back to a few moments earlier in the inning, because the rally was basically over TWICE before that moment. Brance Rivera grounded into what appeared to be an inning-ending double play, but beat the throw to keep the side alive. Then Bryan Holaday looked as if he was thrown out stretching his hit into a double, but he somehow had the presence of mind to pull his left arm away, avoiding the tag. Without Rivera's hustle and Holaday's amazing situational awareness, Curry's dong never happens. Or Witte's, which was an awesome insult to the Seminoles' injury.
And how about the relief pitching by Tyler Lockwood, Erik Miller and Kaleb Merck? Absolutely fantastic to settle the FSU bats down and give the Frogs a chance to get back in it. I think you get my point...that was an awesome game. I'm sure we'll all be trying to figure out a way for the Frogs to get by UCLA twice, but for right now I just want to bask in the glory of this win, and kick myself for not recording it.
Go Frogs!
Posted by

Lyle Lanley
at Wednesday, June 23, 2010
3 comments