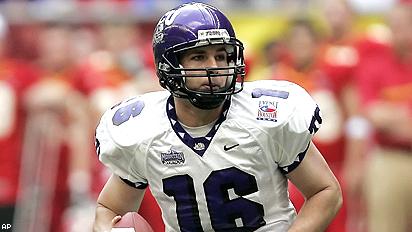 The TCU recruiting
class of 2002
was the first full class of the Patterson era (2001 was a mix of Franchione & Patterson recruits), and produced quite a few players that played a big part in making TCU football what it was in the '00s.
The headliners:
6'3", 270lb, 4-star defensive tackle Earl Anderson out of San Marcos had offers from just about everyone, including the school he was originally committed to- Texas. Robert Merrill was a 4-star running back coming out of Taft High School in San Antonio, and picked the Frogs over Oklahoma State, Nebraska, A&M and Colorado.
NFL Material:
Cory Rodgers, a high school QB recruited as an athlete and offensive lineman Herbert Taylor, his high school teammate (bet you didn't remember that, did you?), both became NFL draft picks. Rodgers, who left a year early, was picked in the 4th round by Green Bay in 2006, and Taylor was selected by Denver in the 6th round of the 2007 Draft. Jared Retfosky, who was recruited as an athlete out of Justin Northwest before playing defensive tackle and deep snapper for the Frogs, won a Super Bowl ring with the Steelers last year as a snapper.
Hits:
Jeff Ballard, originally a 2-star recruit coming out of Friendswood, memorably came off the bench to lead a comeback win at BYU in '05 and became the most accurate passer in school history. Taylor and Rodgers both earned 1st Team All-Conference honors. Lonta Hobbs became a four-year starter and is 2nd All-Time behind LT on the school rushing touchdown chart, and his backfield mate Merrill was very productive when healthy. Six other players were four-year letter winners: Chad Andrus, Maurice Bouldwin, Eric Buchanan, Michael DePriest, Elvis Gallegos and Quentily Harmon.
Misses:
Earl Anderson never made it to campus, and was one of two members of the Class of '02 that never played a snap for the Frogs. Hard to call this guy a miss...but Matt Hines, a linebacker out of Irving, had his scholarship honored by TCU even after he fractured a vertebrae in his neck during his senior season. Fullback Reggie La'Mothe and defensive tackle Terence James both left the program following the troubled 2004 season after negligible contributions.
Come back to Spitblood in the days leading up to National Signing Day, as we'll continue to look back on TCU Recruiting Classes of yesteryear.