In the spirit of Christmas giving and all that other holiday jazz, I thought I'd reflect back on this past TCU sports year and remember all those who have attempted (and failed) to wrong the Frogs. I have made a list of all the Frog dissenters, and I have decided I will take on the role as Spitblood Santa Claus and give "gifts" (not necessarily good ones) to those who have been naughty, since I'm pretty sure nobody actually gets lumps of coal in their stockings. So without further adieu, here is your 2010 list of the Frog haters complete with gifts from the Spitblood Santa.
Jim Delany
Jim- while you haven't necessarily wronged the Frogs or even directly insulted us, your subtle comments about how superior your Big 10 is to any non-AQ team, and your die hard allegiance to the BCS has given me the urge to give you a gift. For you, Mr. Delany, I give you a big box of tissues, since all you've done this bowl season is cry, cry, cry about how the poor Big 10 and BCS have had to sacrifice so much so TCU, Utah, and Boise can be invited into your exclusive BCS games. These tissues should also come in handy during the Arkansas throttling of a vastly overrated Ohio State team and more importantly, when TCU runs circles around Wisconsin at the Granddaddy of Them All.
E. Gordon Gee
I know I already used this picture, but it's just damn funny.
Oh, Mr. G (Summer Heights High, anyone?), people as football ignorant as you really should just keep their mouths shut, but since you too are part of the Big 10 elitist clan, I guess you thought people should know how you feel about little Ole TCU as well. Gee's clueless rant about how Ohio State plays a "murderer's row" schedule and doesn't beat up on "Little Sisters of the Poor" like TCU and Boise do made him quite the enemy in the TCU community recently. Since you're old as shit and probably not exactly hip and with the times (dude wears a bowtie and Ben Franklin bifocals still), I'm assuming you don't have cable television. So, Gordo, for Christmas I give you DirecTV complete with the MTN, Versus, CBS College Sports, and anywhere else you can find TCU on TV. That way you can see the teams you've insulted play, and in the future you won't have to put your foot in your mouth about a week after your senile old man comments were released. Actually, a better idea for Gee's gift might be a "Football for Dummies" book…or a tombstone.
Robert Griffin III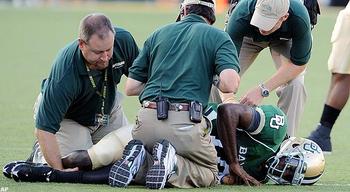 So this is what it looks like when you know your season is over...
Quite possibly the biggest early season instigator of Frog opponent hate, Robert Griffin III, the savior of Baylor Bears football and greatest QB in Texas since Vince Young, was the gift that kept on giving to TCU fans for seemingly the entire first half of the season. Not only did he lead the most hyped Baylor team since, well, ever, into Fort Worth for what was quite possibly the biggest beat down of the season, but he just couldn't seem to shake that loss. Griffin tried week after week to make it sound like losing to us was some fluke and that wasn't the real Baylor, not to mention he claimed our defense wasn't that fast, despite the fact that he was completely owned by us. Baylor really ended the season on a high note proving that the TCU loss was indeed a fluke like Griffin said…they lost 3 in a row. But hey, you're bowl eligible and you beat Texas, so yippee!!! Have fun at the Houston Bowl. For you, RGIII, you get earplugs. You receive these earplugs because your display following the TCU destruction of you was just embarrassing. While sulking on the bench, you did exactly what you are not supposed to do, and acknowledged the hecklers, going so far as to waive your arms in the air encouraging the barrage of insults that flew your way. Next time, wear the earplugs so you don't hear the verbal lashing you will inevitably take when you get stomped next year and don't appease the crowd by playing right into their hands. Also, I'll keep my eyes opened to see if another Star Wars remake is made- they'll need someone to play Jar-Jar Binks.
Rod Gilmore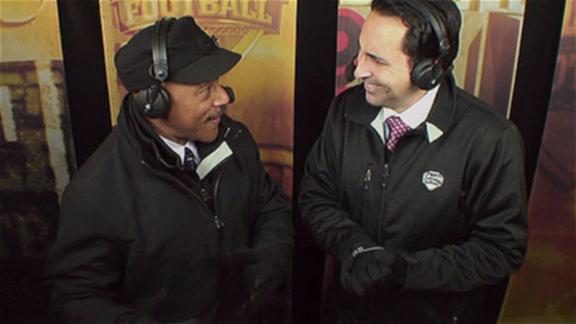 Again, reuse of a picture, but I want to emphasize the gayness of the hat.
You might be my least favorite person of 2010. Your undying allegiance for Boise State was so nauseating that it made watching Boise's Friday night games pretty much unbearable. Then, you'd show up on BCS Countdown and spend another hour telling me how our resume didn't come close to stacking up to theirs. I really don't want to spend too much time retelling the tales of how much of a Boise sack rider you continue to be despite them losing because it will just infuriate me, so I'll get to your gift. Since you are my least favorite, for Christmas I will give you Rose Bowl tickets to watch TCU play, however, I will smother those tickets in anthrax and hope that you are too ill to attend the game. If people find that too severe, I'll just get you an Aeropostale gift card so you can buy as many gay conductor hats as your douchey heart desires. Or, how about a Chris Petersen blow-up doll, since we know he'd love to have sex with that guy. Die, Rod Gilmore. Just die.
Kirk Herbstreit/Craig James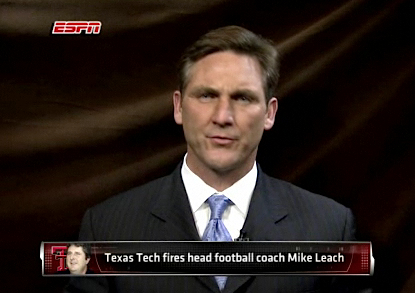 ...because your son is a pussy.
I'm lumping these two together, because they pretty much echoed each other's sentiments all season on ESPN when it came to the Frogs, and it was always how we weren't quite as good as Boise. My hatred for these guys isn't as extreme as it is for Gilmore, who continues to think that Boise is the greatest football team since the late 80's Miami Hurricanes, even after they lost. I'm not sure there is anything I can give Craig James, since SMU has probably given him everything he's ever wanted and more since his days as a focal point of the biggest cheating scandal in sports, and they probably continue to give him gifts just to keep his mouth shut. But I'll give your son, Adam, a pacifier and a rattle, since he's such a baby that he cried to daddy because Mike Leach wasn't nice to him. Actually, for Craig James, I'll give the Woodland Christmas Critters from South Park 12 hours alone with you in Imaginationland. Enjoy it. For Herbstreit, I will send a girl into you Gameday trailer in Glendale, AZ…an Arizona State girl with every STD under the sun to infect your sleazy ass.
These are Woodland Critters, and this is what I want them to do to Craig James.
Florida State's Centerfielder
This is what comes up when you google "Florida State center fielder". No joke.
If you're like me, when you saw Matt Curry destroy that baseball to cap off what was quite possibly the biggest comeback in College World Series history, you knew it was gone. Then you saw the centerfielder positioning himself to catch the ball and you thought "how the Hell is that not gone?" Then you saw the baseball sail about 100 feet over his head and into the night sky, never to be seen again. I just don't see the point in trying to fake out Curry on that one. We all saw his reaction, immediately screaming to the bench, knowing he just hit a ball further than he ever has before, and I didn't appreciate that centerfielder toying with my emotions like that, either. For you, anonymous FSU centerfielder, I give you a rocket that goes up your ass, because that's what you would need to launch you high enough to catch a ball that is hit that hard next time.
"Get in the batter's box and shut up" guy from UT
You heckle Bryan Holaday and this is what you get, Texas.
In what was arguably my favorite moment of the year, a despondent UT baseball fan, knowing that the end of the season was near for the unstoppable Longhorns and their pitching staff blurted out "get in the batter's box and shut up" at star TCU catcher Bryan Holaday. Holaday responded by doing exactly what the old redneck said, stepped into the batter's box, and belted the following pitch well beyond the left field fence of Texas's All-American Closer Chance Ruffin. Although not the game winner, Holaday's homer no doubt crushed the spirits of UT and silenced everyone wearing burnt orange that day. For you, obnoxious, yet typical UT fan, I am giving you a framed photo of the Horned Frog squad dog piling on your longhorn, signed by Matt Purke, Kyle Winkler, Aaron Schultz, and of course, Bryan Holaday. Also, I'll have the youtube video of you making a fool of yourself playing on loop on your computer through New Year's.
BYU
Couldn't have said it better myself.
Do Mormons get Christmas gifts? If so, they are probably boring and they suck. I'll spare everyone the rant for why I hate BYU and how they have wronged everyone in the MWC this season, but these selfish crybabies basically took their ball and went home once Utah headed for greener pastures, essentially spelling the end for the MWC. Since you'll be all alone for the foreseeable future, and you're not allowed to have and sort of sexual relations, I was thinking that maybe I'll get you David Carradine's Guide to Auto-Erotic Asphyxiation. Hopefully the end result is the same for your football program as it was for Mr. Carradine. That, or a simple dose of reality might do the trick for these delusional cult followers as well.
The Big 12 (10)- Mainly the University of Texas
Yes, you do suck.
There's no denying anymore that your reasons for not wanting TCU to be a part of the Big 12 is because the powers that be (Texas, OU) in the conference are scared of adding more competition. Claim that it's because we don't add a TV market, or because our attendance is weak (Oh yeah, T. Boone Pickens- die as well), or that you're happy with a 10 team conference, but the reality is that you don't want to have more competition. Watching UT in shambles right now has been quite a treat and a nice dose of reality for them- you are not The Joneses, so stop thinking you are. Coaches are jumping ship and turning you down daily (Addazio, Steve), and it's a treat to see. Funny that you don't want anymore competition in the Big 12, but Texas was arguably the least competitive team in the conference and there is currently no light at the end of their tunnel. Texas is basically like a really cute, but insecure girl on prom night- she doesn't want to let the hot girl in the limo with your friends because she doesn't want the attention taken off her. In other words, they know that the addition of TCU would take the shine off of them, and Texas doesn't want to play second fiddle to anyone in any sport (which they currently are to TCU in both baseball and football). Anyways, for the Big 12, I give you a set of testicles, so maybe one day you'll man up and see the value of having winners in your conference. Texas- since you are so far up shit creek right now, for Christmas, I give you a paddle. Now you can try to crawl your way back to mediocrity.
Kyle Brotzman
Thank you?
I want to start this off by thanking Kyle Brotzman. You're inadequacies as a kicker were quite the blessing for the Horned Frogs, and you have already given us quite the Christmas gift. Makes me wonder- what if Boise had actually kicked extra points this season instead of faking half of them in an effort to run up the score. Maybe Kyle could've used the practice…You so kindly missed not 1, but 2 chip shot field goals in that glorious late night choke job against Nevada. Honestly, I felt bad for Brotzman…and then I saw him on ESPN 2 days later with 2 earrings on, and all sympathies were removed. What a white trash loser. For Brotzman, I will have a doctor write you a prescription to Xanax, so next time you don't completely have a nervous meltdown when the game, I mean the Rose Bowl, is on the line. Also, Kyle will be receiving all of the perks and benefits that TCU gets for going to the Rose Bowl, such as the recliner, Xbox 360, mountain bike, Vizio HDTV, and of course, ring. Without you Kyle, none of this would've been possible. Thank you.
So there you have it, folks. These are your 2010 gifts for the TCU haters (and Kyle Brotzman) of the year. I want to thank all of those mentioned above. Without them, the 2010 year wouldn't have been nearly as enjoyable (or hate-filled) and the Frogs might not be where they are today. I look forward to another great season in 2011, and Merry Christmas to all.
P.S. If I left anything out, please feel free to mention it in the comments section. Also, I couldn't access any videos for this post and I'm sorry, so if anyone wants to link videos, please do that as well.