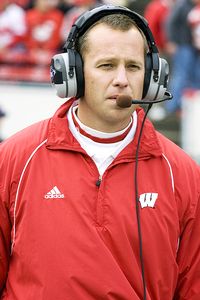 This news is a few days old, but Wisconsin defensive coordinator
Dave Doeren has accepted the head coaching job at Northern Illinois
. If you're thinking that this might cause a distraction for the Badgers, I'd tell you not to get your hopes up. Doeren will remain with UW through the Rose Bowl, and if he's the type that would
shovel himself out of being snowed-in to reach a job interview
, then he's probably not the type to let himself lose focus on the task at hand in Pasadena.
In other news that will impact TCU, Oklahoma State offensive coordinator Dana Holgorsen looks like he'll be
the next head coach at West Virginia
. Holgorsen was offensive coordinator at Houston and Texas Tech before OSU, so I think you can let his resume speak for itself in terms of his prowess at leading offenses. And with 10 years of experience coaching in Texas and/or the Big 12, you know he knows how to recruit in the Lone Star State. So chalk one up for the Mountaineers for understanding the benefit of bringing TCU into the Big East and adapting to it.
Also, the Meineke Car Care Bowl- which is played in Charlotte and hosts a Big East team every year-
will be renamed the Belk Bowl
starting next season. For those of you, like me, who have no idea what Belk is- it's a department store based in Charlotte. As silly of a named as "Belk Bowl" is, the new sponsorship deal will allow the game to increase it's pay-out to the participating teams
from $1.3 to $1.8 million
.