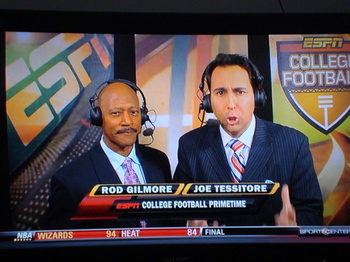 Seriously Rod, just die.




For those of you who read my rantings and ravings about Gordon "Bowtie" Gee and found it to be crass, abravise, and/or offensive, please do not read any further, because the things I am going to say about Rod Gilmore in the coming paragraphs are going to make that look like story time in a Kindergarten class.
Rod Gilmore, I hope you get stabbed with an AIDS needle. Seriously, right in the eyeball. Actually, that seems too pleasant. I hope you break your legs and fall into a freezing cold pond right in the middle of your favorite city, Boise, Idaho, and drown/freeze to death. I honestly think if I saw you, suffering and begging for my help, I would probably just pop some popcorn, pull up a lawn chair, and watch you go down. Then, I'd bring confetti eggs and an air horn to your funeral. Now before everyone rips me and questions my Christianity or sanity, obviously I'm not serious about all of those things, but Rod, you do truly suck and I hate you. I really do hope you are the next ESPN employee to sexually harass an intern or blast out your own personal Brett Favre photos and you get canned. You're becoming more of an embarrassment to that network than Stephen A. Smith was.
You can die too, you bitter old fart.
I mean, I kind of get it, Rod. You get paid by espn to do their crappy Friday night games, which consist of Boise, so you have some loyalty there. You went to Stanford, so I can even kind of understand wanting them ahead of us too. But here's the thing- you go on national television every Sunday with your blatantly obvious Anti-TCU pro Boise/Stanford agenda, and I've had enough. Do you have any idea how moronic you sound when you go up there AFTER Boise lost and try to tell the world how TCU's

resumé

doesn't stack up to what Boise's would have been had they beat Nevada

.

Guess what Rod, they lost, so get over it and move on. Not only did he have the audacity to put his alma mater, Stanford ahead of us, but also 2 other 1-loss teams! 3 one loss teams ranked ahead of the Frogs, who had at #6!!! You went to Stanford, so surely you're not that big of a dumb ass. I mean, Herbstreit and Public Enemy #2 Craig James even had us at 4, so they gave SOME credit, although James did mention how flawed the computers were because they didn't show how good of a team 5-7 Texas is. What?!?! That's ridiculous, but I don't want to get started on that Death Penalty causing pony closet case douchebag Craig James. This is about hating Rod Gilmore and Gilmore only. And Rod, I want to hear which "coaches and AP voters" you spoke to that are allegedly not impressed with the Frogs and wouldn't vote them in to the championship game. Hey, dumbass, those coaches and writers you speak of just voted us 3, with the largest margin in the top 10 being between #'s 3 and 4. I got bad news for you, dip shit, but your beloved alma mater isn't jumping TCU and neither are any of the other teams you put ahead of us. Try not blowing a 21-3 lead against Oregon and learn how to play defense, then maybe you wouldn't have this issue.
It should also be known that I am not just stemming my Gilmore hatred and disdain to one Sunday night crybaby bitch-fest that he went on this week. I've been watching all these awful Boise Friday night games begging for a Boise loss, and every single time I have to hear Gilmore relentlessly slurp Boise. I mean seriously, if Kellen Moore dropped his pants and bent over in front of Gilmore, I'm almost certain he'd literally kiss his ass. I'd venture to say I heard him say "Boise is poised to pass TCU" at least 20 times on Friday night. And did anyone else notice how despondent and defeated he was when Nevada tied it and eventually went on to win it. It was like his dog just died or something. There was no "wow Nevada, what an amazing comeback", it was just pure devastation and depression from Big Gay Rod. Rod Gilmore reminds me of Skip Bayless- I hate him, he's clearly ignorant on the topic he discusses, but I can't turn away because I want to hear how dumb he can actually get. Gilmore was at the TCU/SMU game, so he saw arguably our worst game all season, and I'm willing to bet he hasn't seen us play a game since then. Pretty sure if it's not on ESPN, they don't watch.
I'll wrap this rant up, because just reliving all of his awfulness is giving me hypertension and causing me to have rage-shakes at work. I just don't see the logic in his arguments and even understand where his hatred for TCU comes from. For him to ask "what's the accomplishment?" with regards to TCU football this season is a complete joke and shows total ignorance on his part. What have we accomplished, Rod? How about a second straight undefeated regular season, victories over bowl teams such as Baylor, Air Force, Utah, BYU, San Diego State, and Oregon State (if they pull off a miracle against Oregon)? How about winning on the road against then Top 5 Utah, who was probably vastly overrated by the BCS that Rod speaks on behalf of every Sunday? How about shattering attendance records and receiving the funding for a complete stadium overhaul? How about having the winningest active QB in FBS? How about an unprecedented 3rd straight #1 defense in the country? Or how about this, Rod- TCU didn't choke hard in the national spotlight, much like your beloved Stanford Cardinal vs Oregon and of course, that team you can't seem to get off your knees for, the Boise State Broncos? I'm finished with you, Rod Gilmore, and I hope the rest of the country sees you for the true clueless, moronic,windbag that you are. Who really cares though, does anyone really pay attention to the rantings and ravings of a college football "analyst" who wears a hat like this?...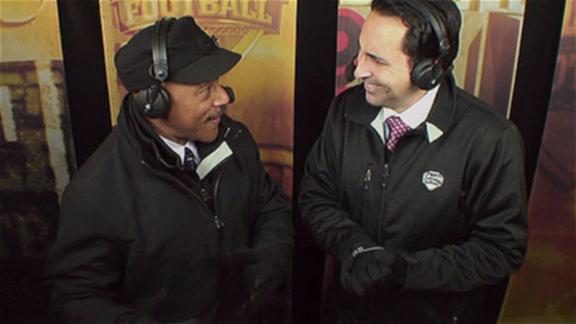 Does Rod Gilmore drive a choo-choo train?