It's hard for me to do a hate piece the week after we just completely destroyed our most competitive rival, on their field, in arguably the biggest regular season game in TCU football history. So, I wont. Instead, I'll take a different approach this week, and write somewhat of an open letter to the TCU team and the Frog faithful. So here goes nothing...
I love all the attention we've been getting as much as the next guy. I mean, it's great to finally have the talking heads discussing our greatness and our national championship aspirations (ahem, FU Herbstreit). It's great to be on the cover of Sports Illustrated. It's great that we have steamrolled our way through conference play without having to break a sweat this season. I feel like we have been fighting for relevance for years now, only to hear the same tired excuses about how we don't play anyone, we couldn't compete with these bigger schools, and we don't recruit at their level so we don't have as much talent. I think it's great that so many of the people in the media have finally taken our side and see us for what we are. Not only that, but our fan base has grown a ton over the past year or so as well, which is another thing that has always been a concern to us, and probably my favorite result of our success. To be honest, there's never been a better time to be a Horned Frog sports fan, unless maybe you were alive in the '30s, and somehow I doubt we attract too many of those readers (the font isn't big enough). However, we are not quite in the clear yet, so let's not get ahead of ourselves too much.
Utah? Nice pick, dumb ass.
I'm not a huge believer in trap games following a big game. I think if it happens, it generally happens to a team looking ahead. We will not be looking ahead to New Mexico. What does worry me though, and what I plead with the team and maybe even our fans as well is to PLEASE, PLEASE don't read your press clippings too much. Remember when we beat OU and thought our shit didn't stink the following week and lost to SMU? If you thought that was devastating, a loss to SDSU would feel like a Mike Tyson punch in gut right after finding out your girlfriend is cheating on you while you were at the vet putting your puppy dog to sleep. Seriously, it would sting SOOOOOOOO BAD. Oh, not to mention, that SMU team SUCKED; SDSU does not suck at all.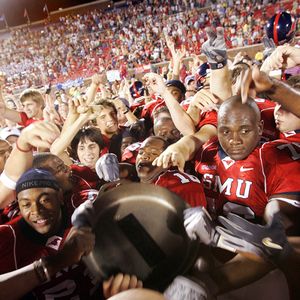 Avoid the letdown.
We aren't exactly following up this Utah win with a cake walk as I just mentioned. I don't know if you all realize this, but SDSU has 2 losses by a combined 6 points. They are one blown tackle/coverage against Missouri away from beating them in Columbia. They should've beat BYU, but they got screwed over by BYU alumni in the review booth blowing a call (most likely intentionally) AGAINST BYU. Why on earth BYU officials were allowed in the review booth was beyond me, but whatever. Those cheating Mormons will all be insignificant for the rest of our lives. So yeah, this SDSU team could be undefeated. They've got talent on offense all over. Ronnie Hillman is a stud running back, Ryan Lindley is another QB who has been leading another MWC team for a long while, but he's actually not playing like shit like the rest of them, and they've got a couple of stud receivers. I'll get more into their players later this week, but I just want to reiterate that by no means are we going to be able to put it on cruise control this week.
It's okay- Joseph Smith taught BYU to cheat.
I know Patterson is a master motivator and a brilliant football mind, and I have faith that he will have us ready to go Saturday on Senior Day for the best bunch of Seniors this school has ever seen. I think even the stubborn Dalton haters can agree with that. So, all I am asking is for the team to keep their focus for the rest of the regular season and let the chips fall as they may, then take care of business and be ready for whatever bowl lays ahead. I think they are great, as does everyone else, and I think they know they are great, but they've got to keep the same intensity that has been there all season. If that happens, then I have a feeling we will be heading out to the dessert for the second year in a row.