Some of you may have noticed there was no Week 8 opponent hate, and there is a good reason for that. Air Force is unhatable. They're actually incredibly likeable. They play teams like OU down to the wire, give us fits yearly it seems, and they fight and scrap with undersized players who execute their game plan to near perfection all the time. Oh, and not to mention they fight for our country and everyone should respect that. I also doubt any Air Force fans will be talking attendance smack and pimping their military ID's following a blowout loss. I'm happier having Air Force in our conference than anyone else, and I wish them success every week…except this one. So this weeks players to watch edition will be a little different than the rest, as in I'll try to refrain from scathing commentary or insulting the players.
Offense- Nathan Walker (Sr. FB, 5'11 215, #39)
Tiny photo deserves tiny font.
Walker has the unenviable task of replacing injured starter Jared Tew, who is out for the season with a broken leg, at the fullback spot. Now in modern day college football, most see the fullback as pretty useless. I mean, we wouldn't exactly hit the panic button if Luke Shivers went down with an injury, although he's pretty money inside the red zone. However, in the option attack that Air Force employs the fullback is essential to their success. Tew had gained 540 yards, good for second on their team in rushing, and 3 TDs on the season. He also currently leads the team in carries with 110, but obviously that will change. Walker is no slouch though. He has 4 TDs on the season, good for second on the team, and he's a senior who has got substantial playing time last year as well, rushing for 218 and 2 TDs a year ago. If Air Force is going to have anywhere near the success they have been having all year on the ground, a lot of weight rests on the shoulders of Nathan Walker occupying our defensive tackles and linebackers not only on plays where he gets the ball, but also on fakes that allow QB Tim Jefferson and RB Asher Clark to get to the edge.
Defense- Reggie Rembert (Sr. CB, 5'8 185, #8)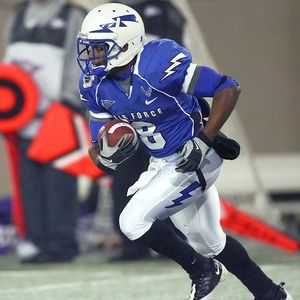 Rembert running on ice vs TCU 2009.
Rembert, a Flower Mound native, was a first team All-MWC selection a year ago and the key piece to a defense that led the nation against the pass last year. Their pass defense is no fluke- ask TCU, BYU, or Houston's golden boy Case Keenum, whom they picked off 6 TIMES!!! Rembert has been starting since his freshman year, and is arguably the best defensive player in the conference that doesn't wear purple and black (and white, metallic silver, frog-skin, and whatever else kind of freaky shit we dress in). I'd go through and talk about his numbers in prior years, but that could take a while, so I'll stay current. This season he already has 27 tackles, 2 for loss, 3 picks, 5 pass break ups, one forced fumble, and one fumble recovered. In years past he had been returning kicks and punts as well, including a pretty solid day returning punts against the Frogs in the Ice Bowl II last season, but his duties seem to be almost primarily defensive this year with 0 kick returns and 4 punt returns for 7 yards. I guess they realize how valuable a shut down corner is, and they have one. If we want Jeremy Kerley to have a big day, I suggest lining him up in the slot or as far away from Rembert as possible. Judging from his recent play, I would expect to see Josh Boyce lined up across from him Saturday night, so maybe we will get to see how the young Boyce plays when matched up against a true star at the cornerback position. Or maybe they put him on the veteran Jimmy Young. I don't know, but whoever it is probably won't have a game breaking performance. I suggest we try to establish the run, because Rembert and the secondary are an experienced unit that have given better passing attacks than ours fits for the past 2 years.