Mission Accomplished, Jerry.
I like any other human being with a soul (although the existence of my soul could be debated), believe mission work is a great thing. As much as we make fun of the Tim Tebow's and Colt McCoy's of the world, what the do is good for man kind and helpful to less fortunate people in third world countries. Tim Tebow has assisted with his father's orphanage in The Philippines as well as a bunch of other mission work in the area. Colt McCoy took a week long mission trip to Peru, giving kids clothes and other necessities to make life easier. Basically, mission work is good. Going out and building a hospital in Honduras or giving immunizations in Tanzania is very beneficial (although Tim Tebow circumcising Filipino boys might be taking it a little too far, but I'll stay away from that). But obviously this post isn't to ramble on about the greatness of mission work and how much it benefits the world. Of course I have an ulterior motive…
Pretty sure this is VERY frowned upon...
Mormons, including BYU football players go on missions too…Mormon missions. These missions do not include the things mentioned above. These aren't done in third world countries to improve their livelihood; houses aren't built in low income areas of the United States by these people. The purpose of these missions is almost primarily dedicated to teaching the Gospel/getting people to convert to Mormonism. Now, I realize that conversion has been a goal of mission work since the beginning of time, but in most cases, there is usually some sort of assistance in return (i.e. I help you build a village-you teach Christianity type thing). I can't wait to get called ignorant for what I am saying, and truthfully, I'm fairly ignorant on the topic, but what is done on Mormon missions that are beneficial to others? The majority of them, called proselytizing missionaries, go door to door on bicycles (they aren't supposed to use their own private automobiles, which seems logical) teaching the gospel hoping to gain converts. That's not so bad, is it? What the fail to tell you is that once you join the church, it is MANDATORY for you to donate 1/10 of your interest annually, to the Mormon Church if you want to reach the highest kingdom of Heaven. Basically, you get taxed annually to be a member.
So my point is this: while there is plenty of mission work, done by many different people from many different walks of life, that is good for humanity and beneficial to society, the purpose of the Mormon mission is primarily to generate revenue for the church. There is no give and take. It is a "we convert you, you give us money" approach. It should also be noted (for no other reason but to throw salt in the wound) that BLACKS WERE NOT ALLOWED TO DO MORMON MISSION WORK UNTIL 1978! I think Bear Bryant put blacks on his football team before you accepted black into your religion! Real classy, LDS. I'm sure that's what God really wants. Well, maybe not God, but some chump named Joseph Smith...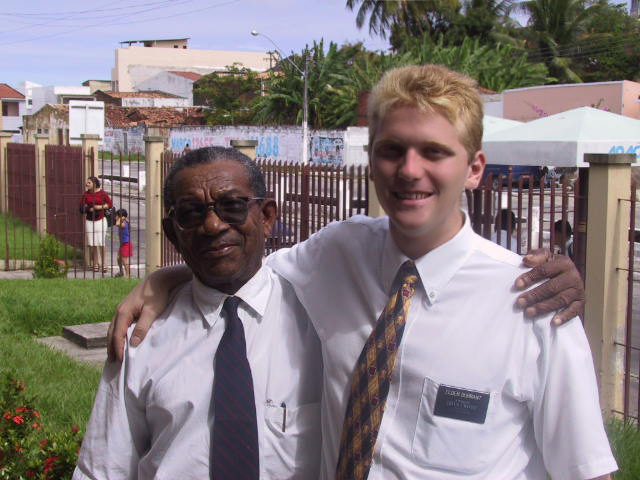 CLEARLY post-1978.
Good riddance, BYU. Good riddance to you, your silly beliefs, and your pitiful excuse for a football team. I hate you more than anyone. I hate you so much that it makes Sir Wesley Willis look smitten with SMU. Take your propaganda elsewhere. I'll be the one at the game Saturday, slugging down a caffeinated coke (gasp!) halfway filled with whiskey (double gasp!!) while laughing and cursing (heathen!!!) at your pitiful football team. I may even smoke a victory cigar (sinner!!!) and get laid in celebration (cue Mormon reader's head exploding).