This team is awful and I don't know much about them. I looked at their roster, their stats, their names, etc, and nothing really jumped out at me. Colorado State sucks, and so do the majority of their players, so these players probably won't make any impact. However, I said that last week about Zach Line and he gutted us like a fish, so who knows. Anyways, here we go...
Raymond Carter (Jr. RB, 6' 217)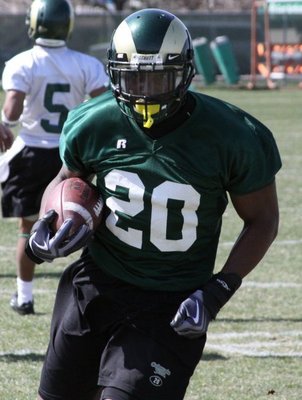 Should've stayed at UCLA, then you could've beat a top-10 team from Texas...
Carter, like Aundre Dean for the Frogs, sat out last season after transferring from UCLA. They either must have had a loaded backfield (which shined against Texas) or they all hated taking orders from a nerdy Asian guy (Norm Chow). He was injured on and off as well in his freshman year, which may have contributed to his decision to transfer. He attended Crenshaw High in LA, or Compton to be more specific, so yeah, he's got more street cred than anyone that has ever read this blog, and maybe our entire team. I wonder if Ricky from Boyz in the Hood went to Crenshaw, or planned on attending Colorado State before his career/life were tragically ended in an alley following a drive by. Ok, back to reality.
This season, Carter's stats aren't overwhelming. He is averaging 3.5 ypc with only 1 rushing TD and is averaging just under 36 ypg. However, he is their leading rusher by nearly 100 yards, which obviously means they are a pass happy offense (possibly because they are always playing catch-up). He has their only rushing TD this season, which is pretty pathetic to have 1 rushing TD in 4 games for an entire team. Pretty sure Tech and Hawaii used to top that in the heyday of their pass-happy attacks. Carter does have 136 yards receiving and 2 TD's, and is catching passes at a clip of 15.1 yards per catch, which is good for the team lead. His 2 receiving TD's also lead the team. Their offense has only scored 5 TD's this year. Their offense sucks…Bad.
The reason Carter is the player to watch is kind of obvious after watching last week's run defense meltdown against another bigger back in a pass happy offense. If Colorado State's coaching staff is smart, and their 1 win in the last 13 games tells me they aren't, they will take a page out of the SMU book and try to take HUGE chunks out of our defense with the incredibly slow developing delayed handoffs. If our coaching staff is smart, which it is, then we will make the proper adjustments from last week and NEVER allow that play to work again like it did against us last week. Unlike Zach Line, however, Carter is a receiving threat out of the backfield. I suggest we spy with Brock or Carter, something we neglected to do last week.
Oh, Carter also has a Wayne Daniels type Mohawk, so he's got that going for him.
Broderick Sargent (Soph. DE, 6'2 228)
Awesome name. Probably not that awesome of a game.
Sargent makes my defensive player to watch list not only because he has been a key player on the Rams' defense, a unit which also sucks, but because he has a totally bad ass football name. Seriously, when Herbstreit does his all-name team, I don't know how this one was overlooked, but maybe it's just me.
Sargent played in every game last year, but mainly just as a special teams player. This year, he has emerged as the Rams' leading pass rusher. He has 18 tackles, a team leading 5 of them for loss, and is tied for the team lead with 2 sacks. He also recovered the 1 forced fumble the Rams have this season. The Rams also only have 1 interception, which puts their grand total of turnovers forced this year at…you guessed it- 2! Even the Dallas Cowboys have forced more than 2 turnovers. There's really not much else I can say about this guy. I just like his name, and he seems to rush the passer well.
So, combine Colorado State's 2 turnovers forced with their 7 interceptions and 2 lost fumbles, and that gives them a disgustingly awful turnover ratio of 2:9. I've said it earlier and I'm saying it again now- this team SUCKS. I think they will be one of the 3 worst teams we play this year (Tennessee Tech and New Mexico as well). I don't care about the previous Colorado struggles we've had. We should absolutely obliterate this team. If we struggle in this one, then maybe the SMU people were right and we aren't BCS good and it might be time to hit the panic button. I don't see us struggling though, so there's nothing to worry about.