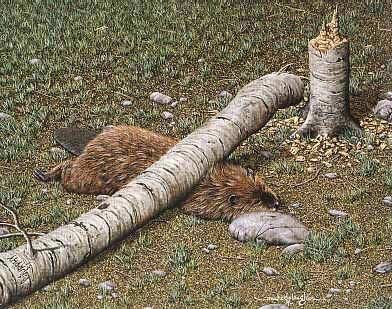 If you see Ed Wesley wearing a beaver fur coat this week
Understand that he killed, skinned and crafted the garment himself.
First off, before I get anywhere near the X's and O's of this game, I just want to give a hearty thank you to Lee Corso and his stroke-logic for gift wrapping this victory for the Frogs. In case you missed it, on Gameday Saturday morning, Corso in his infinite wisdom predicted a Beavers victory by at least 3 TDs, to which Desmond and Herbstreit looked at him like he had crawdads crawling out of his ears. Herbstreit also predicted an Oregon State victory, but clarified that he didn't think it would get close to the margin that Lee predicted. Later in the program, when making their official picks, Chris Fowler, apparently spurred by a text message from Gary himself, more or less called Corso a moron and right then, knowing that Gary was all over this slight, you knew it'd be on. It wasn't as impressive a victory as most of us thought – I didn't think we'd cover the spread, but I also didn't think it'd take a late self-inflicted safety to seal it, either – but it was a victory nonetheless and hopefully be one we look back on as the catalyst to our perfect season.
But, back to Corso for a minute – how sad is it to watch him these days? I'm not trying to make light of stroke victims, but most stroke victims aren't on national television giving college football analysis, either. Seriously, Herbstreit and Fowler are reaching Mark May vs. Lou Holtz status as far as thinking, "Seriously? This guy gets paid the same amount of money and holds the same position that I do? Maybe I need to rethink my choice of career." I don't dislike Corso as much as most because he's mostly a harmless old man, but he's really holding that program back at present. Ah well, at least they added more Erin Andrews as a smokescreen. But back to our original programming…
So, as we usually do, let's take a look at the offense, defense and special teams and find out what worked – Ed Wesley – and what didn't – Greg McCoy.
Offense – B. Regardless of how our offense performed, it can't be overlooked that the Oregon State defense was much stronger than we wanted to give them credit for. They may not end up being the best we face all season – Utah looked STOUT on Thursday – but there won't be many teams that put 30 on them all year, I guarantee it. But, we read the practice reports where the offense was slaying the defense and Dalton was absolutely making it rain so seeing The Rooster come out and perform so lackluster was definitely a bit of a shock. I don't remember my exact thoughts when that opening drive interception occurred, but I was certainly frightened and concerned. When OSU immediately turned that into points with James Rogers absolutely abusing McCoy, I was pretty downcast, I'll be honest. But, once the offense immediately responded with a scoring drive of their own, I kind of got the feeling that we'd be in good shape. And as the game went on and we responded to all three Oregon State touchdowns with a long drive ending with a TD, well, regardless of the 2 INTs, you had to feel like AD was certainly getting his mind right.
To start with the bad, through the air, Andy looked uncharacteristically rusty. He ended up finishing 17-27 for 175, but the two INTs will stand out. The first was somewhat acceptable – it looked like there was a misread on the route and Andy simply sailed it. The second, though, is something that cannot happen again. When you're rolling out like that and the receiver is 5 yards in front of you, you have to fit it in there, no matter the coverage, or throw it away. An INT isn't going to work. This will definitely be something they work on in practice this week.
But, other than that? Red may have hurt his long shot Heisman campaign, but he did all the necessary things to get the offense rolling even while he was underperforming. Namely, hand the ball off the Ed Wesley. But, the thing that does and has always impressed me the most about Dalton is his ability to run the read option because I'm not sure there's a QB in the country who runs it to perfection like he does. I may have had on some seriously foggy beer and tequila goggles, but from my bird's eye vantage point I was never able to tell when he kept the ball or when he gave it, and apparently the view on the defensive side of the ball on the field wasn't much better because Red finished the evening with 64 yards on 15 attempts and put it in himself twice on the ground. His run on the first touchdown of the game showed litheness and agility that no white man should be allowed to legally possess. But maybe the biggest benefactor of Dalton's run abilities? That would be Edward Wesley.
Obviously our solid ground attack is no secret – those guys were phenomenal last year and they look to be well on their way again this year. But, Wesley going off for 134 yards and 7.9 yards per attempt? That's just some silly talent right there. I'm as big a homer fan as anyone and I never would've bet that Wesley would've been the highest performing player on the field by far for either side. But we'll get to Jacquizz Rodgers' breakdown later. It seemed like every single time Wesley touched the ball it was an automatic first down or at least set up short yardage situations for second and third downs. And, maybe the biggest positive to take away from our running attack? Of the 12 third downs we converted, all 12 were the result of a run. So, maybe we need to remember that in the future. Also, that whole "how will the O line do breaking in new players" thing? Yeah, not so much. Those guys absolutely PUNISHED the Beavers up front, opening up holes big enough for the obese Beavers fan sitting a section over who inspired such a rage in me that I had to be escorted out of the stadium by my comrades could fit through. That's a story for a later time though. They also only allowed one sack on the night against a team that specializes in such things. Truly an effort to be lauded.
Wesley's partner in crime, Matthew Tucker rushed 20 times for 74 yards which is only one yard less than Jazquizz Rodgers… and he had to split carries. Conspicuous by their absence? Waymon James and Aundre Dean, who walked on the field as many times as I did Saturday night. When you've got Dalton, Wesley and Tucker able to move the ball like they did, I suppose you don't need much else in that department, but I at least thought they would get a few reps just to see how they did in a game situation. I have a feeling they'll make their debuts against Tennessee Tech, though.
Also waiting until next week to make their debuts is our elite receiving corp because they were very quiet last night when considering what they're capable of. You can attribute part of it to Dalton's inaccuracy, because there were a handful of passes where he just let the ball get away from him. You can also mark it up to the coaching staff realizing we were going to be able to run the ball practically at will. And the Beavers secondary had solid coverage on most every play. But one play where Dalton didn't let the ball sail on him? The 52 yarder to Skye Dawon on the Frogs first scoring drive because that thing was absolutely PERFECT. Skye had at least 3 steps on his man and Dalton hit him about 40 yards down the field in stride and he almost took it to the house. Props to that OSU defensive back who chased down the fastest man on the entire team. Jeremy Kerley had a nice night for receptions, finishing with 6 for 49 yards and a short TD pass, but he was never able to make the big play we've become accustomed to and he was, as you can imagine, far more valuable on special teams. Antoine Hicks and Curtis Clay only had one catch a piece and Jimmy Young, if I'm reading this right, had NO catches all night. I can only remember one time when Dalton looked his way, an overthrow. Bart Johnson finished with three catches for 26 yards, and easily had the play of the evening on a burn route where he turned, caught the ball on his fingertips while falling down and managed to keep it off the turf. I didn't see the late sportscenter, but I have to imagine it made the top plays of the day.
All in all, not the big night we expected from our award winning offense, but they responded when they were down and this will likely be their lowest point all season. The fact that we scored following all three Beaver touchdowns says everything you need to know about our offense. Regardless, it's pretty fortunate that we have a tune up game this Saturday.
Defense – B+. In the mirror image of our offensive output, the defense fared well in the run aspect, but looked a little rusty against the pass. And, much like Wesley and Rodgers, if you'd told me that Ryan Katz would, to the casual viewer, look like the QB who was about to break his school's all time win record, I would've slapped you. So let's start with the bad first so I can eventually come around to a positive spin. Greg McCoy, in his second career start, got absolutely abused on the first two Beaver touchdowns, letting James Rodgers get behind him on the first and then Jordan Bishop killed him on a fade route in the end zone. You may not have noticed, but McCoy was on the bench during the ensuing kickoff with Josh Boyce in his place, so apparently GP did not approve either. But, as Greg McCoy taketh away, he also giveth and he had one of the biggest defensive plays of the night when he broke up a James Rodgers reception at the last second that surely would've gone for six. We're pretty fortunate that the speedster was covering Rodgers on the play because I sincerely doubt anyone else could've caught up to big brother on a breakaway like that.
But McCoy wasn't the only problem, and you'd have to be blind to have not noticed that the team severely missed Jerry Hughes and Daryl Washington. Not that Tank Carder and Wayne Daniels can't step up and fill the void. In fact, Wayne actually had a solid game, totaling both of the TCU sacks on the night and three tackles total, all three going for a loss. And Tank, despite 3 tackles, was actually outshone by his partner in crime Tanner Brock, who had 6 and a pass breakup. But, those guys can't do it on their own, and that's where some other guys are going to have to step up, mainly in getting pressure on the QB, especially now that Tyler Luttrell may be out with an injury.
But, enough negatives for the time being, let's talk about the positives, namely the front six/seven who more or less shut Jazquizz Rodgers down. He simply will not have many 75 yard or less performances all season. Kelly Griffin – holy CRAP how big is that guy?? – and Cory Grant may not have totaled any tackles, but they clearly took away run lanes for Quizz and made the offensive coordinators get a little more creative when it came to running their offense. To answer the question of who will be the starter at left end, Stansly Moponga was the guy Saturday night and ended up with three tackles, while Broughton spelled him from time to time and had two. And on the other side of the field from McCoy, Jason Teague had a fine night, putting together 3 tackles and a breakup. At safety, as I mentioned earlier, Tyler Luttrell went down with some sort of leg injury on a special teams play, but before that was on his way to a very solid night, putting together 4 tackles in limited time. If he's out for an extended amount of time, we're going to miss him severely. Alex Ibiloye had the biggest impact from the safety position with 6 tackles, with one for a loss and a pass breakup, while team captain Tejay Johnson had 2. Jurrell Thompson and Malcolm Williams also saw some action for the Frogs.
Much like the offense, the defense should be excited about the tune up game against Tennessee Tech next weekend, especially in the passing department. But, it looks like we're well on our way to having one of the top run defenses in country yet again this year. The passing game will come around.
Special Teams – A-. Not too much negative to say about our special teams units other than getting beat on the fake punt. Considering the Boise game and the fact that Oregon State briefly kept their offense on the field before sending out the punt team should've been a slight cause for awareness. The fact that it ended up leading to a TD didn't help matters either. But, it's another tough lesson learned and fortunately it didn't kill us in the end.
As for everything else? Thought this was the strongest part of our game. Jeremy Kerley, all honor to his name, had a HUGE night on returns, fielding 5 kicks for a 21 yard average and 3 punts for a 14 yard average. His 34 yard return in the second quarter set the Frogs up with an extremely short field and eventually led to an Ed Wesley TD to put us up at the half. By the way, I haven't watched it close enough on the replays yet, but it looked like he was DANGEROUSLY close to taking it to the house. Now that he got over the hump last year, I have few doubts that he can double his amount from last year. A tall order but come on, have you seen the guy??
Ross Evans and Kevin Sharples also had solid outings. Ross never got an opportunity to kick a field goal, but he did convert all 4 PATs which is positive, and Sharples averaged 65 yards on his five kickoffs. Sharples never put one deep enough into the end zone for a touchback, but he didn't kick any out of bounds either, which, based on his history, is surely something to be proud of. And Anson Kelton – who apparently weighed in at 280!!! according to the commentators – busted out of his sophomore slump and had a solid night kicking the ball, punting four times for a 42 yard average with a long of 56. Based on the fact that the Beavers only returned two punts for a 6.5 yard average suggests he had more than the proper amount of hang time. And on kick returns, the Beavers returned 5 for 22.8 yards on average.
Overall – To begin, a big congratulations to Andy Dalton who with the win passed Sam Baugh as the school's all time wins leader, a record that has stood for almost 80 years. Old school TCU purists will scoff when you suggest that Dalton is the best quarterback to ever play in Fort Worth, and they may be right, but the numbers don't lie and, regardless of how this season turns out in the end, he will always be remembered as one of the all time greats to those with half a brain. On and off the field, Dalton is a winner and I think Baugh would have to be honored that he was the one who eventually broke his record. In fact, I'm such a big Dalton fan that, when I finally returned home Saturday evening, I picked up a Dalton Pro Combat replica jersey, despite the fact that I hate their appearance and that I don't wear jerseys. So yeah, I like Dalton enough to make wasteful purchases simply because he is attached to it. Heck, I might even drink a Coors Light if Andy suggested it would be a good idea, although he'd have to be AWFULLY convincing.
As for the game, when you reach deep within yourself and attempt to overcome the homerism that drives you, you'll understand that this was probably as good of a result as we realistically could've expected. Oregon State was much better than we wanted to give them credit for and, while I didn't expect Dalton to come out as flat as he did, I never thought that we were going to run up the score and at the same time hold down their offense. Katz played brilliantly for the most part and overcame Jacquizz Rodgers' mostly quiet night to keep the Beavers in it until that unfortunate missed snap. Both of these teams are going to win a lot of games this year; I'm just glad it was our turn Saturday night.
Kudos to the Oregon State fans as well who came out in much greater numbers that any of us anticipated beforehand. Driving into the stadium it looked like a Beavers home game in the parking for the most part, although it should be noted that my parking spot and tickets were on the OSU side.
I'll end it with a personal anecdote. In my preview I believe I started things off questioning my readiness for the game, and especially whether or not my rage would be properly dialed in. Well, thanks to the overweight Oregon State fan in the section over from ours, and the cheap sugar and even cheaper tequila in the Cowboyritas, I think it's safe to say that my rage was, in fact, maybe a little TOO tuned. From what I've pieced together, I've determined that I was either a) completely out of line or b) completely vindicated in my decision, and I choose to believe the latter.
So, Fat Beaver Fan, or FBF as we'll abbreviate, and lyle had had a few jawing matches throughout the course of the game, but they were entirely football related and never anything over the line. Regardless, sometime early in the game I made it my personal mission to put this guy in his place for whatever transgressions I was imaging he was commiting against the Frogs, and post game I had my chance. As a disclaimer, I'm a notoriously poor loser, so I would've done the same thing this guy did, but since my team won, I get to throw stones.
So after the game our group gathered up to take a picture and it so happened that Mrs. Sir Wesley was the one with the camera and asked FBF and his friend if they would take our picture... and they BLATANTLY ignored her. Not like, "Umm, sorry, we can't" or "I'm just taking account of my life in its current state and really can't be disturbed" or anything, just blatantly didn't acknowledge her. Well, needless to say, this perceived transgression was the absolute moment I'd been waiting for an I seized on it. It started tamely – "oh come on guys, lose with some pride, don't be a sore loser!" etc. – which was purely my way of baiting them into the conversation and they took it like absolute champs. Once I saw their mouths moving I unleashed on them without even listening to hear what they were saying, yelling every single obesity related slur I could think of, all accented with choice four letter words, and the last thing I remember is telling FBF that he was so disgustingly fat that he should walk back to Corvallis and immediately having lt4heisman shove me up the stairs and out the door. And then I was immediately over it – it was kind of like an out of body experience… I remembered being mad, but I couldn't really determine if it was warranted or not. And as I started to realize that the only reason I launched a personal attack on this gentleman was because he was wearing the wrong colors, it sank in that it was football season and I was officially ready.
Go Frogs.