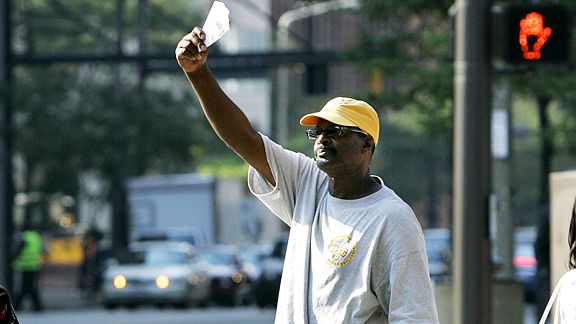 Dealing with the secondary ticket market has not been part of Horned Frog fans' weekly routine during football season since...well, ever. But the recent surge in support for the team helped them break two attendance records last year- the single game mark against Utah (50,307) as well as the season mark (just over 229,000 total for an average of 38,174). With the returning talent on the team this fall, expectations will remain high and likely, so will the momentum behind the growing fanbase.

There has yet to be any word out of TCU in terms of what season ticket sales are looking like for this season, but individual game tickets went on sale and judging by what seats are available for all home games (as well as the number of people who've told me that they're buying season tickets for the first time this fall), I'd say this year's tally should be at or above all-time highs. In fact, if you are not a season ticket holder, there are three games for which you probably want to secure tickets for sooner rather than later- because they could sell out.

The first of the three is the September 18th home game against Baylor. The Frogs' 2007 home opener came against the Bears, and roughly 35,000 attended that game- well short of a sell-out. But when you consider the increased interest in TCU football, the increased interest on the part of Baylor fans (they've got high hopes for this year with Art Briles and the return of Robert Griffin...also, they should be 2-0 heading into that game after home games against Sam Houston State and Buffalo), and the fact that this year's game isn't on Labor Day (which always takes away a few thousand dove-hunting fanatics and their families) and is on Parent's Weekend (which always adds a few thousand), it's not hard to imagine an extra 10,000 or so fans for this one, which would equal a sell-out. When you look at the seats available for this game, it is already (a month and a half out) looking like what was available the week of New Mexico game last year (for which the attendance was 41,738).

Six days later, the Frogs will head east on I-30 to pay visit to SMU on Friday, September 24th. When TCU last visited the Ponies, a 48-7 win in 2008, the attendance was 30, 923...just about 1,000 shy of a sell out. Again, when you take into account the increased interest in both teams, the fact that this will be SMU's biggest home game of the year as well as their Parent's Weekend, it's very easy to see this game selling out. They also gave their season ticket holders about a week's worth of a head-start on buying tickets for the TCU game, in an attempt to keep tickets out of the hands of Frog fans (a common tactic, and one employed by TCU when Tech came to Fort Worth in '06).

The third game that you'll want to get your tickets for ASAP is BYU's visit to Amon G. Carter on October 16th. This will be the first time that a BYU-TCU game has been played on a Saturday in Fort Worth since the Frogs joined the Mountain West. With so many Mormons in and around North Texas and BYU being a good travelling fanbase anyway, there are going to be a ton of Cougar fans gobbling up tickets to this one. Two years ago, these two teams played in Fort Worth on a Thursday night- which severely limited the amount of BYU fans as well as out of town Frog fans and those with kiddos in school. There were still 36,000 there, so you can easily visualize a Saturday crowd being much larger. Oh, and it's also the "Frogs for the Cure" game (formerly Pink-Out), which always sells a few thousand extra tickets.

So if you're not a season ticket holder and are interested in going to one or more of those games, I'd recommend getting your tickets before it's too late. It might seem silly to buy them now, but I will not hesitate to tell you "I told you so" if you wait until the days before the games and end up out of luck.