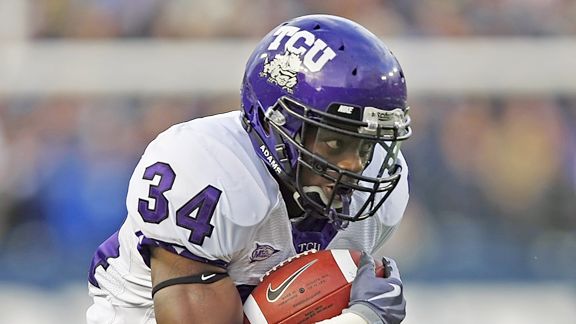 A lot of times when a team that was ranked 5th in the nation in rushing offense (as TCU was in '09) loses their leading rusher, you can count on a sizable drop-off the following year. But even though I think all Frog fans will miss the aggressive running style of Joseph Turner, I also think the blow of losing him will be softened by the incredible amount of talent that the 2010 Horned Frogs will boast at running back.
The top two returning tailbacks are both sophomores.
Matthew Tucker
averaged 6.4 yards per carry as a true freshman last year, totalling 676 yards and 8 touchdowns.
Ed Wesley
averaged 6.3 as a redshirt freshman, with a total of 638 yards and four scores. Wesley also had 170 receiving yards and 3 receiving touchdowns. Even these guys alone would make me feel very, very good about the next three years.
But the guys we saw last year were just the tip of the iceberg. Three running backs will push Tucker and Wesley for a bigger piece of the rushing-attempts pie. In no particular order, they are sophomore
Aundre Dean
, redshirt freshman
Waymon James
and true freshman
Dwight Smith
. All of them were very highly-touted before they came to TCU, and the real question here is how the workload is divided up between all of them. Smith was injured in the spring game, and without knowing the severity or how he's recovering, I'd have to speculate that a redshirt may be a possibility.
Two fleet-footed juniors who have played sparingly so far in their careers will also push for more playing time in 2010.
Jai Cavness
and
Jercell Fort
could take advantage of Ryan Christian's graduation and help fill the void left by him in the running back/slot receiver role that Jarrett Anderson and Justin Fuente brilliantly finally pinpointed for him last year.
Junior
Luke Shivers
returns at fullback, where he scored two touchdowns last year. His only listed back-up at the position is senior
Ryan Hightower
, although tight end
Logan Brock
did play some in relief of Shivers a year ago.
One sign of just how far this program has progressed is their ability to continue to recruit top-quality running backs even with such a massive amount of young talent already in place. Not only were the three true freshman (outside of Smith) who are listed at tailback facing an intimidating gauntlet to reach the top of the depth chart, they also all changed commitments from other quality programs to join the Frogs.
Ethan Grant
out of Coconut Creek, Florida, was committed to Oregon.
Curtis Carter
out of Stonewall, Louisiana was committed to Nebraska and
Matt Anderson
out of Vanderbilt, Texas was committed to Utah. It should be noted that Carter is dually-listed at both RB and WR, while Anderson is also listed as a safety.
Up Next: Wide Receivers and Tight Ends