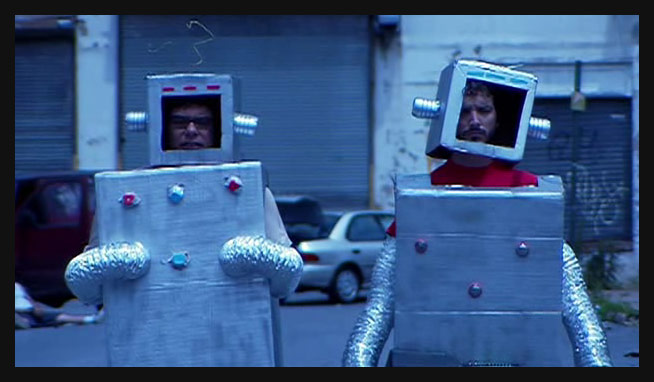 Patterson-Bots in their imperfect, pre-season form.
If you're like me, you've been struggling daily to find a way to convince yourself that football season is truly right around the corner. So realizing that MWC Media Days are going on as we speak and that our radio team would be broadcasting live last night was a straw a knew I had to grasp. Which is why I was the guy on the treadmill at the gym last night listening to the stream on his phone and stopping every 30 seconds to reboot because Dallas was getting blasted by a curious summer storm and it was destroying my reception. And while it was certainly a bunch of PC coach/playerspeak and there really wasn't anything of substance mentioned, the fact that it was football related and it was happening live made the decision to leave work early and schedule my workout around listening was a no brainer. So while you may look at the calendar and see that it's officially 38 days until Jerryworld, what you should really be doing is heeding GP and AD's words last night from Vegas suggesting that, as soon as they're out of the door at media days this afternoon and heading back to Fort Worth, football season has officially begun. Like, today.
The main purpose of media days – other than a school sponsored trip to Vegas, that is – is for the media to announce their pre-season conference accolades and for Commission Craig Thompson to give his state of the conference address. In regards to the awards, we're all pretty well aware of how that played out by now, but just in case, a refresher: TCU received all 31 first place votes to win the conference and Andy Dalton, Tank Carder and Jeremy Kerley swept the pre-season player of the year awards. Jake Kirkpatrick, Marcus Cannon, Wayne Daniels, Cory Grant, Tank Carder, Ross Evans and Jeremy Kerley (special teams) were all named to the All-Conference squad. Really, as John Denton pointed out several times, the only major snub was Tejay Johnson, and it's a little surprising that no offensive skill players not named Dalton were selected, but he pointed out that the media heavily reiles on stat sheets when compiling their lists, and our offensive is so balanced and given great field position by our defense that no one is going to jump off the page. So while UNLV gets a receiver on the list over Young or Kerley, I'll take a second consecutive undefeated season over that bullshit any day. They're all paper tigers at this point anyway, right?
Regarding Thompson, he sat down for an interview during the session and, while he didn't necessarily deliver any earth shattering news, just the way he talks makes it sound like we should gear up for more conference realignment in the near future. I was also unaware that BCS Coordinator John Swofford recently mentioned that they are viewing the BCS in its current form as holding steady, "until 2040." This did not sit well with Thompson, who decried the obvious bullshit standard required of schools hoping to attain BCS status versus those who penciled themselves in from the beginning, deservedly or not. The man may not make ends meet as far as our television contract is concerned, but after listening to him I have no doubts that he's working his ass off to get the MWC as much respect as possible and is filled with just as much rage as we are about not being included as an auto qualifier. There is also NO love lost between the Conference and Utah for their defection into the Pac 12, citing the MWC's membership policy which has no exit penalty because, "If you don't want to be here, we don't want you here." I admire his moxie, but methinks perhaps they should amend that rule to make it more of a financial burden to jump ship. Unless we get a Big 12 invite. Then it's totally cool.
As for the TCU interviews, like I said earlier, there wasn't really much said. As a four year starter, Andy Dalton has this media thing down pat and even though he was in the comfort zone of a school sponsored radio broadcast, he never wavered from strict modesty. That being said, even through a choppy radio signal, he was downright giddy about next year's prospects on offense. Aside from the obvious Jimmy Young and Jeremy Kerley praise, he was extremely fired up about our returning backfield. It goes without saying that having a solid run game aids a team like TCU who specializes in keeping the other team's offense off the field and controlling time of possession, but it's obvious that for Dalton it means a whole lot more than that. Knowing that if he comes out a little rusty he can rely on the ground game to grind out a few first downs while he regroups is a serious confidence booster. Not that Andy should lack for confidence this year, but I think we're going to see a Rooster that we may not have even known existed as the season progresses. I'm sure there will be skepticism as to where his mind will be as he enters the season as the reigning offensive player of the year and the undisputed favorite for that award this year, but just listening to how grounded he was last night gives me a lot of confidence.
And, just because clearly we aren't excited enough about the offense going forward, when asked who fans should really look out for to have a "breakout" season, Andy only hesistated slightly to praise the entire offense before singling out Skye Dawson and Josh Boyce. While he didn't give anything away, it really sounds like those guys are going to play some pretty significant roles this season. With Kerley, Young, Antoine Hicks, Bart Johnson and Curtis Clay sure to get their catches this year, plus the backfield getting in on it, plus Andy suggesting the tight ends may be more involved this year – and bestowing high praise on Walker Dille especially – this tells us one of two things: either we're going to have the most well-balanced passing attack in all of college football and will consistently have 10+ guys with a reception in each game, or that Dawson and Boyce have come on so strong that guys not named Kerley, Young or Hicks better watch their backs on the depth chart. I'm still trying to wrap my head around TCU as an offense first football team, but regardless, I'll drink to that.
Tejay Johnson also appeared on the show last night, but my feed was cutting out big time during his session and I missed a handful of his comments, so fill us in on what I missed in the comments. But, I don't know that there was a whole lot he COULD say, which is mostly a product of our defense: it is what it is. It's fast. It's hard hitting. It may be an intricate piece of machinery, but it's well oiled and driven by a speed maniac who is never satisfied. GP could find flaws in the Hope Diamond. Therefore, no matter what positive thoughts Tejay may have offered, GP would've immediately refuted them afterwards. It's like he told Mr and Mrs. WWHD – you've always got to keep them on their toes. And this is what makes him great. He's not a big dumb and lovable teddy bear like Wade Phillips and the like; he's a fearless leader who at once both terrifies and inspires his troops. So while Tejay offered up the usual, "Well, you can't replace Jerry Hughes and Daryl Washington, but we've got some very talented guys filling their spots this year," you could also tell that the specter of GP was hanging over his shoulder, waiting to pounce as soon as he went overboard with his praise. The radio crew tried to rile him up a bit by mentioning his All-Conference team snub, but he knew better. However, before the fear caught up to him, he did offer some pretty glowing praise on Braylon Broughton along the same lines as what we all know about him – dude is scary athletic and even scarier large and, assuming he completes his transformation from football player to Patterson-Bot, he could be the best defensive end TCU has produced to date in the GP era. Not saying that it's going to happen, but I think Broughton definitely emerges from two-a-days as the opening day starter, ready to eat some Beaver. Sorry, had to do it.
So after laying that borderline homo-erotic, cringe-incuding groundwork, the man himself made an appearance on the show and, wouldn't you know it, he didn't dish out any juicy pre-season nuggets or offer any insight into the pending murder investigation BYU has opened on behalf of Max Hall. I always enjoy hearing GP sit down for interviews with interviewers he has a rapport with because he is audibly relaxed and even cracks a radio smile from time to time. He even got slightly embarrassed and was all false modest when they kept referring to him as the Dean of the Mountain West coaches. Football coaches. They're just like us!
If you've gobbled up all the Dale Hansen interviews from the off-season as I have, then this was basically just déjà vu. Lots of talk of, "We just want to win ballgames" and "We gotta grow some guys up." One silly question that ended the interview was, "Do you think last year was basically all of your luck falling into place or a result of what you've built over your career" which is up there with that woman asking Mike Singletary if he'd spoken with Bill Walsh recently despite Walsh being dead as far as dumb interview questions go. I expect more out of those guys. They should know better by now.
However, he DID offer some insight into the situation at safety, suggesting Tyler Luttrell may have been the team MVP last year, so it's hard to imagine him not getting the opening day nod. The biggest thing to take away from the interview, though, was that GP, even more than us, is absolutely, 100% ready for gameday and is going to burn holes in the carpet as he hustles out of the media room today and back to Fort Worth. I sometimes feel like we as fans care about the team's success as much as anyone directly associated with the program, but I don't think our passion compares to GP. I honestly think he treats a spring drill the same way he'd treat a 4th and goal situation with time running out in Salt Lake City. He knows he has to make the media rounds, but you can tell there's no place he'd rather be than on the sidelines reaming out a linebacker for drifting out of his gap. May God have mercy on the souls of our players on the first day of practice next week. Go Frogs.